You may have seen many types of towers and skyscrapers, but we're pretty sure that you have never seen a tower like this. We're talking about Marsk Tower in Denmark. This architecture is designed by Bjarke Ingels Group, recently its first photos have been unveiled.
It's pretty fascinating and interesting to look at. Let's know more about this unique and bizarre structure.
The Marsk Tower
Architect:

Bjarke Ingels Group

Location:

Hjemsted, Denmark

Year:

2021
Located in Hjemsted, Denmark, this unique building is known as 'The Marsk Tower.' It is a 25-meter-high viewing tower within the Wadden Sea National Park. The most unusual thing about this architecture is that it has a double helix structure. It was specifically created to attract tourists from all over the world to the Hjemsted area.
Do you know that Wadden Sea National Park is one of the last remaining large-scale intertidal ecosystems in the world?
Yes, this National Park is also widely known for its unique natural environment of sea, woods, dune, heaths, fauna, and wildlife.
Marsk Watchtower at the Marsk Camp is entirely surrounded by UNESCO World Heritage-listed marshland in southwestern Denmark. Designed by world-renowned architects from the Bjarke Ingels Group (BIG), this structure is a masterpiece. Let's know more details about it.
Concept Behind 'The Marsk Tower'
The name of this building is so different and unique, right? So, you might be wondering why architects gave the name 'Marsk Tower.' Actually, there is a reason behind this. You'll be surprised to know that it is named in honor of its natural context, the Wadden sea national park, situated in Denmark.
This spiraling observatory has already made its name as a sculptural landmark in the world. How and why? This is because it rises just above the landscape like a sculptural art object. Pretty impressive, right?
Currently, this building only functions as an observatory or observation lookout point. However, it will remain the key tourist destination in the area.
The architect said, "It is both a sculpture and an observation tower and is shaped like a double helix and designed in such a way that there is only one way up and another way down."
Construction of The Spiraling Observatory
Situated near the campsite's restaurant and cafe, this building is about 25 meters tall. Do you know how many stairs you would have to climb to reach the top of the structure? Try guessing..50..100…NO! You have to climb 146 steps on the way up and 131 on the way down!
However, climbing these staircases is worth it because once you reach the top or the viewing platform, you'll see breathtaking views of the national park and the North Sea.
It has a seven-meter broad base that slowly expands outwards to a 12-meter-wide viewing platform at its top. Look at the pictures for reference and see how gracefully it is constructed.
Another great thing about this tower is that the tower is actually wheelchair accessible. The centralized core is occupied by an elevator that is also accessed by a ground-level ramp.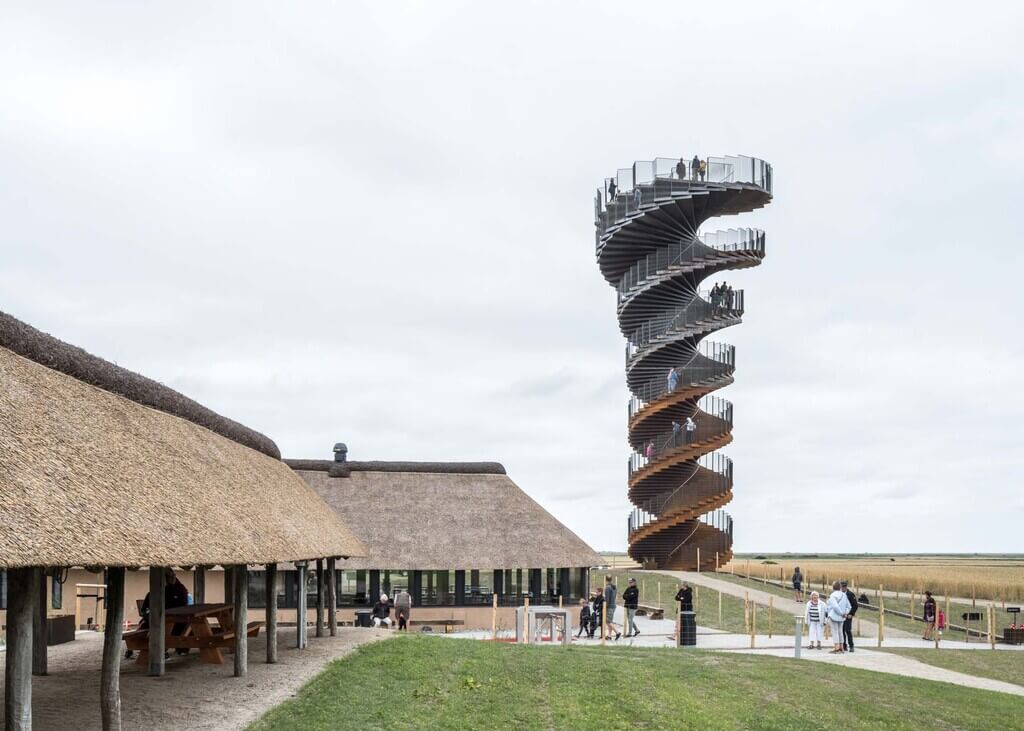 Jakob Lange, the Architect, and Partner, BIG (Bjarke Ingels Group), said, "Because of the earth's curvature, visitors will gradually expand their view of the horizon while walking to the top of the tower. On the foot of the tower, you will be able to see 4 km into the distance, but from the top of the tower, the view is expanded to an 18 km view into the horizon."
He further added, "The stairs widen at the top of the tower, creating a 110 meter-squared lookout spot with views stretching to the city of Esbjerg, the Islands Rømø and Sylt, and beyond the Wadden Sea to the North Sea."
Let's talk about the basic design of the tower. As you can see, the tower is in the shape of zig-zag patterns. At first glance, this tower appears to be formed almost entirely from stacked steps.
You'll be surprised to know that the overall design is inspired by the Human DNA Strand!
Marsk Camp explained, "Marsk tower consists of a unique construction, where the design is based on nature's twisted structure and human DNA strand."
Made from Corten steel, this tower displays a simple design and material palette. This theme is clear and uncomplicated and it beautifully blends with its vast surroundings.
Bjarke Ingels, Founder and Creative Director, BIG, said, "Marsk tower is a testament to our two-decades-long friendship and collaboration with the blacksmiths of Schacks Trapper."
He further added, "The double helix provides two stairs and an elevator with a single stack of rotating steel steps, allowing visitors to ascend and descend in a single spiraling loop from the sand to the sky – connecting the marshland to the Wadden Sea."
The Bottom Line
So, this is all about the Marsk Tower project designed by Bjarke Ingels Group. I hope you liked this blog about the Spiraling Observation Tower. Share this blog with your family and friends or with anyone who loves to read about the bizarre and unusual architecture around the globe.
If you want to know more about unique and unusual structures located in various parts of the world, read our previous blogs such as Crazy Futuristic Houses, 5 Smallest Houses In The World, Casona Sforza Hotel, and many more.
Discover More
Himadri Shakya
Himadri Shakya is an enthusiastic Content Writer and Editor. She loves to create creative, engaging, and SEO-friendly content. Through her extensive research skills and practice, she has been generating high-quality and informative articles, and blog posts for over 4 years.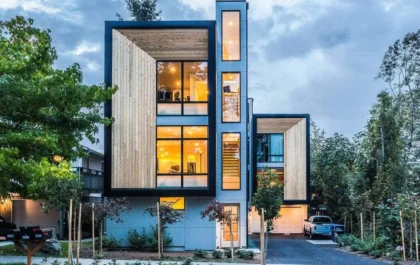 27+ Stylish & Modern Townhouse Designs for Urban Living.
The townhouse's first impression is normally too small, too compact, too narrower, and the list is endless. Well, let us…