There is something special about building your dream home from the ground up instead of investing in a preexisting house. From being designed explicitly to fit your needs to the feeling of creating something all your own, building a house can be both rewarding and fulfilling. However, no matter how exciting it may be, creating your dream home from scratch can be a daunting task.
There Are Many Things to Consider Before Construction Starts
Building your own home from the ground up is not as simple as finding land and starting construction. There are many things to consider. You have to decide if you are going to hire professional help or act as your own contractor. You also have to have the right tools and equipment, knowledge, and time to successfully build the home you have envisioned.
So if you are confident in your construction skills and are looking to build the home of your dreams, here is everything you need to know.
Stick to a Budget
Source: tiencuatoi.vn
The first and arguably the most important step to building a house from scratch is deciding on a reasonable budget and sticking to it. According to an article on Forbes, the average cost to build a house is $300,000.
However, everyone's preferences are different. Therefore, it is essential to determine exactly how much you want to spend to fulfill your needs. You should also determine what your maximum limit will be.
What to Include in Your Budget
Break down how much everything will cost, from the price of permits to materials, labor, amenities, equipment, and more. It is also important to note that accidents happen, so it is crucial to work some extra spending into your budget just in case.
Cut Costs
In order to stay within your budget, it is vital to cut costs without cutting quality. For example, consider buying wholesale building materials instead of shopping at home improvement retail stores. Buying building equipment like trucks and heavy machinery can also take up a big chunk of your budget. Instead, consider opting to rent what you need at a lower overall cost without compromising on quality.
Find Your Dream Property
Once you have decided on a reasonable budget, it is time to start shopping around for land. As for the construction of your home itself, there are plenty of things you have to consider when it comes to finding the perfect property to fit your needs.
Consider the Location Carefully
Remember, you are building your dream home so finding the most convenient location is crucial. Consider how far it is from your job or local schools if you have kids. You also don't want to be so close to a major highway or airport in order to limit excessive noise.
Has the Land Been Prepped?
Source: propertylogic.net
There is a lot more to finding the perfect property than just location. It is essential to get the land inspected to ensure it can hold proper water and sewage systems. You should also keep in mind that land that has already been prepped can save you extra cash in the long run, while uneven terrain can be costly to excavate and prepare.
Research Zoning Requirements
It is essential to research your city's zoning ordinances to ensure the regulations fit your needs.
Hire an Appraiser
When it comes to land, it can be difficult to determine if you are paying a fair price or not. Consider hiring an appraiser to ensure you get the most bang for your buck.
Consider Hiring a Contractor
Building your own home from scratch can be a stressful and time-consuming task for even the most experienced builders. Instead, consider hiring a professional contractor to take some responsibilities off your shoulders.
Finding the Right Contractor
Source: squarespace-cdn.com
It is essential to do your research when finding the right contractor to fit your needs. It is important to ask for quotes from multiple contractors in order to compare prices and ability. It is also vital to hire a contractor that is both licensed and insured.
Design
Once you have assembled a trustworthy team, it is time to start planning your design if you haven't already done so. It is important to consider everything from the structure of your home to amenities and how the interior design fits into your architecture.
Purchase Insurance
Before you begin construction, it is crucial to invest in construction insurance. Construction insurance will protect your finances if anything should go wrong on the job site.
Start Building
Once you have the proper permits, insurance, and design plans, it is finally time to start construction. While the construction process can be stressful at times, you'll rest easy watching your dream house unfold before your eyes.
Follow These Guidelines
While the process of building your dream home from the ground up can be intimidating, following these guidelines can help ensure you get it done the way you envisioned.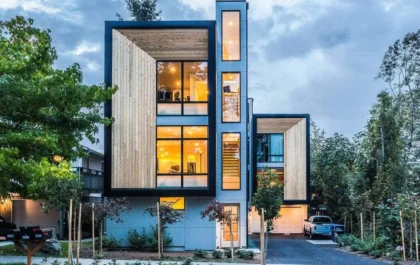 27+ Stylish & Modern Townhouse Designs for Urban Living.
The townhouse's first impression is normally too small, too compact, too narrower, and the list is endless. Well, let us…