You're surely aware of the age-old controversy over whether or not to paint external brick walls. Some people enjoy the rustic character of brick walls, while others prefer a more finished look. But, in the end, everything comes down to your personal preferences. However, there are certain advantages to painting the external brick wall, such as increased weather protection. Even if you agree that painting it is a good idea, selecting the perfect exterior paint colour ideas for brick homes may be difficult.
Find a paint colour that will go well with the red brick without detracting from the attractiveness of the house. Some choose to keep the natural characteristics of the brick facade by using softer tones, while others employ radically opposing colours.
Here is a collection of 20+ exterior brick paint colour ideas to inspire you to refresh the look of your brick façade.
Why Paint Your Exterior Brick?
Brick has a really rustic feel and adds an old-world character to your home. The question then arises, why should we paint it? Firstly, it gives your house an impressive curb appeal. You can boost the house's resale value. Rain, snow, and other extreme weather conditions erode the brick. Paint prevents water from penetrating brick, so it's always important to use waterproof spray paints. It also prevents fading in the sun. It is also easy to clean and maintain. Your f acade will last at least 15 to 20 years.
How to Choose an Exterior Brick Paint Colour
5 Things to Think About When Considering Exterior Brick Paint Color Ideas
Painting your exterior brick walls is a significant investment. It can completely change the look and value of the property. Here is a list of 5 Useful tips, you must consider while shortlisting shades in the list of exterior brick paint colour ideas.
1. Sample
It is vital to inspect the actual samples because there might be a significant variation between printed and real paint samples. Use genuine paint samples to obtain a sense of how the exterior pain will look on the masonry texture.
2. Check the Type of Brick
All bricks should not be painted. It is not recommended to paint freshly baked porous brickwork. Wait a year after the house's construction for all of the alkaline mortar to seep out before painting.
3. Weather Conditions
Consider the weather conditions before you begin painting. High cold or extreme heat is not ideal conditions for painting brick. Wind and rain are also not supportive of painting.
4. Repair the Structural Damages
As a preliminary step, any old paint on the brick should be scraped. Additionally, any stonework that has been damaged has to be given a fresh coat of mortar. This will also assist to increase the wall's water tightness.
5. Prep Work
It is critical that your outside walls are entirely dust and grease free before applying paint. Using a wired brush, remove any dust particles. Apply two or three coats of matte varnish to the brick's surface after it has been thoroughly scraped.
20+ Exterior Paint Colour Ideas for Brick Homes
1. The Minimal White
Source: homedecorbliss.com
If you need to choose a safe option for your exterior brick paint colour ideas, go with a clean white tone without hesitation. Hues that enhance the value to a property include traditional exterior house colours like relaxing white. Also, if you're selling your home, a bright exterior will make it appear larger and more appealing to purchasers. Instead of brighter colours, choose a gentle, warm, and rich white external paint colour to match the brick undertones.
2. Earthy Browns
Source: pinimg.com
Are you looking for a rustic-country look for your brick house? Do not be frightened of darker tones. An eye-pleasing classic appearance is created by brightening the trim and increasing the contrast with the brown paint. Furthermore, the earthy colour palette matches the rustic nature of bricks well. If you want your house to have a simple yet sophisticated appeal, brown shades should top the list of exterior brick paint colour ideas.
3. Cool Blue
Source: pinimg.com
This is one of the offbeat exterior brick paint colour ideas for your home. You're undoubtedly wondering how blue might look with brick's earthy tones. Blue, on the other hand, effectively softens the warmth of red bricks. This colour is ideal for seaside homes or if you want your house to stand out from the rest. For the ultimate seashore vibe, combine a bright blue colour with white trimmings and accents.
4. Calm Peaches
Source: pinimg.com
Peach is one of the most complimentary exterior brick paint colour ideas that does not overshadow the natural tone of brick. Streaks of white highlighter elegantly complement the cool, soothing peach colour. Don't overdo the white; instead, use it as accents on your walls and let peach serve as the primary colour for your home's exterior to make it stand out while still being classy.
5. Slay with Grey
Source: pinimg.com
Another safe exterior brick paint colour idea that may dramatically improve the appearance of the house. It offers the walls an exquisite yet suave appearance and is one of the most refined choices for external home paint.
However, for a more striking look, couple it with white trimmings or metal accents. Also, if your house has a block layout, use the trendy facade colour combination of white and grey.
6. Red for Brick
Source: pinimg.com
Can you go wrong with the original brick colour scheme, i.e. red? Red is the most traditional primary colour that cant be missed out from the list of exterior brick paint colour ideas, having a bold yet extremely inviting sense about it. This vivid colour is ideal for smaller residences in the countryside or suburbs.
For the ultimate rustic look, paint the shutter of your window green. If you believe the tone is overwhelming the exterior of your home, match it with softer tones such as beige to balance out the visuals.
7. Embrace Nature with Sage Green
Source: pinimg.com
Do you wish to blend your house with the natural greenery that surrounds it? Sage green is the ideal exterior wall paint colour for a mossy fairy tale effect. All nature enthusiasts should shortlist this green shade from the list of exterior brick paint colour ideas.
This earthy colour choice complements the natural roughness of the brick wall. This colour scheme looks gorgeous on small garden houses. Include exterior house colour design components like lush green grass and earthy green plants.
8. Save the Day with Beige
Source: pinimg.com
Are you seeking a simple, comfortable colour for your home's exterior brick paint colour ideas? In that situation, beige is always a safe bet. As an external wall colour combination, it quickly creates a warm and hospitable ambience.
The soft tone emphasises the texture of the brick. With this colour scheme, you may even create a stucco effect. For the ultimate homey vibe, pair beige with warm wood tones or crisp white.
9. Yellow Stains
Source: pinimg.com
How about combining two primary colours? The warmth of pale yellow blends well with the natural colour of the brick walls. Its colourful tones and tints quickly lift the mood of your home. However, if you live in a hot and humid region, make sure it is a faint shade of yellow. For a sunny mood, use it with other mild tones such as faded grey or aqua blues. Butter yellow is an ideal shade in the list of exterior brick paint colour ideas for all of us who are looking forward to a pleasant fairy-tale-like cottage aesthetic.
10. Deep Navy
Source: pinimg.com
One of the lesser-known colour choices for your home's exterior brick paint colour ideas is navy blue. It adds dimension to the overall look of the house. Blue is a relaxing and inviting colour that is always a good choice for homeowners. However, navy blue is a rich colour that emanates grandeur. It works best in colonial-style homes. Combine it with white accents for a refined look.
11. Charcoal Black
Source: pinimg.com
Black does not come in the list of your typical exterior brick paint colour ideas. However, if you apply the coats evenly, you may get the ideal contemporary look. You may leave the outside monochrome or add a splash of crimson or bright emerald to enhance the sleekness. Pairing it with a pristine white home exterior colour will quickly elevate the overall design and give it a vintage and elegant feel. This timeless combination is reknowned for adding a contemporary touch to any building.
12. Muted Orange
Source: pinimg.com
This is an unmissable hue in the list of exterior brick paint colour ideas. Orange colour schemes go well with the natural colour of brick. Many of us are hesitant to use this eye-catching colour on our external walls. However, we must remember that the intensity of orange may be balanced by gentler colours of beige and mud brown. You may also create a theme for your home. If you reside in a humid area, for example, a mix of orange and green will bring the tropical essence of the design.
13. Luxurious Olive
Source: pinimg.com
Another earthy shade to add to the list of exterior brick paint colour ideas. Choosing this green home colour for the outside will make the house appear refreshing and can help to change the attitude of the house owner when they return home after a long day at work. While there are many other shades of green available, the olive has long been a popular option among homeowners. Dark shades of olive green might resemble natural patterns of brick. This tanned green has the delicacy and lushness of a mossy woodland.
14. Say Yes to Pink
Source: pinimg.com
Gone are the days when pink was just reserved for interior spaces. Infant pink lends the right amount of softness to the otherwise coarse brick surface. Paint the outside of your house in a subtle blend of pink and purple. Choose between a neutral pink and a tanned pink for the walls. Keep the borders and front door white to balance out the rosy tint. Pleasant pink should be on your list of exterior brick paint colour ideas if you want to stand out from the crowd.
15. Refreshing Mint Green
Source: pinimg.com
You can never go wrong with a cool mint green home exterior brick paint colour ideas. It is suitable for quaint countryside homes. Due to its more laid-back yet opulent tone, this colour is currently in vogue. Its fashionable hue will greatly enhance the curb appeal of your property. Combine it with darker accents and shutters for a dramatic impact.
16. Touch of Taupe
Source: pinimg.com
If you do not prefer darker or more dramatic colours, taupe may be the best option for you. Taupe provides your brick wall with a gentle neutral wash that gives it a placid effect. As a primarily neutral hue, it combines well with various colours, particularly the bright colours in shutters and trim. You may also utilize a complementary colour palette, such as brown and tan, to add a subtle elegant touch.
17. Whimsical Lime
Source: pinimg.com
You are probably aware of the immense popularity of pastel shades. While there are many mainstream pastel hues, let us go for an offbeat shade for your home's exterior brick paint colour ideas. A soft lime-green that mixes seamlessly with the surrounding landscape. Use complimentary pastel hues like Powder blue or pink to create joyous and inviting ambiance. Select less intense hues of vivid colours and balance them with white trim to prevent a candy-coated appearance.
18. Go Indigo
Source: wow1day.com
Indigo is synonymous with depth. The deep colour contrasts beautifully with the coarse texture of the brick masonry. However, an indigo-painted facade may appear overwhelming. You must mix and match with other elements such as trims and grooves. The brown accents lend dimension to the house's exteriors. White and indigo is another popular colour choice for exterior brick paint colour ideas. The effective utilization of indigo prevents our eyes from focusing on the white.
19. Airy Powder Blue
Source: pinimg.com
Do you want to reduce the depth of your exterior wall and give it a more airy appearance? Powder blue should be at the top of your list of exterior brick paint colour ideas. It raises the bar for exterior home colour while maintaining a stylish and distinctive façade. This light hue of blue will give you the desired airy look. You may combine it with a dash of white to get a whimsical and classic look.
20. Vintage Turquoise
Source: pinimg.com
Do you want your façade to exude a serene sensation of tranquility and inherent grace? You can take a risk and go with Turquoise. It exudes nobility while mixing in with the brick masonry to create a velvety impression. This will make your house stand out in the neighbourhood while also adding a stylish flair. You may also attempt a combination of turquoise and white to make it more dynamic and cheerful.
21. Classic Caramel
Source: arcpublishing.com
We'll wrap off this collection of exterior brick paint colour ideas with a classic and sweet colour scheme. The caramel undertone gracefully covers the brick facade. In addition, caramel is one of the safer choices for you if you plan to sell the property in the future. Layer it with softer nude tones to give complexity, or combine it with pops of green shutters and trimmers for extra drama.
What Equipment is Needed for Painting Exterior Brick ?
Source: peinturesmf.com
A project will go a lot more smoothly and easily if the proper tools are available. you will find the tools for painting a brick facade, right in your backyard. Application tools including paintbrushes, rollers, and sprayers are available to you. It should ideally be able to cover a bigger surface area. A sprayer, for example, will save labour time, make it simpler to get into all the joints, and make the job much easier overall.
It's Time to Add Some Visual Drama to Your Exterior Brick Wall!
Painting your façade brick may be the best way to transform the appeal of your home without making a large investment. Without making any significant renovations, the paint may effectively renew the facade of a house. However, once a brick has been painted, there is typically no turning back. So you must be quite certain on how you want your external walls to look. From the above mentioned exterior brick paint colour ideas, you can choose the best colour that suits your personality and brings out your desired theme.
FAQs
1. Does Painting Your Brick House Reduce Its Value?
Paint has the ability to undermine its historic value and, if done poorly, can cause substantial damage to your property. However, today's bricks are machine-made, and a coat of paint improves the visual appeal of the house.
2. Is It a Good Idea to Paint the Exterior Brick?
Painting brick is an excellent technique to improve curb appeal and boost the value of your property. There are a myriad of exterior brick paint colour ideas available in the market. Most of these shields your house from the weather elements.
3. What Is the Lifespan of Painted Brick?
In good condition, a decent paint job on brickwork can last 15 to 20 years. You don't need to renovate your property if the bricks are in good shape and don't suffer any structural damage. We've compiled a selection of high-quality exterior brick paint colour ideas that will last for a long time.
4. Should You Spray or Roll Paint on the Brick?
A sprayer may be used to paint both internal and external walls. The paint would not have been applied evenly with a roller. Interior walls are best painted using a roller.
5. Is It Necessary to Prime Brick Before Painting?
You must apply a primer whether the brick you're painting is old or new, internal or exterior.
6. Is It Necessary to Pressure Wash the Brick Before Painting?
Before applying any form of paint to the brick, it is critical that it be clean and completely dry. For best results, power wash your brick and let it dry for 24 to 48 hours before applying primer.
For more information about the latest architectural development, keep coming to Architecturesstyle.
Also, do follow us on our Instagram page, Architecturesstyleideas, to get daily updates.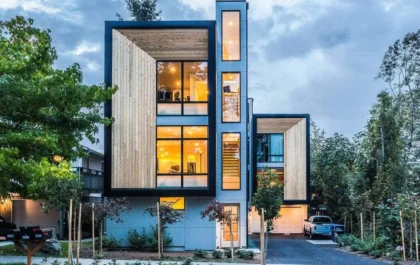 27+ Stylish & Modern Townhouse Designs for Urban Living.
The townhouse's first impression is normally too small, too compact, too narrower, and the list is endless. Well, let us…