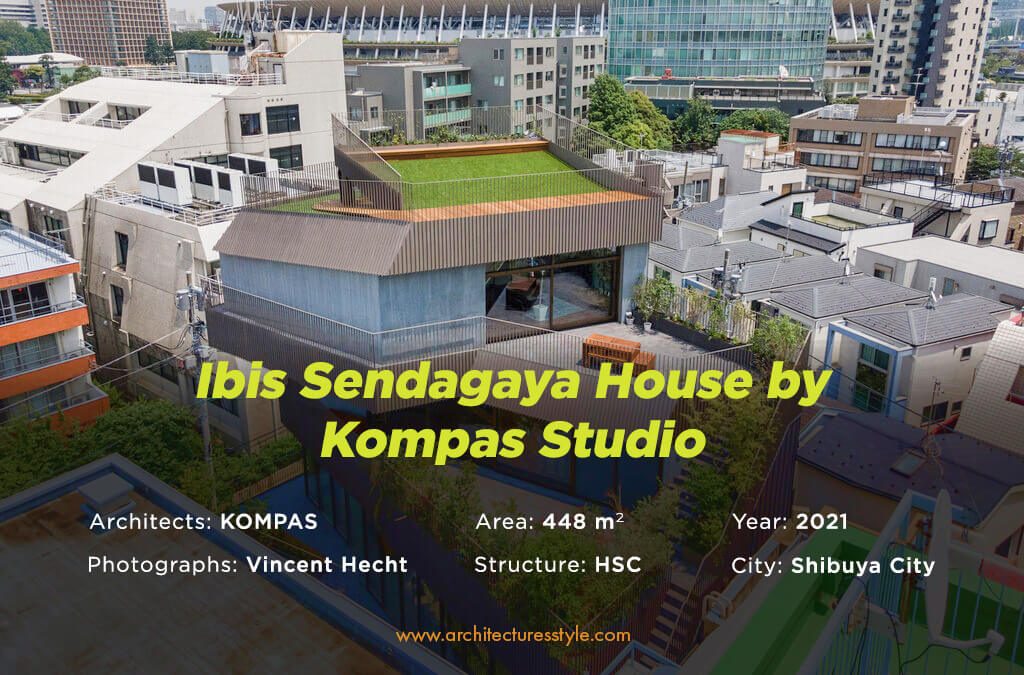 Project Specifications:-
Architects: KOMPAS
Area: 448 m²
Year: 2021
Photographs: Vincent Hecht
Structure: HSC
City: Shibuya City
MEP Consultants: ZO Consulting Engineers
Contractors: O'hara Architectural and Construction Ltd.
Landscape Design: Onshitsu
Architects: KOMPAS, Hidenori Sakai, Mai Komuro 
Country: Japan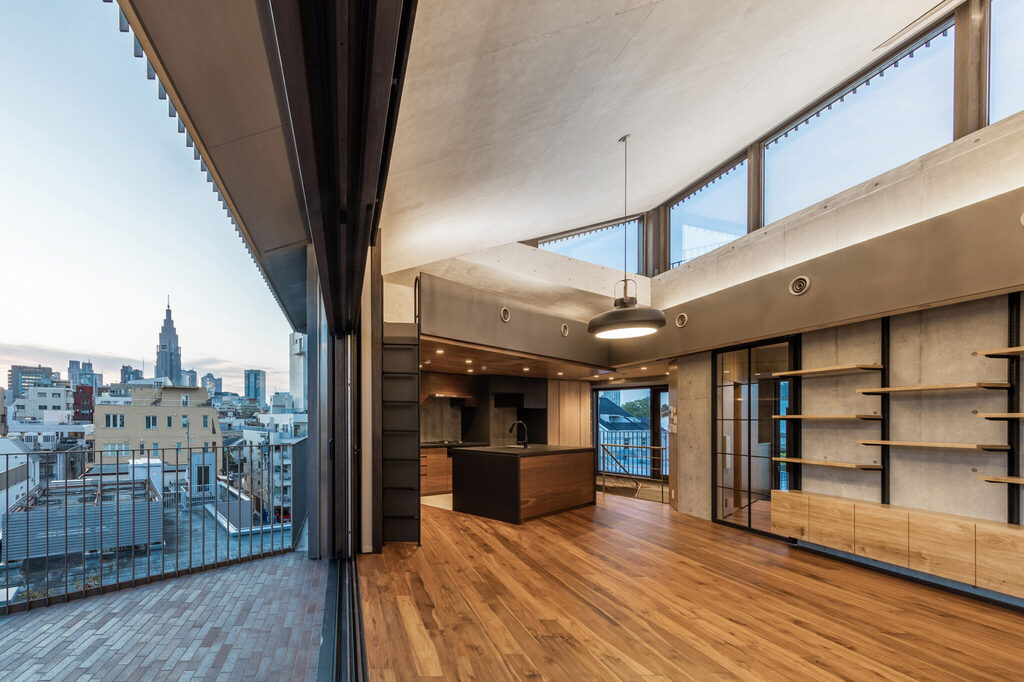 Source – Archdaily.com
Located in a densely urban setting in the city of Tokyo, near the National Stadium the Ibis Sendagaya House by KOMPAS
Is an explorative take on modernist homes in a cosmopolitan. It is located in a mixed area that includes commercial and residential abodes. The project comprises two stories that are reserved as tenant spaces with the client's residence located right above them.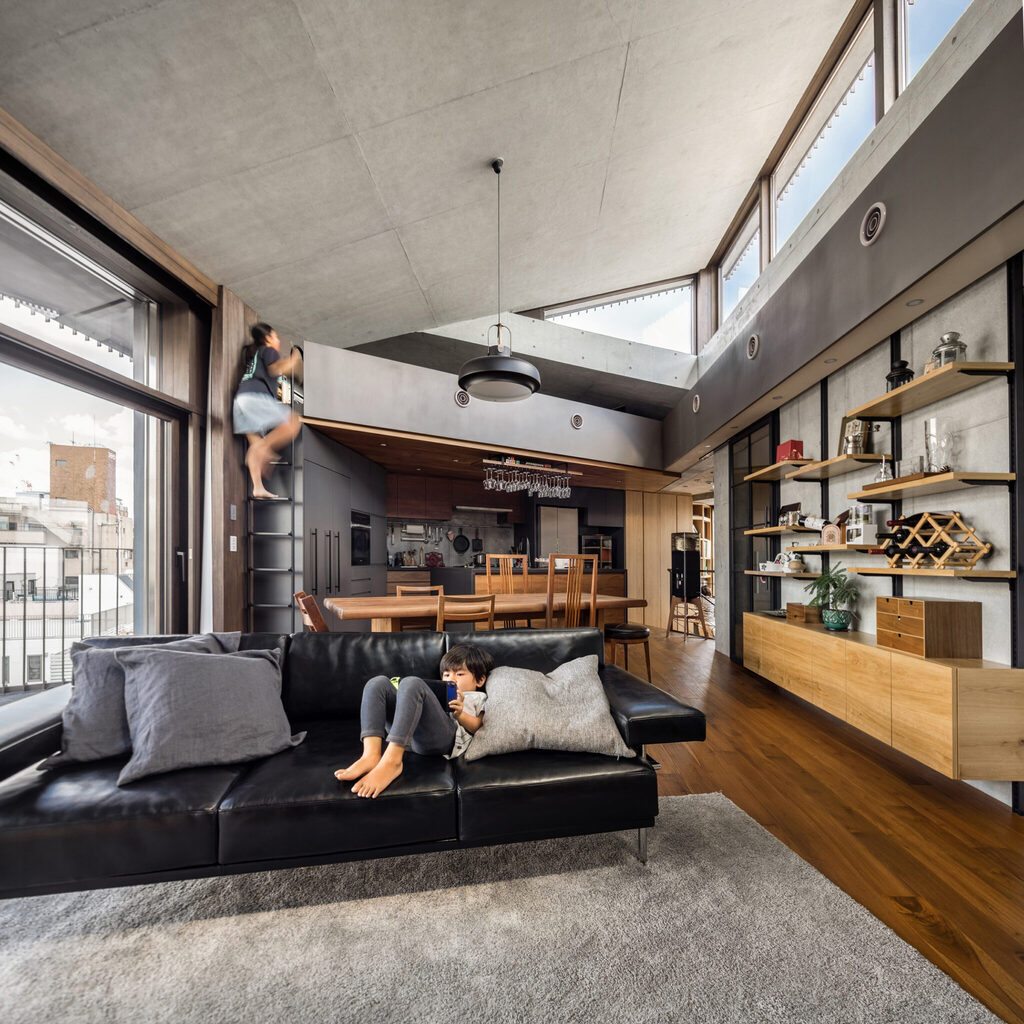 Source – Archdaily.com
It has a 160 percent of maximum floor area ratio as the front street is narrow in its width. This became the most crucial challenge for the designers. For the Ibis Sendagaya House, there was a need to accommodate both residential as well as sufficient tenant spaces together which are profitable in nature. They also wanted to maximize the spatial volume within the compressed site constraints. 
The client, a family of five, had an earlier adobe that had an ample detachment and an openness towards a garden design. This had made them skeptical as to how these aesthetics can be managed in a dense neighborhood for the Ibis house. 
This thought was taken into account by the designers by incorporating several outdoor spaces, despite the probable site constraints.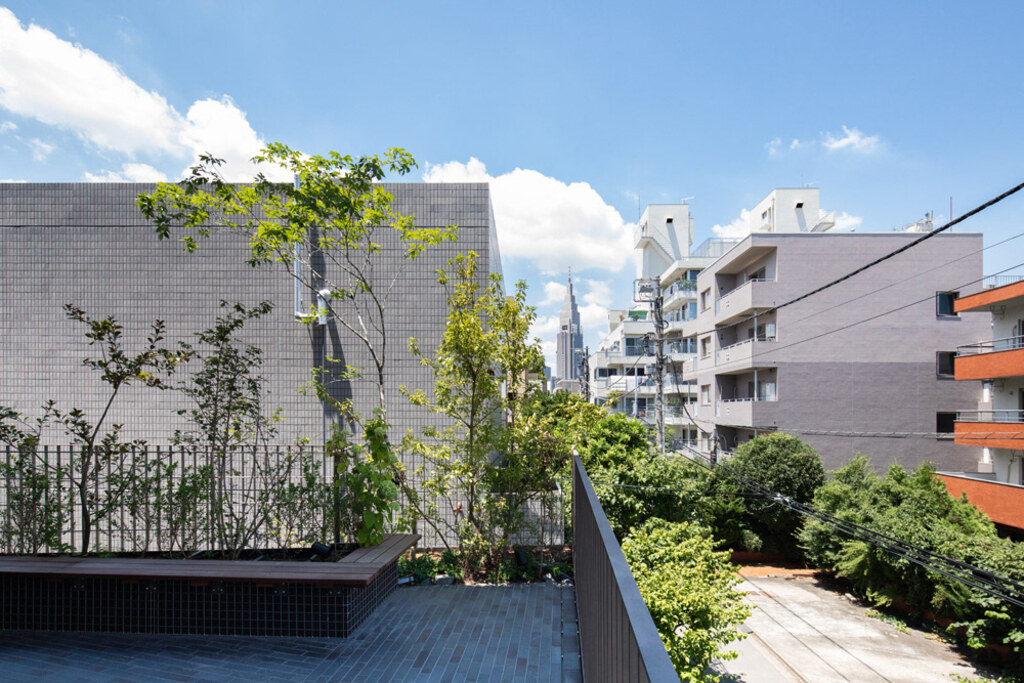 Source – Archdaily.com
There was a low floor area ratio allowance, however, the maximum building height was allowed to be 20 meters. This was allowed only if the volume was able to adapt to the complicated shadow calculation. All the nearby buildings were kept to a minimum height of 10 meters to avoid any conflicts with the code compliances. The designers for Ibis  Sendagaya House took an explorative turn to use this height advantage to its maximum.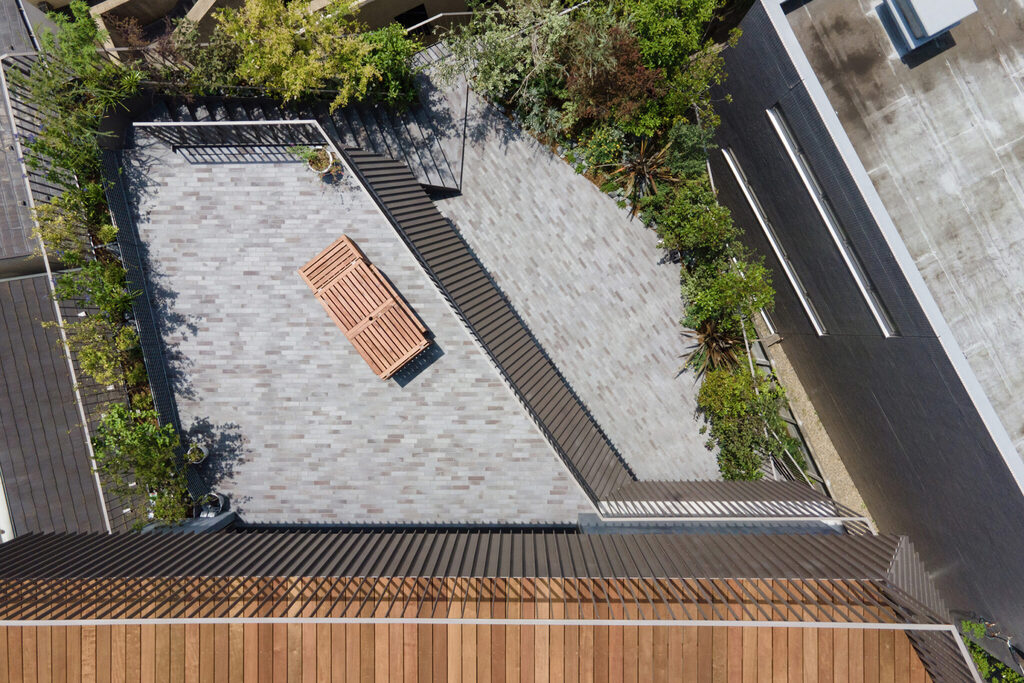 Source – Archdaily.com
They found many potential voids which can be used to create a comfortable and green environment that is above the surrounding low buildings. 
Therefore the Ibis is a culmination of thorough studies of volume with shadow parameters used for elevating a duplex residence higher than the neighborhood average height while also maximizing the overall building volume. It provides several open views through the various roof terraces provided.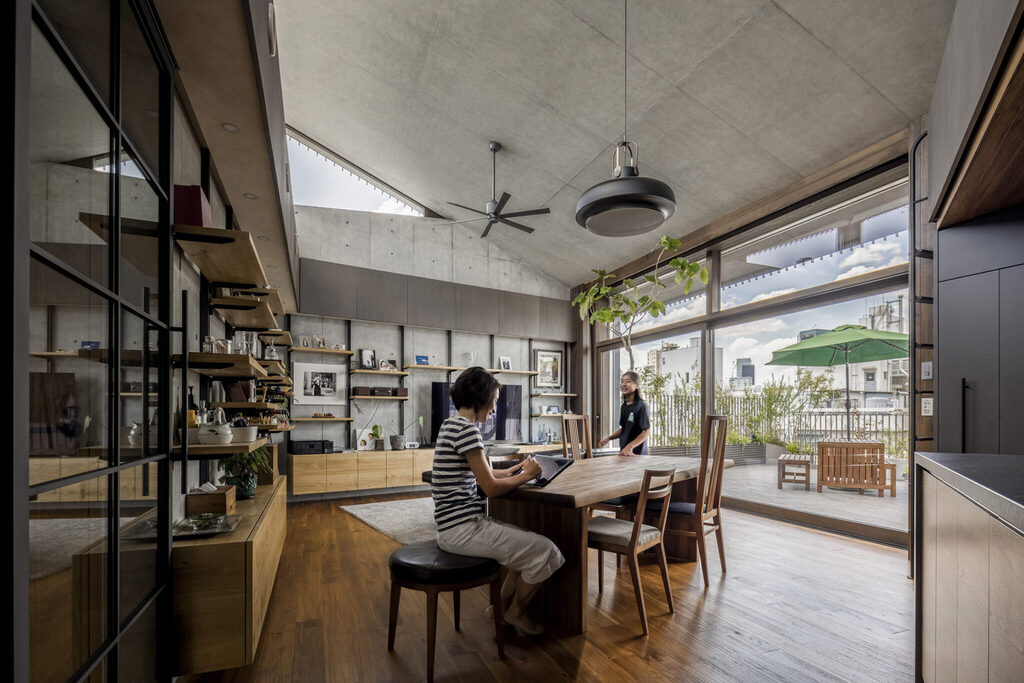 Source – Archdaily.com
"The client, a family of five who used to live in an ample detached house with a garden, had concerns about the spatial quality of their new amazing house with less available floor area and in a denser neighborhood," says the studio KOMPAS. 
They continue, "Thus, we tried to make it as open and generous as possible by actively incorporating outdoor spaces, despite the difficult site constraints."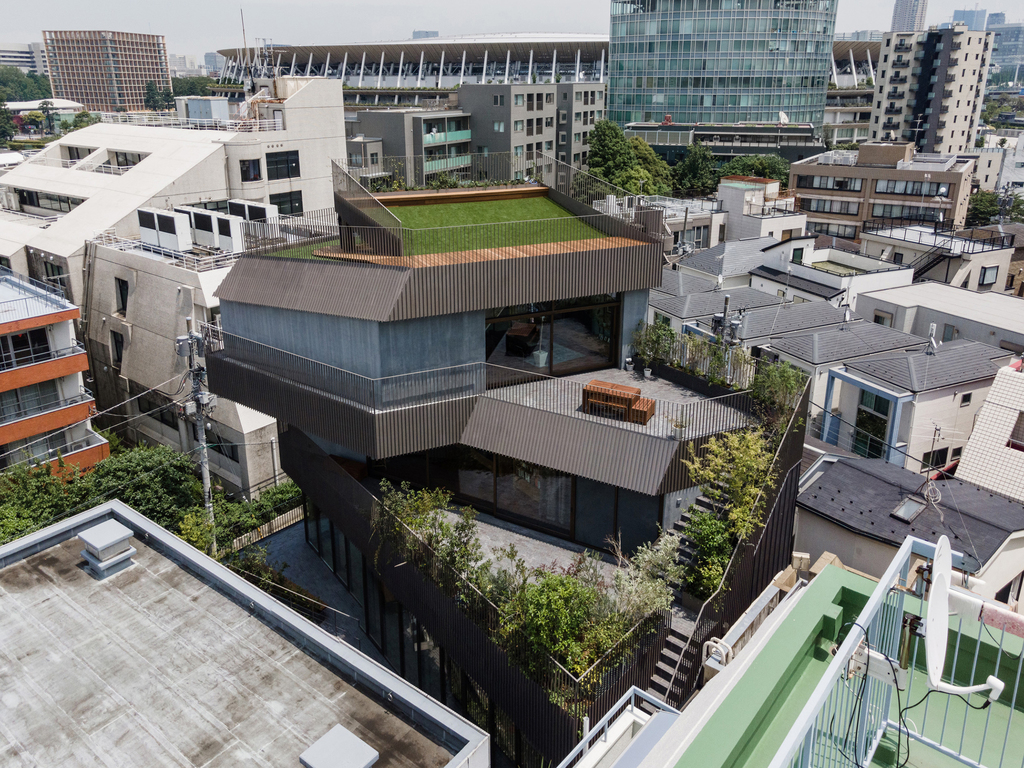 Source – Archdaily.com
These floor plates have uniquely skewed shapes where each level has a different story to tell. They have used various shadow regulations, spatial sequences, and vertical parallels through connections. The stacking of various floorplates also allows overhangs that provide shading and extended outdoor spaces. These create an engaging set of hallways and terraces without interrupting any GFA limitations.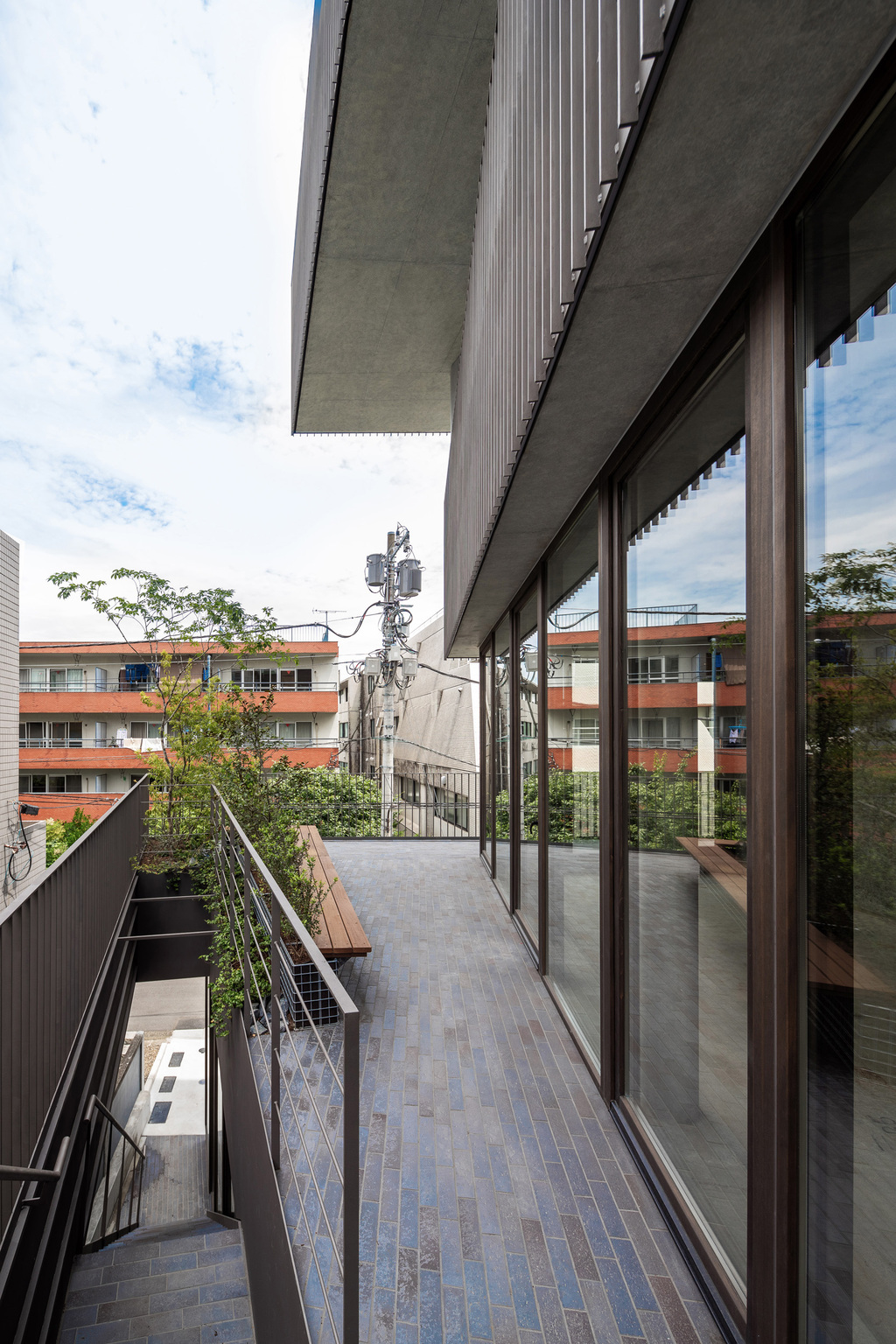 Source – Archdaily.com
It has a closed building facade that is close to the site boundary while also accommodating load-bearing walls. These well-articulated concrete beams in the walls allow the facade structure and the open terraces, hallways, and corridors to be open. The transparency blends the outside from the inside.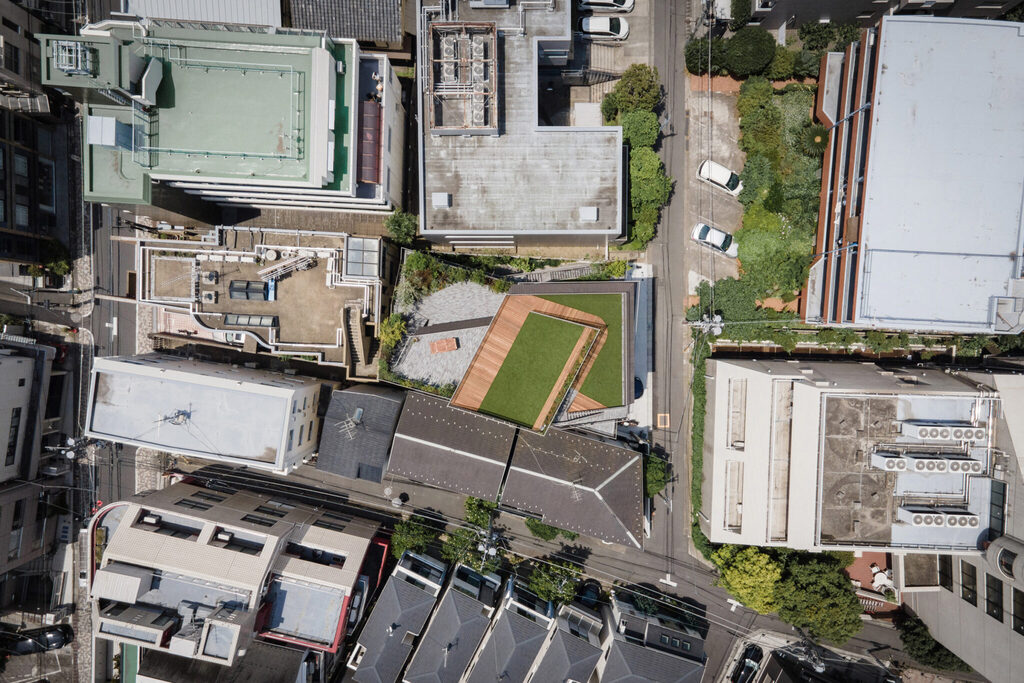 Source – Archdaily.com
"Besides joyful kids running around, light, air, view, and all the flow of life and nature circulate seamlessly throughout inside and outside," says the studio KOMPAS. 
"This project is intended to suggest one way of the approach towards mixed-use development and living spaces in the urban context. At the same time, we purely pursued the sort of abundant and enjoyable living spaces where we would almost envy almost feel envy the kids growing up there."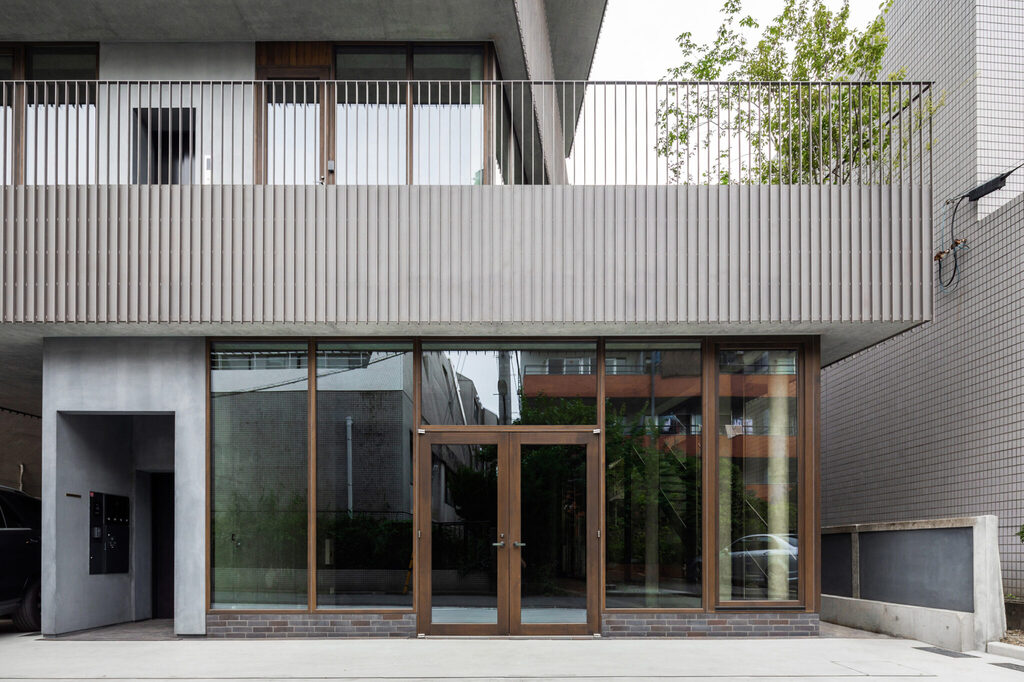 Source – Archdaily.com
The large timber window walls are fire resistant and can deliver open as well as bright indoor spaces that breathe nature. Unlike the typical fireproof buildings, this naturistic and aesthetic take towards technical solutions is a breathtaking addition. The void spaces are well-distributed with landscape and vegetation from each terrace which has a cascading effect through vertical gardens and courtyards that point towards the sky.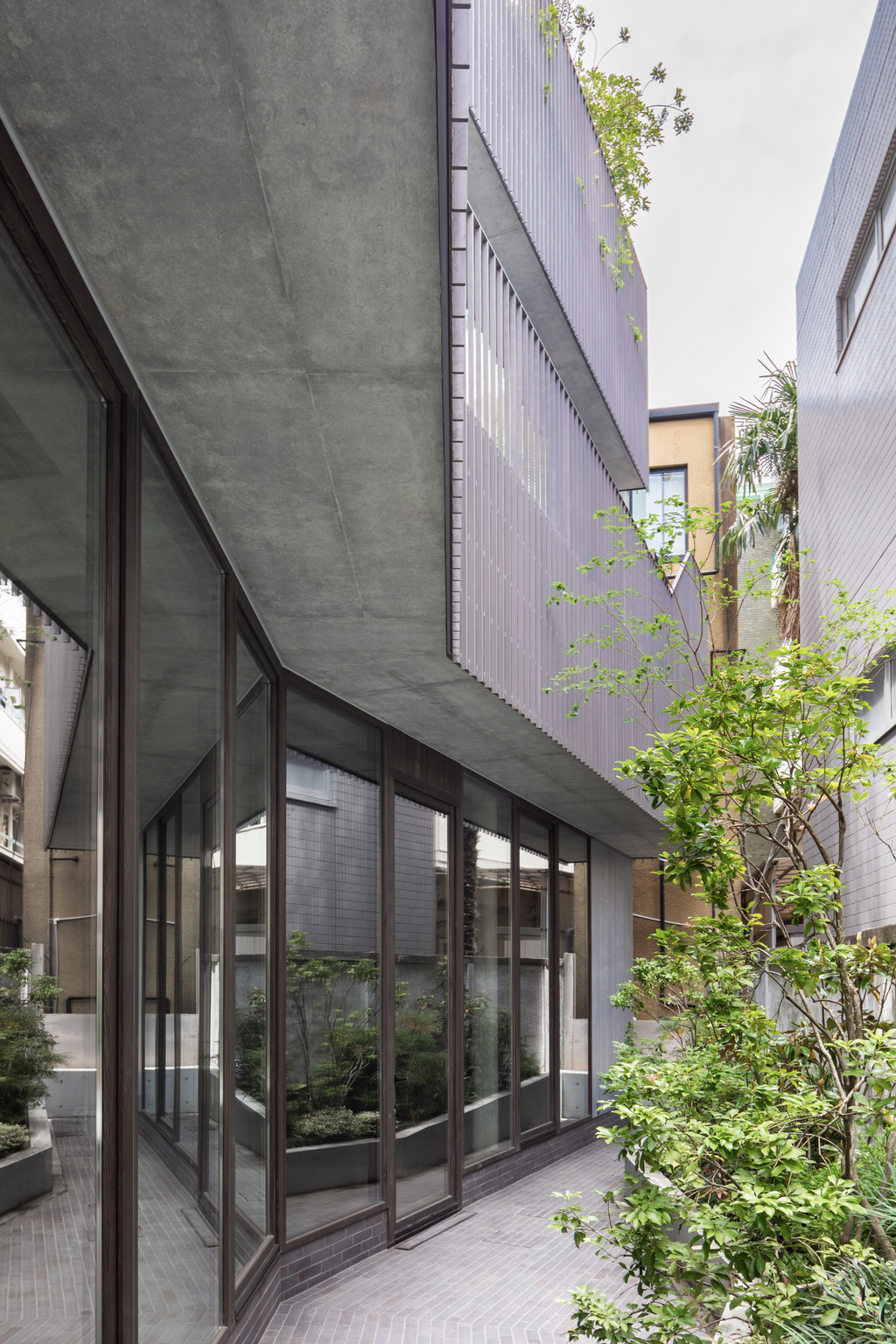 Source – Archdaily.com
The half story between each floor functions as a servant's layer providing infrastructural support to the structure as well. It also serves as a mechanical space, storage, or a loft that helps in utility. This allows the spaces to be more open and flexible to diverse interpretations. 
The linear facade design is wrapped around by volumes in the form of slabs through metal bands with vertical slats in the form of louvers. This has been designed by code requirements but also to elevate the aesthetic quality of the space. The continuous louvers throughout the design allow openness and perpendicular views along with secluded privacy through various diagonal views as well.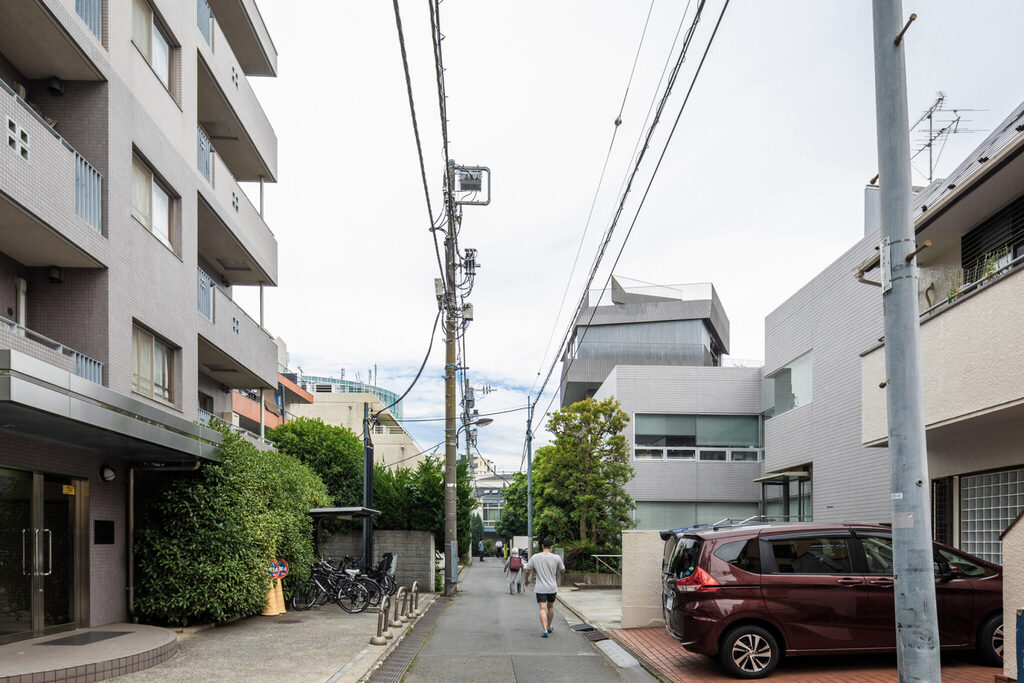 Source – Archdaily.com
The top floor has an engaging set of designs, this duplex residence accommodates a generous-sized single room. Through clerestory windows for the living and kitchen area, the space brings in light and ventilation. A floor below, the triangular living space has bookshelves with four bedrooms and bathrooms. 
The windows have a fully openable mechanism, which can be extended towards the planted terrace gardens for them to become an active part of the interior spaces.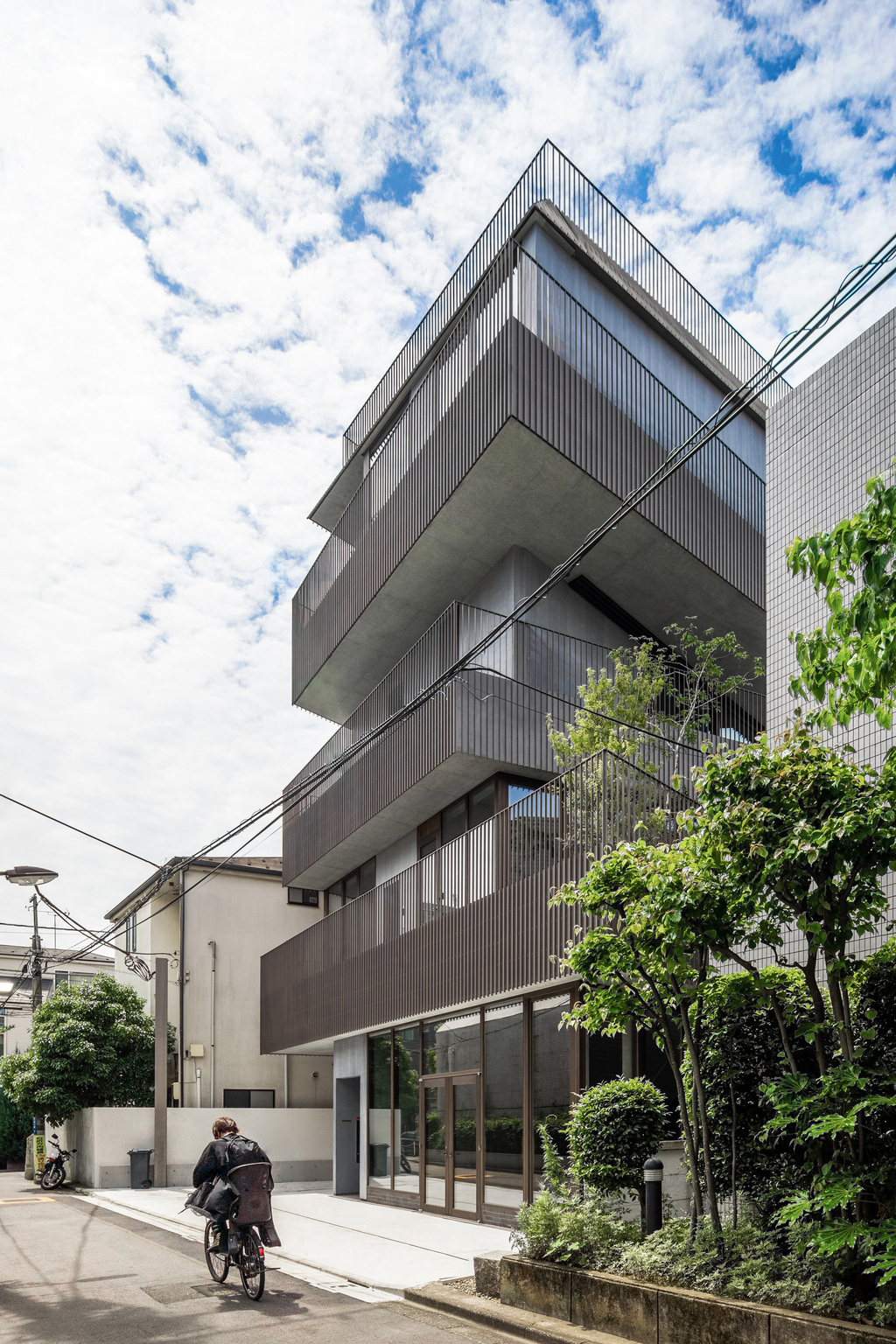 Source – Archdaily.com
Also Read:  Tagliabue reveals EMBT's Timber Central Station in Naples
An anesthetic stairway connects the living spaces and hall in a seamless connection. The two terraces are also interconnected through an outdoor stairway which is surrounded by picturesque landscape.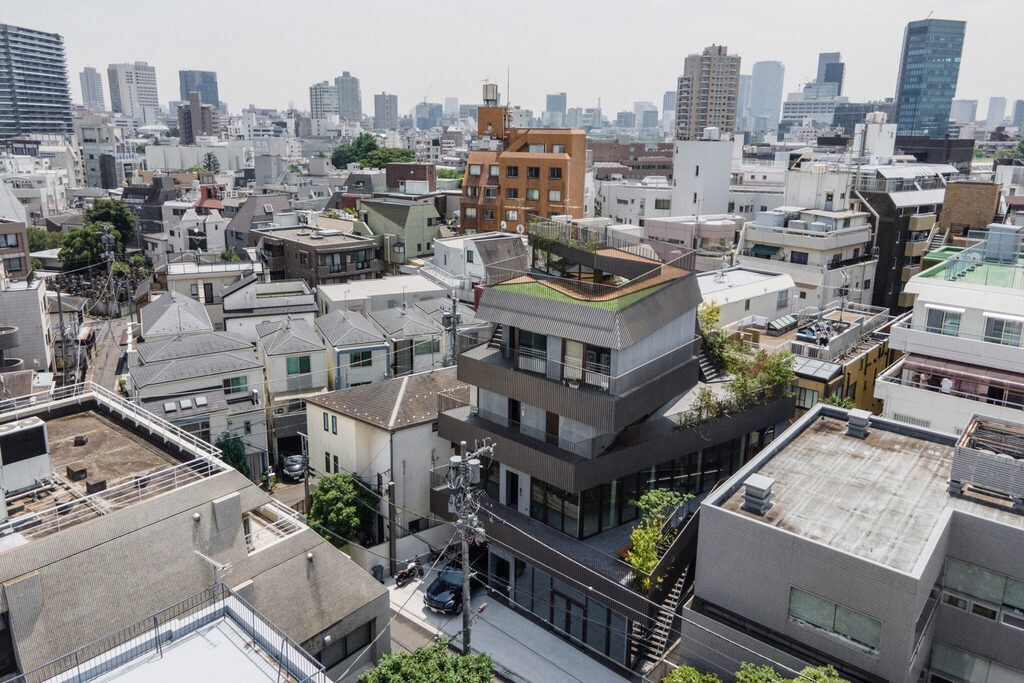 Source – Archdaily.com
After the floor-length windows, other roof terraces spiral down to the slope which covers the artificial turfs. This is an exclusive play space that floats over the sky. This allows three levels of terraces to form a 3D loop of living spaces interconnected through the open areas. The periphery of all the open spaces has a string of vegetation and landscaping to keep nature intact throughout the verticality. 
This structure integrates a distinctive architectural typology that uses its demerits by converting them into plus points making this project relevant to its urban settings. The structure appears as a green fortress in a dense urban fabric of the Tokyo skyline.
For more information about the latest architectural development, keep coming to Architecturesstyle.
Also, do follow us on our Instagram page, Architecturesstyleideas, to get daily updates.
Related posts
The Floating Pitch of FIFA World Cup 2026
The 2026 FIFA World Cup is set to be the largest and most ambitious tournament in the event's history, with…