Project Credits:
Architect: Benedetta Tagliabue, Miralles Tagliabue EMBT
Project director: Joan Callís
Design team leader: Valentina Nicol Noris
Collaborators: Eugenio Cirulli, Teymour Benet, Luis Angello Coarite Asencio, Antonio Rusconi, Davide Mergoni, Marco Orecchia, Gabriela Degetau, Sofia Barberena, Ludwig Godefroy, Raphael Teixeira Libonati, Stefano Spotti, Andrea Morandi, Shavleg Chichishvili, Gordon Tannhausen, Andrea Morandi, Alessandra Deidda, Cecilia Bertozzi, Mirko Silvestri, Joanna Karatzas, Gabriele Rotelli, Guile Amadeu, Lucien Puech, Valeria Alfonsi, Michela Cicuto, Francesca Martinelli, Andrè Temporelli, Marco Orecchia, Giulia Viola, Federico Volpi, Francesco Rota, Gregorius Budhijanto, Juan Manuel Peña Sanz, Guido Bigolin, Maira Carillo, Jan Kokol, Marco dal Fabbro, Marina Pérez Primo, Silvia Sonnati, Carlo Consalvo, Philip Lemanski, Marianna Mincarelli
Structural engineer: MC2 Julio Martínez Calzón
Photographs by: Paolo Fassoli
Project start year: 2004
EMBT, a Barcelona based company, revealed a few enticing images of a mass timber metro station that was under construction located in the Centro Direzionale area of Naples. This underground station is designed by the Japanese architect Kenzo Tange, which is ideated to be a vital part of the city's infrastructure.
The EMBT studio is led by Benedetta Tagliabue to build a station from wood as a core material which also follows an organic approach to this old 1970s district.
"Kenzo Tange designed Centro Direzionale and he built a very Kenzo Tange-type of city with reflective skyscrapers and a piazza, very 1970s, very clean," says Benedetta Tagliabue. "It didn't work because it's so different from the rest of Naples."
The station is constructed from mass timber taking cues from older parts of Naples.
"It's a place where there are a lot of offices and a lot of business space but at five o'clock at night, it's deserted and very dangerous," she said.
"So the idea of making a new station there and connecting with the new subway line was also to try to introduce a piece of nature and a piece of the original part of Naples into this artificial piece of the city."
It is built over the existing underground lines as a replacement of the previously built structure, which was little more than a cover for the entire pedestrian commute. It included a shade for the staircases and metro platforms which barely covered the necessary.
"We are working on an existing series of platforms and if you put more weight on top, you never know how much you can put," says Tagliabue. "Wood is a very light material, and it combines very well with the pre-existing structures."
"We used the pre-existing concrete structures, the pre-existing columns, and we inserted new wooden columns in that," she adds.
"We matched the steel part of the concrete to make the base of the new columns, and then the rest of the column is totally made of wood."
The 10,000 square-metre metro station makes use of glued laminated timber to create a signature shape for the enclosure. The entire width of the rail tracks is reflected in the form of the undulating vaults.
"We love vaults. It's a great shape that works with most materials – vaults were first made with stone and then with ceramics, and I think it's also efficient with wood." Benedetta Tagliabue said.
"Especially laminated, because you can give any shape to the beam that you want," she further adds.
The vaulted ceiling pays homage to the classic train station designs while having a modern aesthetic which is achieved with the use of wood as a prime material.
"In a way what we are trying to achieve here is a kind of a new organic piazza, like being able to walk in a wood when you are in this very artificial business centre," quoted by Benedetta Tagliabue.
This metro station is one of the several designs by international architects for the city under the slogan of AAA – architecture, art and archaeology, where each city station symbolizes art and archaeology. This archaeological aspect has also led to several delays due to the findings in the ground. Including the Studio Fuksas design which will now act as a museum after an ancient Roman temple that was found on the site.
Luckily, the Centro Direzionale station was located in a newer part of the town which nullified these issues. Although, due to the coronavirus pandemic the construction was shut down for a while causing several delays. The station also had a garden in the design which is not being built now, due to budget issues due to the pandemic.
"Naples is not an easy place for maintaining timetables, I really hope they're not going to cancel the garden, because it's really important and it shows that we're trying to make it into a natural place." says Benedetta Tagliabue.
The design is also supposed to feature art on its roof that will depict an archaeological piece found in Pompeii of a face to follow the symbol of art, archaeology and architecture as per the AAA slogan.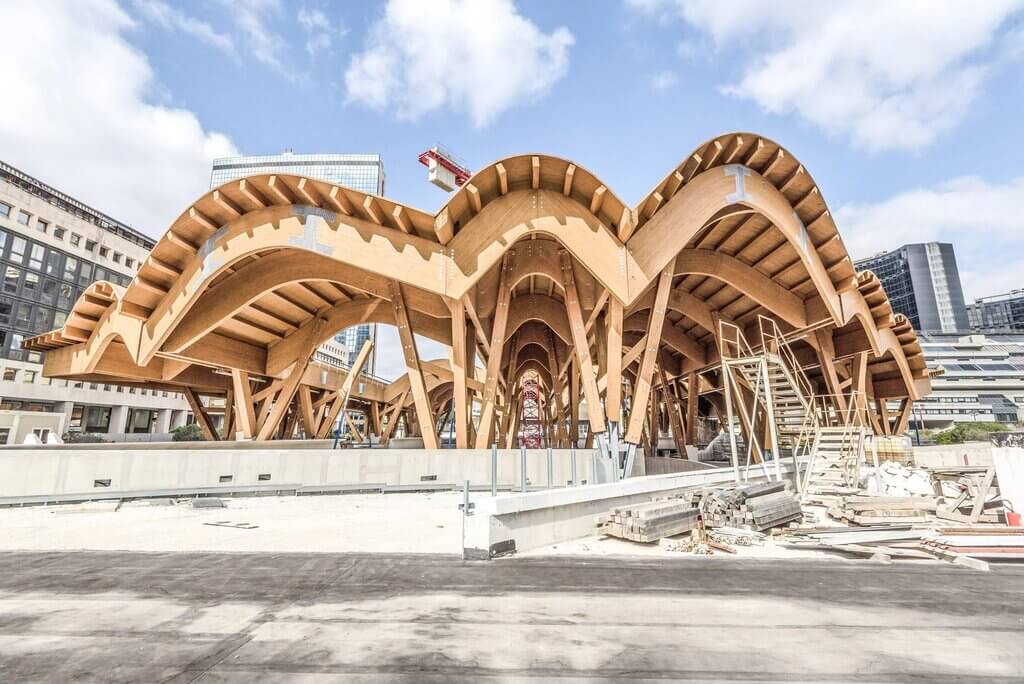 The completion date has not been announced yet. The project was started in 2004.
"We started the project in 2004; infrastructure is very slow, and the Naples way of doing it is not so easy, so you have to be very patient," says the architect.
She continues, "I think because of this station, we won another station in Paris in 2014, 10 years after [the Naples station] and I'm sure the one in Paris will finish before the one in Naples."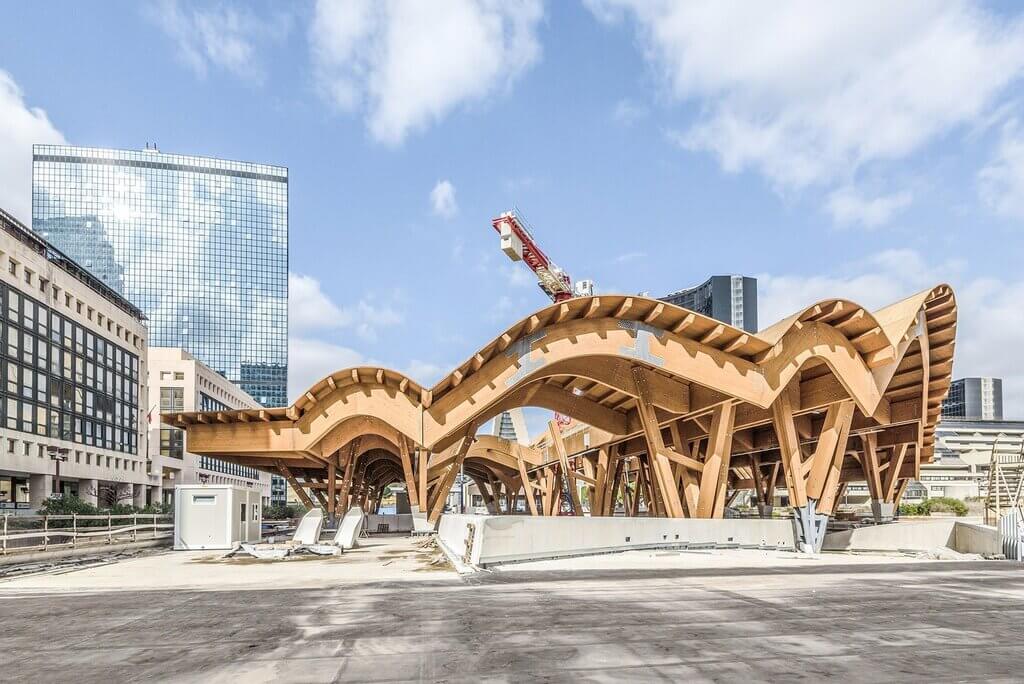 Final Words
In the list of various infrastructural projects designed in Naples, some of them are the high-speed rail station by Zaha Hadid Architects and another underground project by Karim Rashid for the University of Naples Metro Station.
If you want to know such interesting blogs then read our previous blogs like Gehry Residence Contemporary House Design, Modern Mansions, Terraria House Ideas, and many more.
Discover More