When it comes to the perfect living location, New Zealand is one of the top spots that probably comes to our mind first. Many people have a dream of living in the amazing wilderness of this place.
Do you like tiny homes? Is your life goal is to own a home in a serene, peaceful place? Building a home usually takes a lot of planning and designing, and time. What if we tell you that you can live in your dream home that will be ready in just 4 days? Yes, this can Be possible!
We're talking about one of the mesmerizing beauty: Karangahake House. Designed by MAKE Architects, this is a private residence. Surprisingly built in just four days, this house uplifted the whole building experience. Let's know more about this unique structure which is built in quite an unusual way.
Karangahake House
Source: squarespace-cdn.com
Architects: MAKE Architects NZ LTD
Location: Waihi, New Zealand
Area: 100 m²
Year: 2019
Project Type: Residential
Surrounded by the breathtaking views of Kaimai Ranges and the Karangahake forests, this house is a dream come true. Beautiful and masterfully designed by the well-known MAKE Architects, Karangahake House is now one of the trending houses in the world.
So, what's the reason for Karangahake House's popularity? What's so special about this home?
Architects have built or, more precisely, assembled this house in just FOUR DAYS! Yes, you read it right! It is a prefabricated house that was directly assembled on the site.
Source: dwell.com
From Paeroa through the last bridge towards Waihi, this modern home is situated in one of the spectacular locations. Perfect home for those people who want to live in serenity, tranquility, and near to nature. This simple farmland home reminds you of the essence of living simply in a quiet atmosphere with your family. It also reminds us of how your lifestyle can be impacted in a good way just by living close to nature.
Client Requirements: The Karangahake House
Source: archipro.co.nz
The homeowners, Sarah and James, purchased beautiful farmland in the North Island town of Waihi. They instantly fall in love with the Kaimai-Mamaku Forest and surrounding natural views.
The young, outdoorsy couple wanted a simple family home inspired by a tramper's hut. Environmental stewardship is the key priority of the nature-loving family. As they love running and mountain biking, overall spending time in the greenery and natural environment.
Source: adsttc.com
That's why they pick this wild rural spot for their dream home. After a couple of months, the family moved into a nearby dilapidated cottage on the farm. During their stay, they plan the design of their new home. While simultaneously renovating an existing cottage on the property into an AirBnB guest house.
The couple's first goal was to commission a prefabricated house with minimal site impact. And to bring their vision to life, they asked MAKE Architects to create a simple small modern farmhouse with all the facilities and amenities. So that they can enjoy life in the rural location while staying warm and comfortable. Additionally, they also want to reduce the cost and duration of their mortgage.
Source: dwell.com
Sarah says, "Also, we knew it would just be us three, and we don't need a lot of space – we don't have a lot of stuff – and we didn't want to create space just to have to clean it."
She adds, "The most enjoyable feature is the consistency of temperature, both across a 24-hour period and throughout the house." She continued, "I grew up in homes where you didn't want to go to the toilet because it was freezing, but here in the main house, the temperature is the same everywhere."
Source: adsttc.com
Concept & Design of The Karangahake House
Source: adsttc.com
After listening to all their client's requirements, the MAKE architects came up with the idea to build or assemble a prefabricated farmland house on-site of their existing farmland. Another demand of the clients is to build everything under a specific budget and at no larger than 100 square meters.
The architecture firm surprisingly is able to assemble a fantastic prefabricated home in just four days. Another creative step they took is that they wisely design everything and keep their focus on cost-saving, sustainable solutions. This way, they're able to avoid any wasteful and arduous construction processes.
Source: pinimg.com
Karangahake House by MAKE Architects is highly inspired by 'trampers huts' but has more comfortness and warmth. This is because it was built according to the Passive House standards.
This modestly sized prefabricated house in New Zealand's Coromandel is designed to highlight the importance of the surrounding environment and also give residents enough private space to enjoy quiet family moments.
Source: adsttc.com
"It signifies a humble architecture bravely holding its own on the hilltop, a return to our collective necessities of shelter, gathering, and freedom," MAKE architects write on their website.
Construction Process of The Karangahake House
Source: adsttc.com
To make the construction away from the wasteful, costly, and arduous construction processes, the MAKE architects have collaborated with local partners at 'Welhaus – Welstruct' and contractors 'Carl O'Neill Builders. Along with them, the manufacturers Plytech, Proclima, Abodo Wood NZ, Imo Group, Mr. Ralph Lighting, NK Windows, Wagener, Welhaus also help the architects to achieve the goal.
Clients were clear with what they wanted in their house design: A typical vernacular hut used by hikers in the neighboring forest!
Source: adsttc.com
To accomplish their goal, the pre-fabrication process is the ideal solution to meet the efficient, economical, and eco-friendly architectural values. The main parts of the house, like the Pre-designed floor, roof, and wall panels, were pre-constructed. Later they all were assembled on-site.
"The house is warm," says Martin. "It's a beautiful space to occupy, with a really nice constant temperature."
Source: dwell.com
So, what was the outcome of doing all this work? You'll be surprised to know that the entire process resulted in near 0% on site-waste! Also, there is a huge reduction of transport pollution, time and labor economy. This gives more efficiency and also leaves a positive impact on the people about the prefab home construction.
Architects make sure that it is a well-planned and economic project. From steel roofing, timber cladding, prefabricated wall, and ceiling panels, everything was designed while keeping sustainability and budget in mind.
Source: cloudfront.net
Karangahake house floor plan includes cross-laminated floor and ceiling panels. These are specifically added to provide economy and speed of construction. The simple, quiet dwelling features an airtight building wrap that pairs with the rigidity of fully plywood-lined interiors. These interiors create a warm and contemporary yet casual feeling.
Along with the plywood interiors, tilt-and-pivot joinery, weathertight linings, and smart, sustainable ventilation systems are added to create an inviting, quiet and healthy family home.
Source: dwell.com
"The openings have been positioned to create good cross-ventilation across the house so you can open it up and get a nice breeze across the house," Martin says. "The whole system means the house ventilates in the style of a German passive house."
Exterior, Interiors & Other Details of The Karangahake House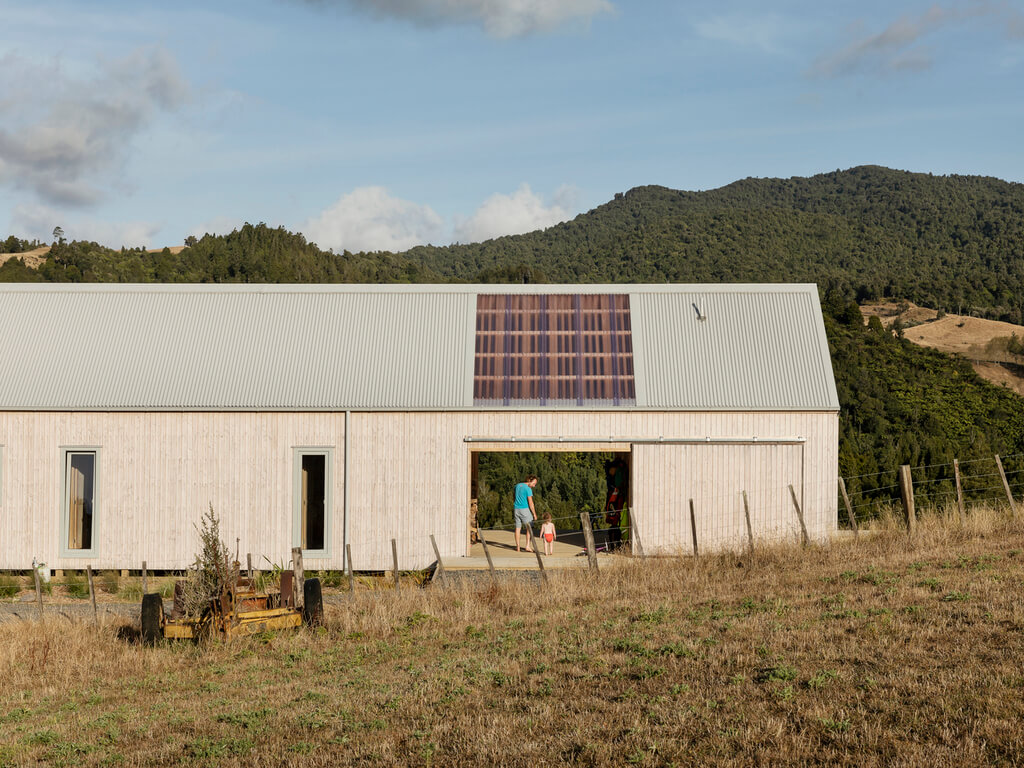 Source: adsttc.com
Though there was a tight budget and limited space, architects challenged themselves and came out with some of the most amazing details and precise spatial designs.
This simple vernacular-inspired residence located in the gorgeous farmland setting recalls the local Coromandel Region's rich forestry history and New Zealand's hiking culture.
Source: dwell.com
Exteriors are cladded with locally grown and sustainable vertical timber shiplap. Also, a natural and eco-friendly wood finish is used, which will keep the facade look smooth and new for many years. The 5 meters wide gable roof design provides a long extruded form that minimizes internal circulation space without compromising easy family living.
Source: adsttc.com
The house has a double-height open living and kitchen area and a mezzanine above two double bedrooms. The Outdoor Room connects the bathroom to the guest bedroom/office, and with this, there is another bathroom, and laundry/mudroom is attached to it.
The mezzanine provides an open gathering space that is perfect for friends and family get-togethers. Instead of the second hallway, there is a covered verandah. This space gives relief from the summer heat.
Source: adsttc.com
An outdoor room provides a direct engagement of the home and the environment to the owners. A large custom sliding barn door is used as the main entry gate to protect the house from strong hilltop winds.
Another great thing about Karangahake House MAKE Architects is that the exterior terrace offers spectacular views of the natural landscape. The clear roofs help to fill the space with soft batten-filtered light during the day and glow like a lantern at night. This reminds of the welcoming glow of a tramper's home.
Source: dwell.com
There is also an additional accommodation wing added to the design. This acts as working from home or flexible space for family members, guests.
"The aesthetic of the simple trampers' hut really appealed to the owners," says architect Martin Varney, director at MAKE architects. "You can see it in the gabled form, the timber weatherboards, and the timber flooring. They wanted the house to be constructed in timber and plywood because it relates to Coromandel's history of timber logging, and they are also involved with a project to regenerate their land with native trees."
Source: cloudfront.net
"The outdoor room was designed to take the barn form to another level and for the owners to engage with both the house and the environment," says Martin. "The barn doors create apertures in the building form so, whatever the weather, there is a flexible engagement with the architecture."
Source: adsttc.com
Source: pinimg.com
Source: dwell.com
Source: cloudfront.net
Source: adsttc.com
Also Read: The Pacifica Residential Tower Plus Architecture: Reshaping the Skyline
The Bottom Line
So, this is all about the Karangahake House by MAKE Architects. MAKE's Karangahake House is perfect for people who are daydreaming of cheap, easy escapes from the hustle and bustle of the city lifestyle. MAKE architects also write on their website that we should all consider planning for much more minimalist, sensible homes that are more connected to nature.
I hope you liked this blog about this unique Karangahake House New Zealand. Share this blog with your family and friends or with anyone curious to know more about sustainable projects and spectacular architecture located at spectacular locations.
For more information about the various types of architecture and home improvement techniques and styles or decoration ideas, explore Architecturesstyle.
For daily updates about architectures, don't forget to follow us on our Instagram page, Architecturesstyleideas.
Himadri Shakya
Himadri Shakya is an enthusiastic Content Writer and Editor. She loves to create creative, engaging, and SEO-friendly content. Through her extensive research skills and practice, she has been generating high-quality and informative articles, and blog posts for over 4 years.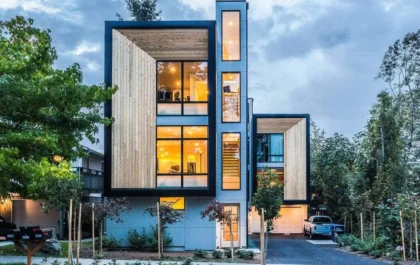 27+ Stylish & Modern Townhouse Designs for Urban Living.
The townhouse's first impression is normally too small, too compact, too narrower, and the list is endless. Well, let us…