Situated right on Mohonk Lake in New Paltz, New York, Mohonk Mountain House is a mystical castle in a fairy tale. With amazing views, luxurious amenities, and mouth licious food, this place is worth a visit. Are you excited to know more about this place?
COVID GUIDELINES:
As per New York State guidelines, even if you have been vaccinated for Covid-19, still you have to wear masks in public areas.

People coming from beyond the contiguous states (NJ, CT, PA, MA, & VT) have to compulsory fill a Travel Health form and quarantine restrictions given in the New York State Covid-19 Travel Advisory.
Mohonk Mountain House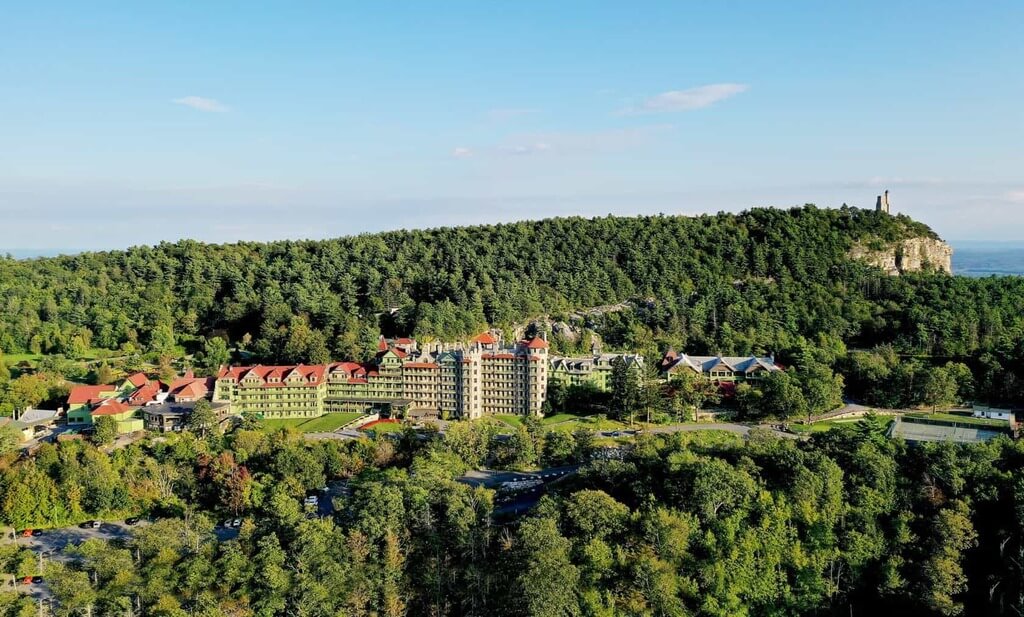 WI-FI:

Free Wi-Fi

Menus:

Dinner, Breakfast & More

Drinks:

Beer, Wine, Full Bar & Cocktails

Rooms:

265
Mohonk Mountain House is located in the heart of the Hudson Valley, New Paltz (Only 90 miles north of New York City). Imagine living in a place surrounded by 40,000 acres of pristine forest, breathtaking views of the lake, and a beautiful natural setting. Wouldn't that be fascinating?
This National Historic Landmark resort offers many things, from a variety of recreational activities, farm-to-table cuisine, rooms with free Wi-Fi, and an award-winning spa. There are also biking trails and 85 miles of hiking trails near the Mohonk Mountain House for hiking lovers.
History of Mohonk Mountain House
The origin of the Mohonk Mountain House is as incredible as its name. It is modeled after a Victorian Era castle. Yes, it is more than 150 years old, and it dates back to 1869.
You'll be more surprised to know that it is owned and operated by the same family from the last 150 years—the Smiley Family!
Currently, the fifth generation of the Smiley Family is running and managing the hotel. It is also recognized as a National Historic Landmark.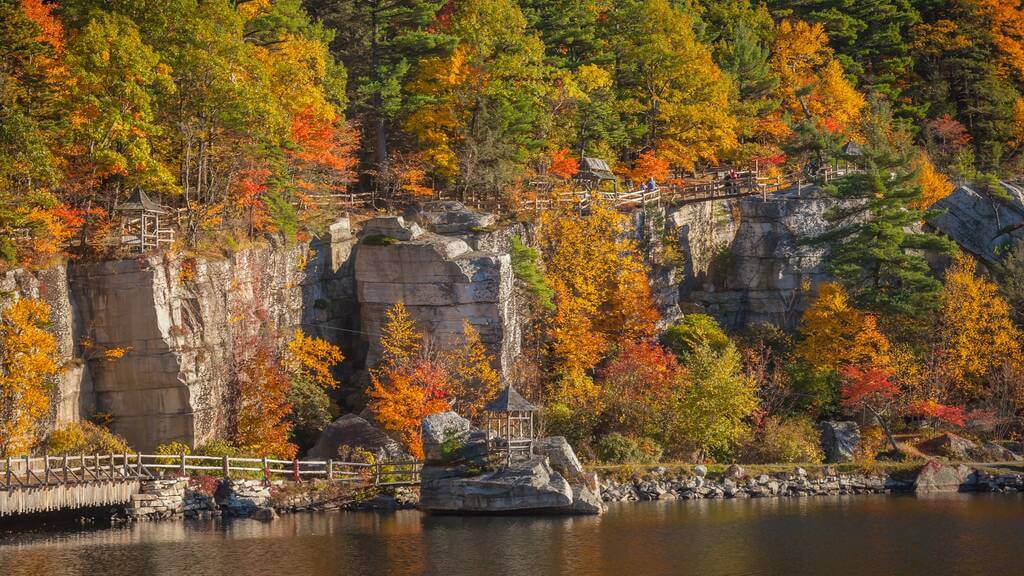 Do you know that many famous people and celebrities have visited the Mohonk Mountain House?
From Bill and Hillary Clinton, Andrew Carnegie, and John D. Rockefeller, to Jimmy Fallon and Stephen King, many more celebrities have enjoyed staying here!
This place offers an all-inclusive vacation that includes many amenities, three meals a day, plus tons of activities. Perfect for couples, families, and groups, this place has many things you can enjoy only here!
What Mohonk Mountain House Offers?
Albert Smiley got really inspired by the rocky cliffs rising above a crystal blue, glacial lake in the Hudson River Valley. Later, he decided to create Mohonk Mountain House, where guests could renew their bodies, minds, and spirits in the middle of this beautiful natural setting.
It was originally a small guesthouse and now it has become a huge Victorian castle with fanciful turrets, local stone, and gabled-frame constructions. This place is full of entertaining things which you can enjoy doing with your friends and family such as
Bar

Business

Detox

Family

Free Wifi

Gym

Pool

Spa

Credit Cards
Other than this, a 9-hole golf course, tennis courts, and a private beach are there. There is also an award-winning, eco-friendly 30,000-square-foot spa. Here guests can relax with a massage or enjoy the mineral pool. They can also enjoy the indoor pool, fitness center, and seasonal ice skating.
Live in Luxury Accommodation
This resort has a total of 265 rooms, including guest rooms, five cottages, and the Grove Lodge, which has six guest rooms and a great room. Another famous room in which people love to stay is the Victorian-style Tower Rooms.
The reason behind this is Mohonk mountain house interiors such as wood-burning fireplaces, a combined sitting area and bedroom, and a private balcony with rocking chairs. All the interiors and decorations are eye-pleasing and attractive.
The resort also includes eight family suites with views of the garden and lake, nineteen large Tower Rooms in the turrets, and Seventy-eight Victorian Rooms.
Apart from these, there are 151 Traditional Rooms that have unique antique-style furnishings. It offers various sleeping options such as two queens, one king, one queen, one queen, and one twin, one full, or two twins.
Grove Lodge has six luxury guest rooms with private stone patios and stone gas-burning fireplaces. You can enjoy the beautiful neighborhood panoramic valley views, tranquil views while drinking your favorite drink and sitting in your rocking chair.
Enjoy the Fresh & Delicious Food
After looking for the accommodation, we always check the food, right? After all, a tasty meal with family makes the time more enjoyable and memorable!
You'll be happy to know that meals are included in the daily room rate (excluding alcohol).
All the food and beverage of Mohonk has local, fresh ingredients sourced from the Hudson Valley's 50 nearby farms, as well as local breweries, distilleries, and wineries.
From the chef-driven dishes to local dishes such as in-house dry-aged meats, house-made pasta, chocolates, pastries, and more delicious recipes.
So explore your options and enjoy meals including crab cakes, glazed beef short ribs, pan-seared branzino, and tiramisu cheesecake.
They also offer a special kids' menu that has fun food items such as grilled cheese, spaghetti and meatballs, mac and cheese, and fruit with yogurt.
Relax in the Spa
Mohonk doesn't have a regular spa facility that you can find in any other hotel; it has an award-winning spa! It has its own separate 30,000 square-foot wing that features 16 treatment rooms, a fitness center, a solarium, an indoor heated pool, an outdoor heated mineral pool, and a yoga/motion studio.
It features a nature-inspired treatment like massages. If you love getting body relaxing massages, you can go for the Mohonk Muscle Rescue. It is the most popular one.
The complete package includes arnica oil for sore muscles, deep heat compresses, flowing Swedish massage, direct pressure point work, and stretches to improve range of motion.
Have Fun in Outdoor Activities
After spending some time sleeping in luxurious rooms and eating the world's best food items, it's time to explore nature. Mohonk Mountain House is surrounded by 40,000 acres of protected forest and a pristine glacial lake.
This place offers countless indoor and outdoor activities and experiences for guests of all ages. So, whether you're staying with your friends or kids, you'll indeed have so much fun while doing all the outdoor activities.
Love hiking? Explore the 85 miles of trails for hiking, rock climbing and scrambling, and mountain biking. Whether you want to try tomahawk throwing, paddleboard across the lake, or just relax in the spa, there are places to do everything.
There is also archery, campfires with live music, fitness classes; forest bathing; guided hikes; house history tours; lawn games, such as shuffleboard and croquet; meditation; mindfulness programming; outdoor movies; yoga; and tomahawk throwing. You can also enjoy playing golf, tennis, and horseback riding.
Seasonal lake activities such as swimming, paddle boating, kayaking, canoeing, and fishing also happen in summers. Whereas in winters, you can enjoy ice-skating, cross-country skiing, winter hiking, snow tubing, and snow-shoeing.
For more relaxing activities, you can go for forest bathing, meditation, outdoor movies; yoga; and fitness classes.
NOTE:
Events and activities are weather-dependent and can be changed or canceled without advance notice. So it's advised to check the daily activities schedule to know about any changes or cancellations.
If you're interested to know more about these types of unusual places around the globe, read our previous blogs such as POP-UP House by FIGR Architecture Studio, An Eco-Floating Hotel in Qatar, and many more.
Explore, Eat & Enjoy!
Imagine sitting in front of a fireplace and enjoying tasting the delicious meals. From the Mohonk mountain house exteriors to interiors, you'll be amazed by everything. 
Final Words
Mohonk mountain house offers numerous luxurious facilities and outdoor and indoor activities. We highly recommend visiting this resort for those who love exploring nature and want to escape from the chaotic city life. You will have a memorable vacation time with your family or friends here.
So, this is all about the Mohonk mountain house in New York. I hope you like this blog, please share it with your family and friends who need a summer vacation break.
Discover More:
Himadri Shakya
Himadri Shakya is an enthusiastic Content Writer and Editor. She loves to create creative, engaging, and SEO-friendly content. Through her extensive research skills and practice, she has been generating high-quality and informative articles, and blog posts for over 4 years.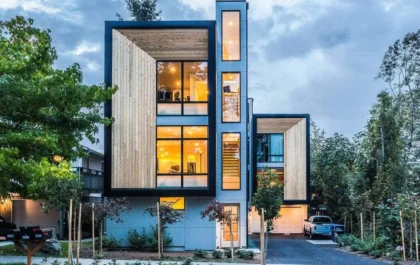 27+ Stylish & Modern Townhouse Designs for Urban Living.
The townhouse's first impression is normally too small, too compact, too narrower, and the list is endless. Well, let us…