Is it your dream to live in a home next to a lake?
There is something so peaceful and relaxing about living and spending quality time with your family in a lake house. Imagine waking up in a house surrounded by lush greenery and a serene sound of water lapping against the shore. Doesn't it sound like a romantic Hollywood movie?
This is why, in recent years, many people feel inclined towards building a house near any body of water like a pond, lake, or sea. This is why lake house plans are getting popular all over the world. From a family vacation home for weekends with your kids in summer to your permanent residence, lake houses can become anything to offer a calm living space.
These days there are several luxurious lake house plans with modern architectural features, styles, and amenities available. From modern waterfront house plans to cabin-style traditional lakeside home plans, there are many options.
If you're planning to build a home next to a lake or any water body, keep reading.
Today in this blog, I have listed some of the best lake house plans for you. From open floor plans to additional architectural elements, you'll find several lake house designs in the below collection. So, whether you want to build a tiny home for family vacations or just want to live alone permanently in the wilderness, these lake house ideas will surely inspire you to build your dream lake house.
What is Lake House Architecture?
Lake house architecture refers to a house built near lakes to connect with the natural environment and surroundings of the lake. The lake house designs have various architectural elements which make the habitants feel closer to nature.
For example, lake house plans are typically one, two, and three stories, and they're usually built with natural materials such as wood, bamboo, stone, sand, and brick. These lake home designs feature open floor plans, a front porch, a balcony and large picture windows to capture plenty of natural sunlight and enjoy the surrounding natural views. These things create a serene and relaxed atmosphere to live in.
Now, let's move on to the lake house architecture elements. Here is the list of lake house plan ideas to fulfill your dream into a reality:
1. Lake House with Walkout Basement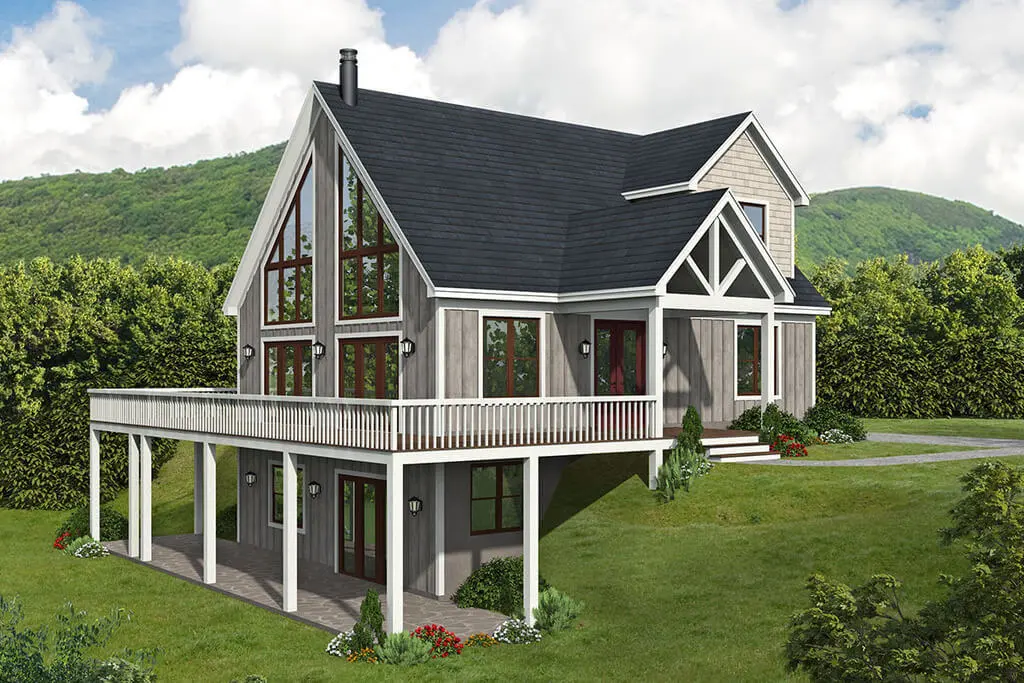 If you're planning to build a sloped lot house or have a narrow lot, consider adding a walkout basement. This is a great way to add extra living space and maximize sweeping views to your lake house. Walkout basements will work well with both single-story and multi-story lake homes. easily access the front porch or waterfront making it convenient for fishing, swimming, or simply enjoying the view.
You can use this extra recreational area as a family room, guest room, game room, or even a storage room. You can also use this space as your hobby area as an art studio, nursery, home office, etc. The lake house plans walkout basement will provide comfort while seamlessly integrating the indoor and outdoor living areas.
2. Lake House with Narrow Lot
Building a modern lake house narrow lot plans seems challenging for many people. However, it is possible with the right lake house plans and architectural details. You have to be extremely careful about the design and layout as it should be constructed to fit the space. Focus on utilizing every inch of space efficiently without compromising on anything.
You can reference the above narrow lot lake house plan, arranged in a front-to-back configuration. It has open floor concepts with strategically placed large windows. This will allow natural light to come into the area and create an illusion of a bigger space than it actually is. These types of lake houses with long and narrow lot plans can offer a comfortable living space with all the required amenities.
3. Lake House with Large Windows
Imagine drinking your favorite tea while watching the sunrise or sunset over a lake from your room; wouldn't that be fantastic?
If you want to enjoy stunning lake views around your lakefront property, build a home with lots and lots of windows!
Lake house plans with large windows facing the water provide expansive views and seamlessly blend indoors with outdoors. To maximize the space, use a vaulted ceiling in the living room with floor-to-ceiling windows or wide glass walls. Whether your house is two- or single-floor, you can add big windows that overlook the deck and have direct access from the primary suite. This will beautifully connect the interior and exterior areas.
4. Lake House with Screened Porch
Living in the woods is great and relaxing, but it also means dealing with bugs and insects. No worries, here is the perfect solution to keep away those insects – the screened porch!
With screen porches, homeowners can relax and enjoy the lake view without worrying about bugs, harsh weather conditions, or other outdoor elements. Transform your porch into a fun and entertaining space for guests and family.
5. Lake House with Cathedral Ceiling
If you're looking for ways to add drama to your lake house without being too obvious, work on those ceilings! Yes, a one-bedroom cabin or two-bedroom lake home with cathedral ceilings is a great way to create a sense of spaciousness.
The tall, vaulted ceilings with windows can make the room feel larger and more open. You can have a small open-layout kitchen with tall ceilings and a walk-in pantry. Add a fireplace to cozy up inside your well-designed waterfront home. Don't forget to include an outdoor area and covered deck for your outdoor entertainment needs in your lake house plans.
6. Lake House with Wrap Around Balcony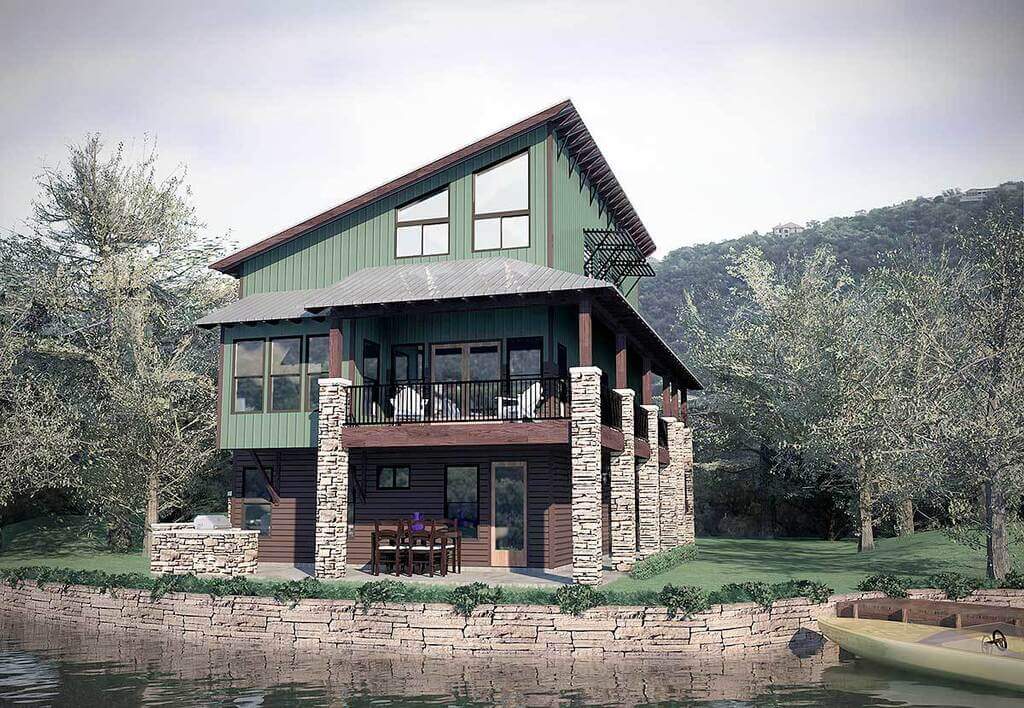 Look at this gorgeous three-story lake house with a large wraparound balcony! Just like a waterfront property must have a wraparound porch or multi-level porch, the house plans for the lake should also have a balcony. Here you can spend time enjoying breathtaking scenery and lake views.
This traditional lake house features a living space with an open-concept floor plan. The kitchen has a large island and storage units. Here you can prepare and serve meals conveniently. The master bedroom has a luxurious bathroom and a private covered balcony.
7. Lake House with Garage
Add at least one garage in your lake house plans to get the most out of the lake living lifestyle. The above waterfront property has a two-car garage which is both functional and aesthetically pleasing.
If you frequently visit your lake home during different seasons, a garage is a practical necessity to add to your lake house plans. You can store your boat, car, fishing gear, etc. A garage is easy to maintain and can be used in several ways, such as as a workshop, a playing area for kids, or an extra storage area.
FAQs
1. What Are the Different Architectural Styles for Lake Houses?
Lake house plans can be built in different styles, including a modern lake house, cabin-style retreat, rustic lake home, traditional residence, and waterfront spacious family vacation home.
2. What Are the Key Features of Lake House Plans?
Several important features should be included in a lake house design, such as a screened-in porch, a covered deck, terraces, big windows, a boathouse, a balcony, open floors, a fireplace, and high ceilings.
3. How Much Does It Cost to Build a Lake House?
The average cost of building a lake house is between $150,000 to $500,000. Remember, the overall price can be more or less depending on various factors such as the size of the lot, materials, cost of labor, and the lake's location.
4. How Do I Choose a Lake House Plan?
Before finalizing lake house plans, consider everything you want in residence, such as the house size, family members, number of bedrooms and bathrooms, amenities, and your budget.
Conclusion:-
Lake house plans are designed to offer a perfect blend of functionality and stunning lake views to the residents. Waterfront properties have several architectural elements and interesting features, including a walkout basement, large windows, a garage, and lavish outdoor living areas for comfortable living. You can also customize things according to your requirements & budget.
Explore Further:-
Himadri Shakya
Himadri Shakya is an enthusiastic Content Writer and Editor. She loves to create creative, engaging, and SEO-friendly content. Through her extensive research skills and practice, she has been generating high-quality and informative articles, and blog posts for over 4 years.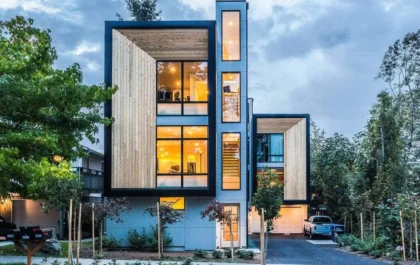 27+ Stylish & Modern Townhouse Designs for Urban Living.
The townhouse's first impression is normally too small, too compact, too narrower, and the list is endless. Well, let us…