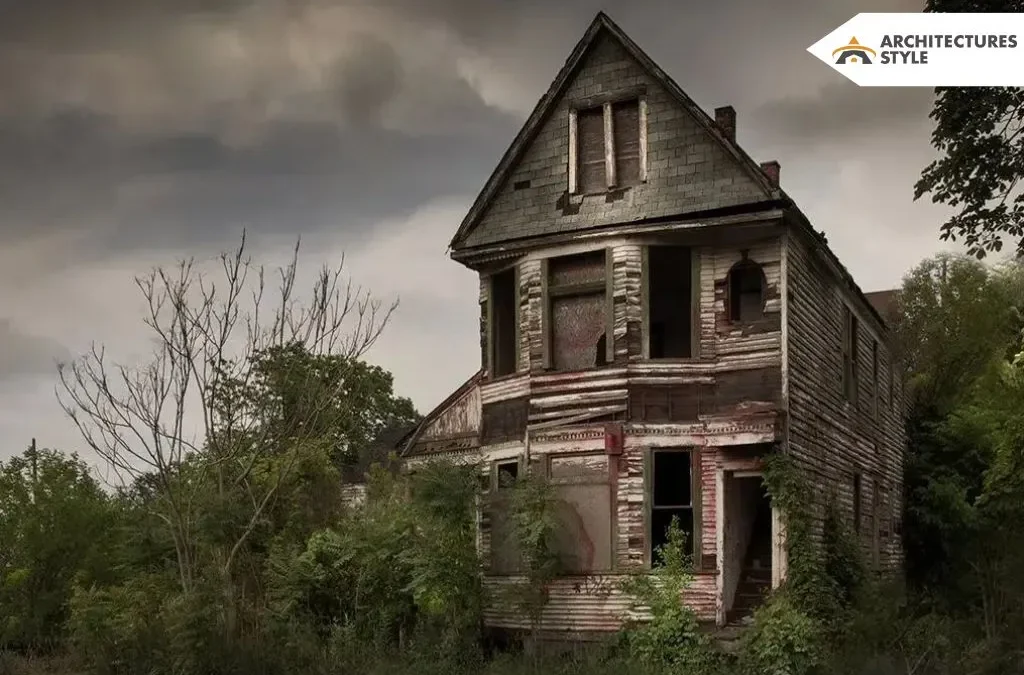 Have you ever been to a haunted house? Even if you haven't, you must have read or seen their stories. Due to catastrophe or personal loss, owners often neglect and ignore abandoned houses, which sets our imaginations into overdrive.
These exquisitely designed, spine-tingling structures have a tale to tell, whether it be a horror or an emotional one. It describes how even the grandest homes can fall into disrepair and how the best architecture cannot overcome certain emotional barriers or influence people's decisions to stay in a location.
On a gloomy night, would you be bold enough to visit these abandoned houses? Scroll only if you dare to continue reading to explore some of the spookiest abandoned houses from around the globe.
Top 35 Abandoned Houses To Get The Thrill!
1. Lynnewood Hall, Pennsylvania
The Lynnewood Hall, a neo-classical marvel, was built between 1897 and 1900 in Elkins Park, Pennsylvania, for Peter Anel Browne Widener. It was once one of the finest architectural examples, but now lay abandoned. This house was designed by architect Horace Trumbauer. 
With exquisite detailing, eloquent furniture, and beautiful artwork, this house has 110 rooms spread across 70,000 sq. ft. After the death of his wife, Peter moved out with his son, leaving this elegant house abandoned.
2. Gothic Castle, Transylvania
The Transylvania Castle in Romania was built to have an exquisite Gothic allure. Built amidst Dracula land, this ancient castle was completed by the 18th century. It served as a summer residence to Geza Teleki and his son Pal Teleki.
When German troops crossed into Hungarian territory in 1941, Pal Teleki died from suicide, thus leaving the Teleki Castle abandoned.
3. Lennox Castle, Scotland
Built by John Kincaid Lennox in 1812, the Lennox Castle was home to an important Scottish family until it was converted into a mental asylum in the 1930s. But continuous fights among the patients led to its ignominy.
And during one such fight, several staff and patients ran from the hospital. This made the building be vacated by the 1980s and get officially closed by 2002. Since then this castle leaves as an abandoned house. Now, the government is considering converting this castle into a flat.
4. Elda Castle, New York
Lucy Abbott Cate, an architect, and David Abercrombie, a fashion industrialist, built this amazing house fabricated with stones in Ossining and named it ELDA Castle. ELDA was an acronym for their four children.
This castle is built on a 50-acre of land, having a vaulted roof, arched doors, and windows, bay windows, a spiral staircase, and wooden tiled wall panels. After the death of her husband and children, David moved with her elder daughter, thus leaving this castle abandoned to date.
5. Ashlar Hall, Memphis
The history of this 11,000 sq. ft. castle is very similar to that of Elda Castle. Robert Brinkley Snowden built Ashlar Hall in 1896 for his family. There were 8 bedrooms, 6 bars, 5 bathrooms, and an indoor pool.
After he died in 1942, his family turned this house into a restaurant. A few years later, Ashlar Hall and its surrounding land were purchased by wealthy investors, who then built skyscrapers around it, thus leaving this house abandoned.
6. Castelo da Dona Chica, Portugal
The Castelo da Dona Chica, in Palmeira, Portugal, is believed to be cursed and is full of secrets. Its construction was commissioned in 1915 by João José Ferreira do Rego and his wife Francisca.
In 1919, the couple ran out of funds and got separated, thus halting the project. According to folklore, Francisca cursed the castle, swearing it would never be built or inhabited.
7. Wyndcliff Mansion, New York
Built-in 1853 by architect George Veitch, the Wyndcliff Mansion peeps out of the pine trees in the forest of the Hudson River valley. This mansion was spread over an area of 80 acres.
Magnificent marbles, ornamenting brickwork, curved arched windows, and grand doors bring splendor to this mansion. After being abandoned in 1950, the structure stands disrupted and leaves a property of 2.5 acres standing upright out of 80 acres with no flooring and a hanging staircase.
8. Bannerman's Castle, New York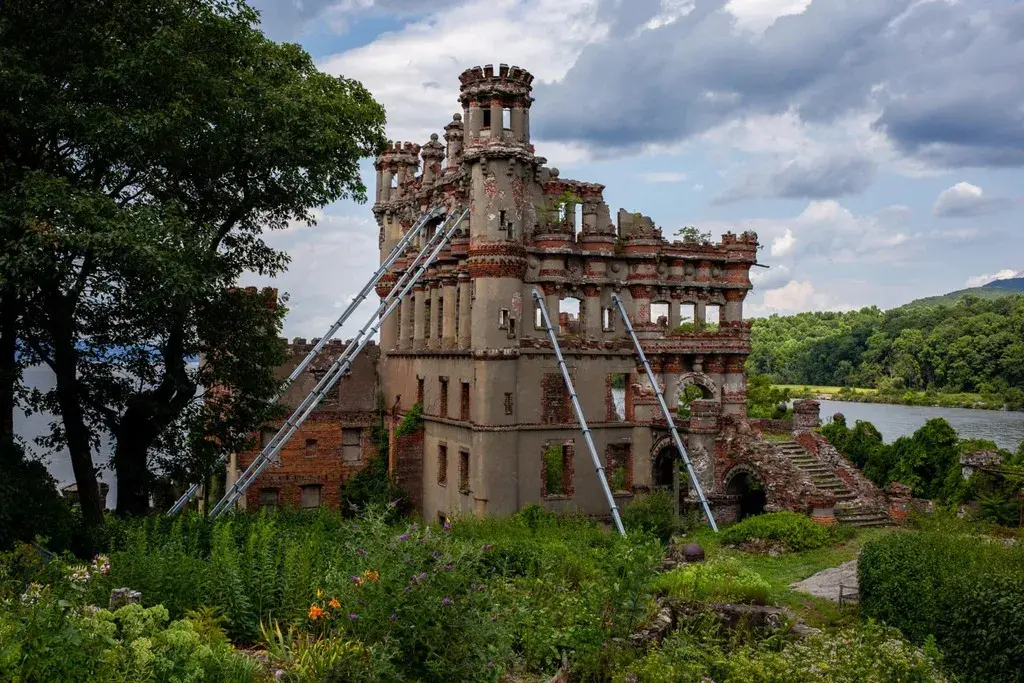 In 1900, Francis Bannerman VI and his family bought an island in New York's Hudson River to build a warehouse for the Civil War. They also built a small residential building nearby called Bannerman's Castle, but construction was halted after his death in 1918.
After those few explosions, which devastated the building, the storm made the island even more inaccessible. It was an abandoned house until the Bannerman Castle Trust recently decided to reopen it to tourists.
9. Mayfield House
Built-in the 1800s, the Mayfield House was once home to a wealthy Irish family. In the 1740s, it was commissioned by David Malcomson. This structure had several owners for several decades before it was abandoned in 1985.
Greenery took over this elegant house over time; windows were smashed and brickwork crumbled. There are talks of converting this abandoned house into a luxurious hotel.
10. Villa De Vecchi, Italy
The summer home of Felix de Vecchi, located in the mountains of Corte Nova near Lake Como, reflects the eastern culture, which Felix learned about at a young age. Spread over an area of 13,000 sq. m., this villa was built in 1854.
The picturesque backdrop, frescoed walls and ceilings, lush gardens, massive fireplaces, and tapestries all helped keep the flame of passion and imagination ablaze.
Inside the walls of the villa were heating tubes, as well as dumbwaiters and a huge pressurized fountain that were far ahead of their time. Several owners had the privilege of owning this house, but tragedies and ghost stories made this villa become abandoned.
11. Lui Family Mansion, Taiwan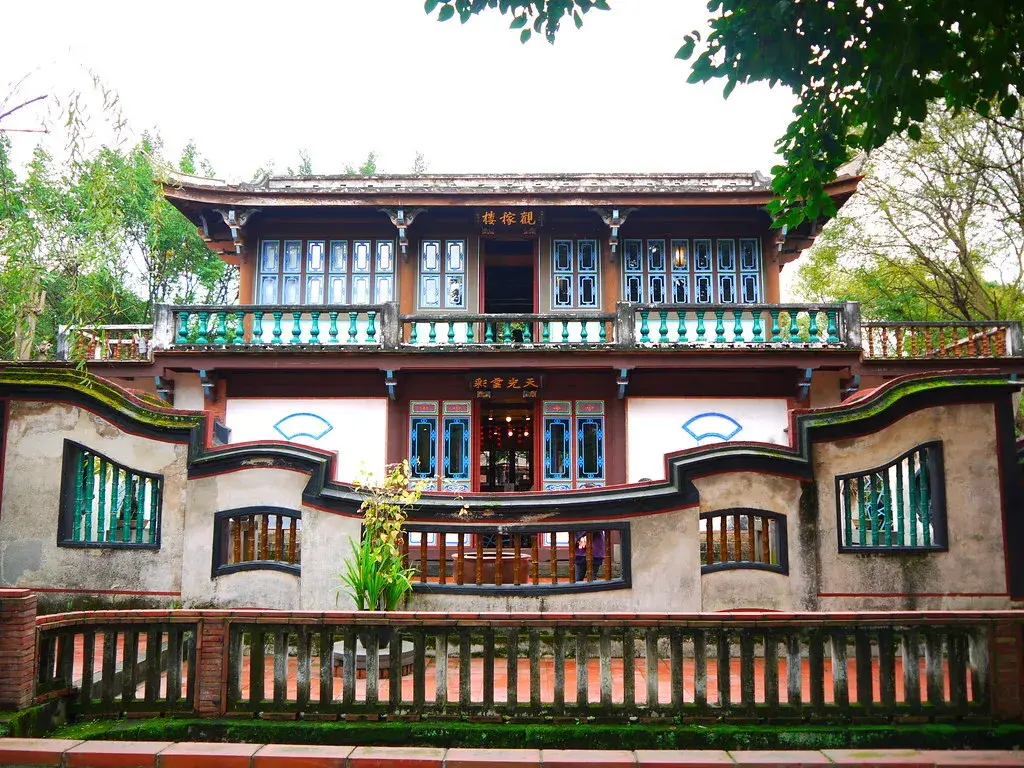 The Lui Family Mansion, also known as Minxiog Ghost House, was built in baroque style in 1929. After the Lui family abruptly moved out of this Taiwanese countryside home in the 1950s, it has been abandoned since then.
Several stories are spreading through the air regarding why this home was abandoned, but no strong reasons have been found yet.
12. Rockwell House, Georgia
After a fire breakout in 1969, the Rockwell House in Georgia was left abandoned. Colonel Samuel Rockwell built this house in 1838. It is said that, after seeing the bill for his new wrought iron fence, he died of a heart attack in 1841. 
The fence is believed to have cost about $2,600 to make, which is equivalent to about $88,510 in today's currency, roughly the same as the cost of the house.
13. Lowndesboro Mansion, Alabama
This mansion in Lowndesboro, Alabama, was built in 1830 but now stands as a ruined plantation mansion. In the 1850s, this mansion was rebuilt in the Greek Revival style. Several families took ownership of this mansion before it was bought by Robert Dickson in 1901. After being destroyed in a fire accident, it was rebuilt in the same place but never used again.
14. Carleton Island Villa, New York
Set on 6.9 acres of land, this awesome structure is located on an island in the St. Lawrence River with a 3-sided riverfront. The building has a stone foundation, and its upper floors have wooden wall frames. This picturesque villa was built in 1894 by William O. Wyckoff and architect William Miller.
But it was never completed, as Wyckoff lost his wife before the construction was completed. Even its owner died on his first night in the house, making people believe this house to be haunted and thus leaving this architectural wonder to fall apart.
15. Pendleton-Graves House, Georgia
The Pendleton Graves House in Sparta, Georgia, was built in the 1820s. This house was once a landmark in the area with its grand structure, cornices, turrets, and elegant porch. But now it is abandoned after the death of its owner, creating a haunting sight.
16. Georgian Villa
This extravagant Georgia villa in Kajori had an eloquent porch gable, a diamond-tiled roof, and exquisite windows. Unfortunately, years of neglect have had an impact, leaving shattered glass and rotting woodwork in their wake. Today, this eerie building stands alone in the barren land.
17. Casa Sperimentale, Italy
Once an astounding structure, the Casa Sperimentale now stands as an abandoned brutalist treehouse in Fergene, Italy. It had a lovely cluster of geometric shapes that elevates above the treetops. In the 1960s, Giuseppe Perugini and his family built this house to serve as a holiday home. There is not much information available about why it became an abandoned house.
18. Kinmel Hall, UK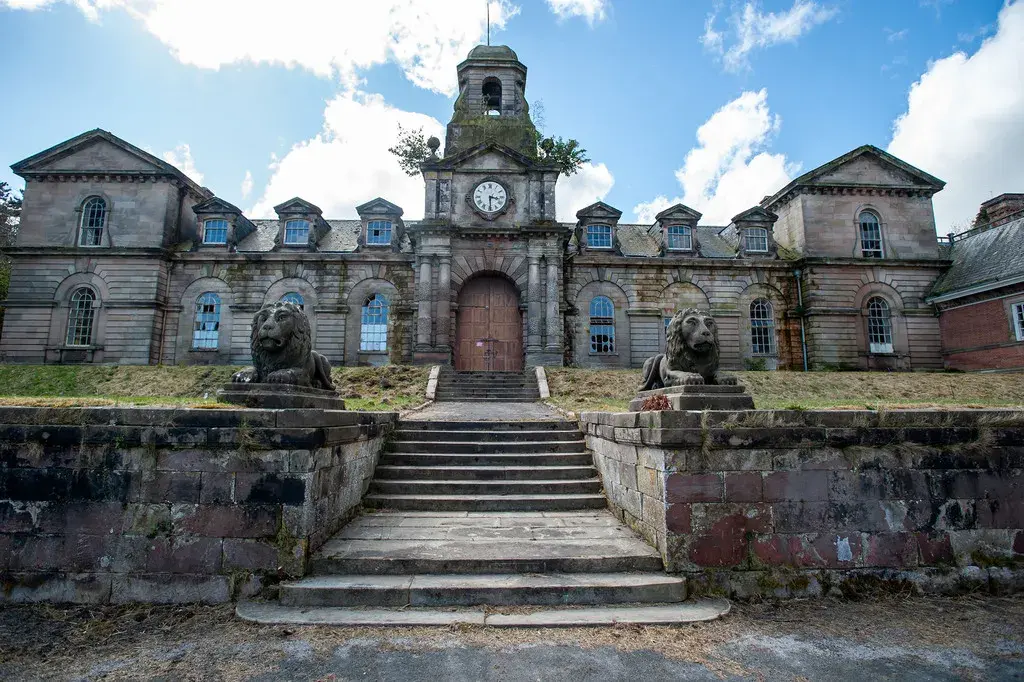 W. E. Nesfield rebuilt the Kinmel Hall in the 1870s to include grand halls and a staircase. This is yet another example of a calendar house having 365 windows, 12 entrance doors, and 122 rooms.
Being one of the largest houses in the UK, it was built in red brick and cream stone. Steep roofs, intricate ceilings, chimneys, and paneled walls add grandeur to this Gothic-inspired architecture. This house was abandoned in 1965 after its owners fled after it caught fire.
19. Chateau de La Mothe, Chandeniers, France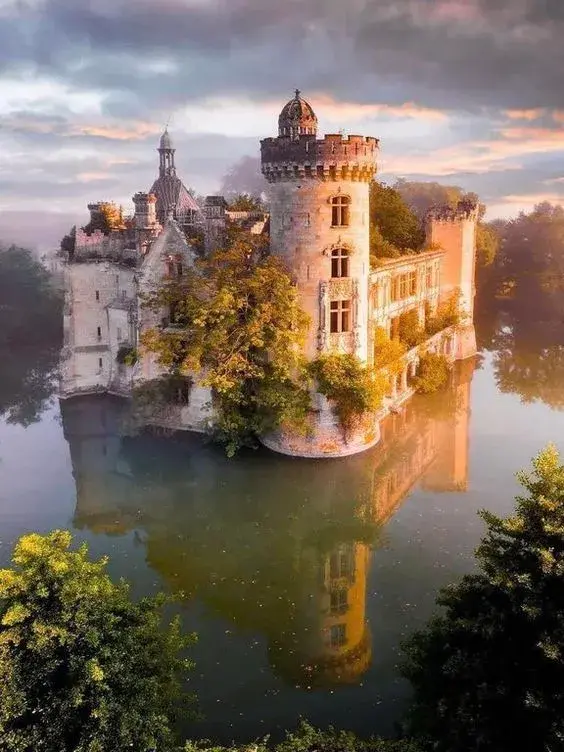 The beautiful Chateau de La Mothe Castle was built by the Baucay family around the 13th century and has moats, towers, and turrets. The ownership of this castle kept getting transferred over time. During the French Revolution in 1932, a devastating fire broke out, destroying major parts of the castle.
The Dartagnans was formed as a group to protect and renovate the château. Members each contributed $50 to create a group of over 11,000 people who now jointly own the property and will work to complete the restoration.
20. Ha Ha Tonkna Mansion, Missouri
Robert Snyder built the Ha Ha Tonkna Mansion in Missouri. The European style was chosen for this house to be built in 1906 on his private lake. After he died in an accident, his son continued the construction, which was completed in 1920. 
His son lived there until he ran out of money due to several land-right lawsuits filed against him. During the mid-20th century, the house was turned into a hotel and resort. After a fire ruined the hotel, it has been abandoned since then.
21. Chornobyl Mansion
The heartbreaking and devastating disaster of Chornobyl in 1986 caused several architectural marvels to be abandoned. One of the countless crumbling homes that are still standing in the poisonous town and serving as a constant reminder of the thousands of people who have died since the catastrophe is this abandoned mansion.
22. Mississippi Mansion
This abandoned and desolate residence is located in Natchez, Mississippi. Its owners, John Hampton and his wife Jane, are said to have passed away roughly at the same time; the construction of this house was completed in 1819. This makes people believe this place is haunted, hence abandoned.
23. Bissingen Castle, Serbia
Built by Count Gyorgy in Vlajkovac in 1859, this castle is one story and constructed of wrought iron. This beautiful architecture reflects the culture of the place. It was built as a standalone building, surrounded by a park, and lavishly embellished with ironwork.
A pear-shaped dome sits atop the pyramid-shaped porch roof, and a lily-adorned pinnacle rises from it. Several history enthusiasts worry that the castle has to be renovated because it is in danger of collapsing.
24. Mudhouse Mansion, Ohio
The Mudhouse Mansion is located in Ohio and dates back to the 1840s and 1900s. After being abandoned for several years, this mansion was demolished in 2015. Its last resident was Lulu Hartman, who left the mansion in 1930. People connected dark stories with this mansion after Lulu left, thus making it unfit for reuse.
25. Hegeler Carus Mansion, Illinois
The Hegeler Carus Mansion in La Salle, Illinois, was built by Henry C. Hegeler. It is one of the few abandoned houses that has been restored and designated as a landmark. After Henry and his family died, this mansion was abandoned for a few years and then turned into a museum.
26. Cape Romano Dome House, Florida
It is a 6-story concrete dome structure standing on stilts, built by Bob Lee in 1981. Bob's prime purpose for the dome shape was to have a vast, open room free of negative wasted spaces and to withstand hurricanes without suffering significant damage.
After Bob died, the abandoned house's pillars were at risk due to the structure's increased water emergence because it is 180 ft. from the sea. Sadly, two domes were destroyed by Hurricane Irma in 2017, but the other four are still standing.
27. Havelis of Shekhawati, India
Shekhawati, the largest open-air art gallery, is situated in northeastern Rajasthan between the Delhi-Jaipur-Bikaner triangle. Shekhawati was founded by Shekhawat Rajputs along a former caravan route, and because the Havelis have fresco detailing, they were popular among visitors.
The number of frescoes one has determines one's social status, and these Havelis were mostly built and painted by potters. This piece of art is an abandoned house, whose owner only lived in the city for work and fodder. People frequently visit the Havelis to appreciate the fresco artwork, as they are a popular tourist attraction.
28. Desert Dwellings, Kolmanskop
Kolmanskop was once a busy diamond mining town, but when the supply started to deplete, it got abandoned in the 1950s. The Kolmanskop houses were intricately built and well-maintained at that time. Now the entire region is ravaged by sand and is used as a tourist spot.
29. The Los Feliz Murder House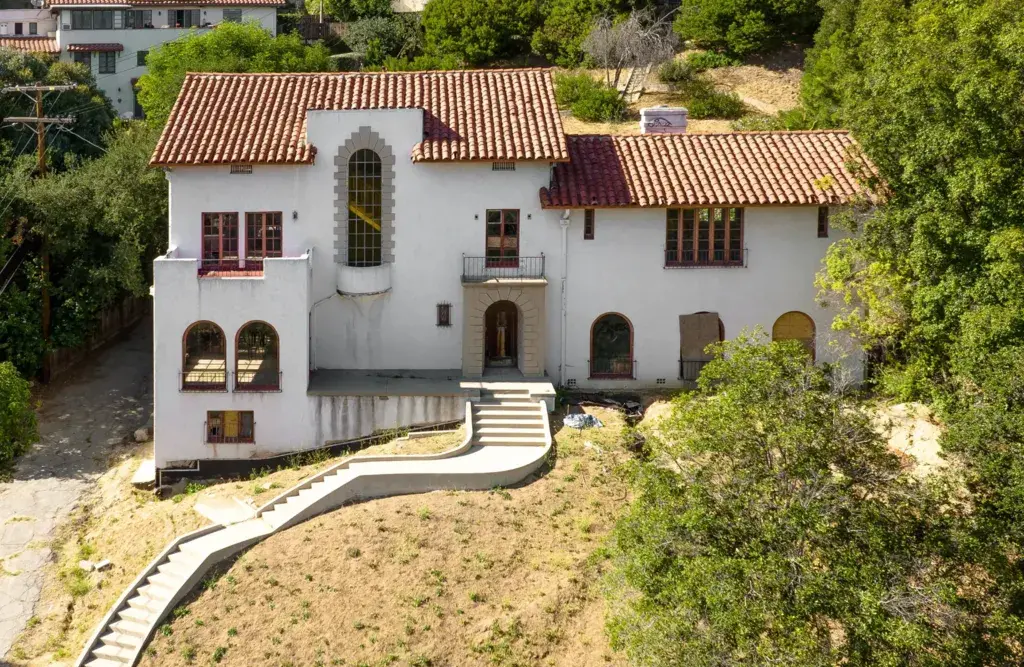 Once, the Los Feliz house was a happy home to Dr. Harold Perelson and his family. But on the terrific night of December 6, 1959, Harold murdered his wife while she was asleep and even attempted to murder his three children before killing himself by drinking acid.
After the incident, the house was sold to many families, but none of them were able to live in it for a longer period. Since then, this abandoned mansion has been put up for sale, but it remains abandoned.
30. Vietnamese Villa
The Vietnamese villas were once very luxurious. The French built Da Lat as a resort in the early 1900s, but many remnants of the colonial past still linger there. Despite being in a stunning lakeside location, the eerie property with its bricked-up door and windows is slowly falling apart.
31. John List House
In 1971, John List mysteriously killed his entire family in their New Jersey home and lined up all the bodies in the ballroom. The room had Tiffany's stained-glass skylight, where he turned on all the lights, tuned the radio to a religious station, cut the faces of his family members from the family photograph, and flew away.
He got settled in Denver under a false name, where he met a woman in 1985, married her, and wasn't arrested until 1989. A few years later, in 1974, a new house was built on the property after the old one was allegedly set on fire.
32. Hemsedal, Norway
The Hemsedal took the concept of a treehouse to another level. However, it was abandoned for unknown reasons. It used to have cozy rooms, but now the spruces that broke through the roof of the house dwell there. How they got there is a mystery because there don't appear to be any trees close to the building.
33. The Brooksville Treehouse, Florida
The Brooksville treehouse was built by a wealthy industrialist in Florida in the 1980s for his grandchildren. The crumbling treehouse, fondly known by locals as Honky Ranch Treehouse, has turned into a spooky shadow of what it once was after his death in the early 2000s.
34. Georgian Parsonage
This five-acre Devonshire estate's seven-bedroom Georgian parsonage enjoys a tranquil setting. Once a beautiful space for living, it is now abandoned. The property lacks modern amenities like running water and crumbling walls, as well as an eerie sense of stillness that dominates both the interior and exterior. Overgrown plants have been used to decorate the walls.
35. Darul Aman Palace, Kabul
Once an intricate neo-classical palace, the Darul Aman Palace stands as an eerie ruin today. It was built in the 20th century, but it was abandoned after decades of war and bloodshed.
Let's Acknowledge the Abandoned Houses! 
Each abandoned house has a story to tell, some scary, some emotional, and some we don't know about. Their history can make us reflect on the times when they were built. What is important today is to look over these abandoned houses, make an effort to revive them, and convey their stories to the millions of people out there.
FAQs:
What Is an Abandoned House?
An abandoned house, building, or place is no longer in use or occupied. They get crumbled by nature and become breeding grounds for insects, animals, and even crime if not taken into consideration. 
Why Does a Property Become an Abandoned House?
The following are the most probable reasons for any property to become an abandoned house –
The renovation and repair cost.
Environmental issues.
Economic recession.
War situations.
Death of neighbors.
Families are reluctant to sell the property on time.
Natural calamities.  
The difficult process of property selling.
Neighbors are becoming violent.
Ecological disasters. 
Is It Possible to Own an Abandoned House?
A rigorous process is involved in acquiring an abandoned house. To own an abandoned house, you have to prove Adverse Possession. Under this law, the property is required to be uninterrupted for 12 years or more. The property must be fully occupied by the possessor through actual possession. The possessor must demonstrate that he has been the property's exclusive owner for 12 years.
Which Places Are Abandoned Recently?
These 10 places are among the recently abandoned places around the world – 
Kolmanskop in Namibia
Plymouth in Montserrat
Pripyat in Ukraine
Bodie in California
Hashima Island in Japan
Texola in Oklahoma
North Brother Island in New York
Oradour-su-Glane in Frane
Glenrio in New Mexico
Kennecott in Alaska
How to Reuse an Abandoned House?
One of the best uses of an abandoned house is adaptive reuse. Finding a new use for an old structure now generally involves the process of "adaptive reuse." Constructing new structures to replace the older ones is not always a feasible option, so adaptive reuse has come into the picture.
More from The Architecturesstyle