Transform your home look from old and boring to modern, bright, and beautiful! We all have this dream, right? So, how to make this dream come true?
And we're not talking about spending thousands of dollars on remodeling or renovating your space. Small changes and improvements can also make a huge difference.
You can make your dream come true with the help of board and batten siding. Just by changing the exteriors of a house, you can enhance your house's appearance, curb appeal, and value.
After all, exteriors are one of the first things people notice when they visit your home. So, it's important to select the exterior and outdoor decorations mindfully and carefully.
Are you looking for some affordable ways to upgrade your house exteriors?
Board and batten siding is one of the easiest and most affordable ways to make your house exteriors look beautiful and attractive. You may not know its proper name, but we're pretty sure that you may have seen it all over Instagram pages and Pinterest boards. Even nowadays, it's pretty common to see board and batten siding in American homes.
Today in this blog, we will tell you everything about board and batten siding. From its types, pros, and cons to some of the best examples of houses with James Hardie board and batten sidings.
It's a hot trend right now, but this type of siding actually dates back nearly 200 years. Yes, this siding actually has pretty interesting facts and history. So, keep on reading to know more about board and batten siding.
What is Siding?
Siding is a type of protective material that is installed on the outside walls of residential or commercial buildings. Also known as wall cladding, this can be made with different materials such as wood, metal, asphalt, cement, vinyl, aluminum, and steel.
This protective wall or cover will defend against sun, rain, snow, or any other weather conditions. Not only do they create a subtle environment in the interiors of a building, but also it will make your home's exteriors beautiful. This will also increase your house's curb appeal, which will ultimately increase the overall value of the property.
Let's know more about the types of siding.
Types of Siding
When people hear about the siding, they mostly think about the vinyl, wood, or fiber cement ones, but there are so many other types of siding available in the market.
Here are all the types of siding
Vinyl Siding

Wood Siding:
-Board and Batten
-Shingles
-Shake siding
-Composite siding
-Vertical Boards
Metal Siding: Aluminum and Steel

Fiber Cement Siding

Brick Siding

Hardie Board Siding
We will be more focused on the board and batten in this post. So let's know more about them in-depth.
What is Board and Batten Siding?
Board and batten, or board-and-batten siding, is one of the types of exterior siding or paneling. This siding is made of alternating wide boards (typically 8″-10″) and narrow wooden strips (typically 2-3″) joined together, and this is known as 'battens.'
This type of siding is usually installed in a vertical orientation that's why sometimes they are also known as vertical siding. The narrow wood pieces are placed over the wide ones to add some depth, dimension and also to create a geometric, layered effect.
Cost of Board and Batten Siding
Costing is something that we all consider before we plan the upgrade process. So it's important to know the pricing of the siding. The price range for the board and batten siding ranges from around $4,000 to $14,000. And on average, you have to pay around $9,000, and if you want to buy per square foot, it will cost somewhere between $0.75 to $1 (Material) and $2.25 to $12.50 (Installation). However, this will significantly depend on the material, area, and location.
Here's the list of the various board and batten siding materials and their respective prices:
| | |
| --- | --- |
| Material | Cost per square foot |
| Cedar | $2.80 |
| Cypress | $3 – $21 |
| Wood | $3 – $10 |
| Hardie Board/Fiber Cement | $0.75 – $5 |
| Aluminum/Steel | $3 – $8 |
| Vinyl | $2 – $7 |
| Engineered Wood | $2 – $5.50 |
Pros & Cons of Board and Batten Siding
Now the big question is: why prefer board and batten siding over other types of siding? Is this siding is better than other ones?
If these types of questions are coming to your mind, here are all the answers. Below are some of the advantages and disadvantages of board and batten siding;
Let's first know its Pros.
As compared to other sidings, board and batten siding lasts for many years if maintained well. As it makes your house exteriors look aesthetically pleasing, it also adds significantly to the resale value of the property.
This siding can be installed both horizontally, vertically, or both. Plus, you can use them individually, so their replacement is easy, fast, and pocket-friendly. They can offer the same beautiful, traditional look of wood but without much maintenance.
The only drawback about board and batten siding is that you can't install them by yourself. You have to take help from professionals for the entire installation and maintenance.
Now let's see board and batten exterior ideas.
21+ Creative & Unique Board and Batten Siding Ideas
Now you know what board and batten siding is and what are its importance, advantages, and disadvantages.
So now, let's know how to use them differently to create wonderful-looking exteriors. Here are some of the houses with board and batten siding. Take inspiration from these exterior board and batten siding ideas.
1. White Exteriors
Source: hzcdn.com
Source: bc0a.com
Simple, crisp, and clean; these three words perfectly describe this gorgeous house exterior. So, if you like the minimal design with attractive looks, go with white board and batten siding. To create a straightforward look with a high contrasting effect, use a pop of color like beige, navy blue, or black.
2. Broken Lines
Source: whatisvinyl.com
Siding often has a continuous vertical line regardless of the material. However, while covering exteriors of large buildings like barns with open floor plans and high ceilings, keeping the siding all vertical can be a little overwhelming. These lines can make a large building plain and boring. So, break the lines and separate the walls and the gable. This thing is simple, but it will make the walls more interesting and attractive.
3. Modern Farmhouse Exteriors
Source: tollbrothers.com
Source: hzcdn.com
Look at this gorgeous country house! Located in Dallas, Texas, this home has two-story features country white board and batten gable roof. So if you have a large house like this and you're confused about which type of exteriors you should go for, take inspiration from this home. Go with batten board siding and see the amazing results with your own eyes!
4. Mixed Board and Batten Siding
Source: vox-cdn.com
Here's a way to add some fun and character to the boring exterior walls of your home. Instead of one type of siding, go with two different colors of the siding. Look at the above house! Located in Houston, this two-story residence features mixed siding exteriors with a shingle roof.
5. Large White Country House
Source: hzcdn.com
Source: hzcdn.com
The above home is a perfect example of classic country houses. These style houses are large and mostly have white exteriors. So whether you live in a huge or mid-sized country-style home, you can definitely use board and batten siding to uplift the outdoors.
6. Modern Farmhouse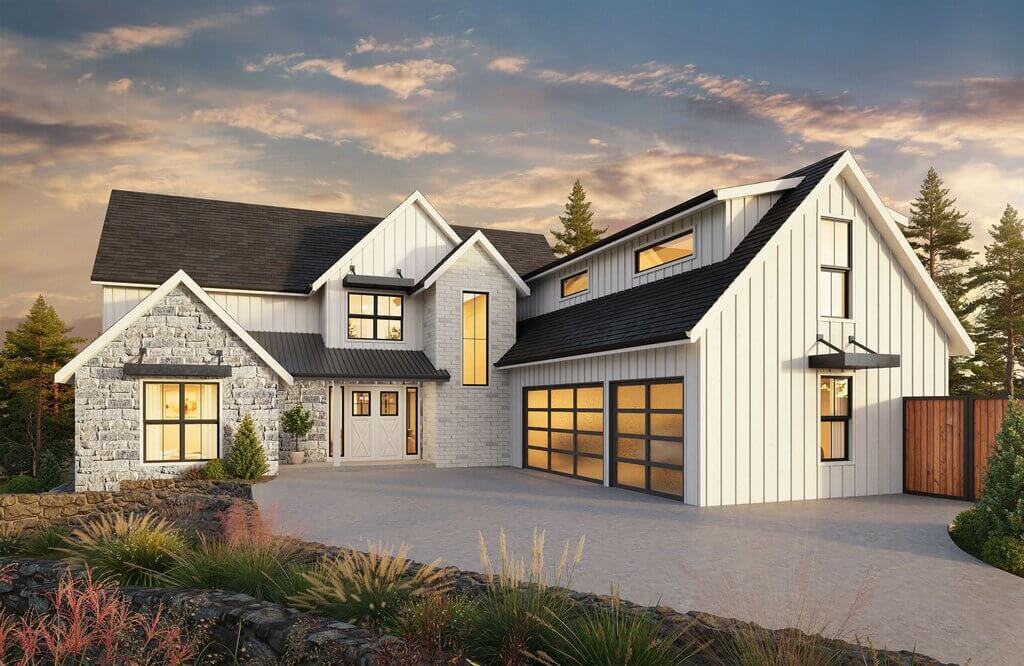 Source: markstewart.com
Do you like the farmhouse style but also love the modern look? Don't worry; just combine them together! Yes, these two styles go so well together. The best example is this house situated on the coast of Washington State.
With the farmhouse board and batten siding, other materials like wood, steel, and glass are used to create a beautiful natural look. This two-story space with a mixed siding exterior and a shingle roof makes a perfectly serene place to live.
7. Classic Brown Three-story House
Source: hzcdn.com
Source: pinimg.com
Another great example of mixed siding is this huge property in Louisville. This transitional brown three-story has a hip roof and a shingle roof. Everything is in the brown theme, but they all look so good together. If you also like the minimal and monochromatic theme, you can go with board and batten siding ideas.
8. Rustic Home with Board and Batten Siding
Source: montanatimberproducts.com
Source: innovativebuildingmaterials.com
Rustic style is an evergreen style that never goes out of trend. So if you want to update the exterior of your property, try a rustic style with the help of board and batten siding. Here the designers have used James Hardie Siding Panels. So if you want to achieve a similar look, apply 1×2 strips vertically.
Also Read: Condo Vs Apartment: Which One Should You Go For? (Full Guide)
9. Urban Lake House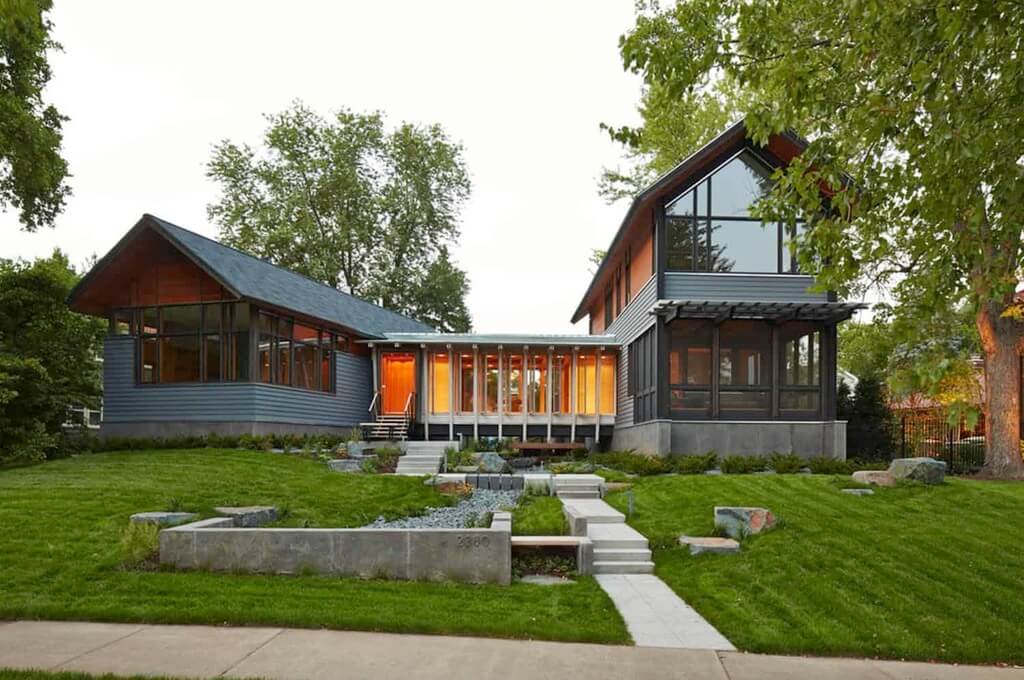 Source: onekindesign.com
Living in this luxurious mansion in Dallas is a dream of many people!
This house features high entry, which offers a direct vertical connection with the sky. Though modern elements have been used, they still blend perfectly with their surroundings. All the material and elements are intertwined and weave together so well.
As it is located just in front of a lake, architects have decided to adorn the exteriors with board and batten siding. The two contrasting colors create a contemporary look with a natural touch.
10. James Hardie Board and Batten
Source: whatisvinyl.com
At first glance, this house will look like a regular home; however, you'll not be able to take your eyes off it. There is something so special about it. What's that?
It's the James Hardie board and batten siding and the overall color theme. The tints and tones are so soothing, and along with the wood detailings, the entire exteriors become so eye-pleasing.
11. Double Dipping
Source: whatisvinyl.com
Source: fcnews.net
Who doesn't love to have some extra space? Everyone does, right! So, if your roof pitch is deep and wide, you can try this unique board and batten siding idea. You can use this concept to expand our living space with double or even triple dormers.
Take a good look at the above home; what type of roof do you see? Double? Many people think the same way, but it actually has overlapping twin gables! That's the illusion that makes the exteriors look so great, and the house will also appear and feel bigger. And to further highlight and exaggerate the effect, off-white board and batten vinyl siding have been used on the rear dormer.
Here are some more board and batten siding ideas and designs for you:
Source: hellolovelystudio.com
Source: archdaily.net
Source: innovativebuildingmaterials.com
Source: whatisvinyl.com
Source: gambrick.com
Source: whatisvinyl.com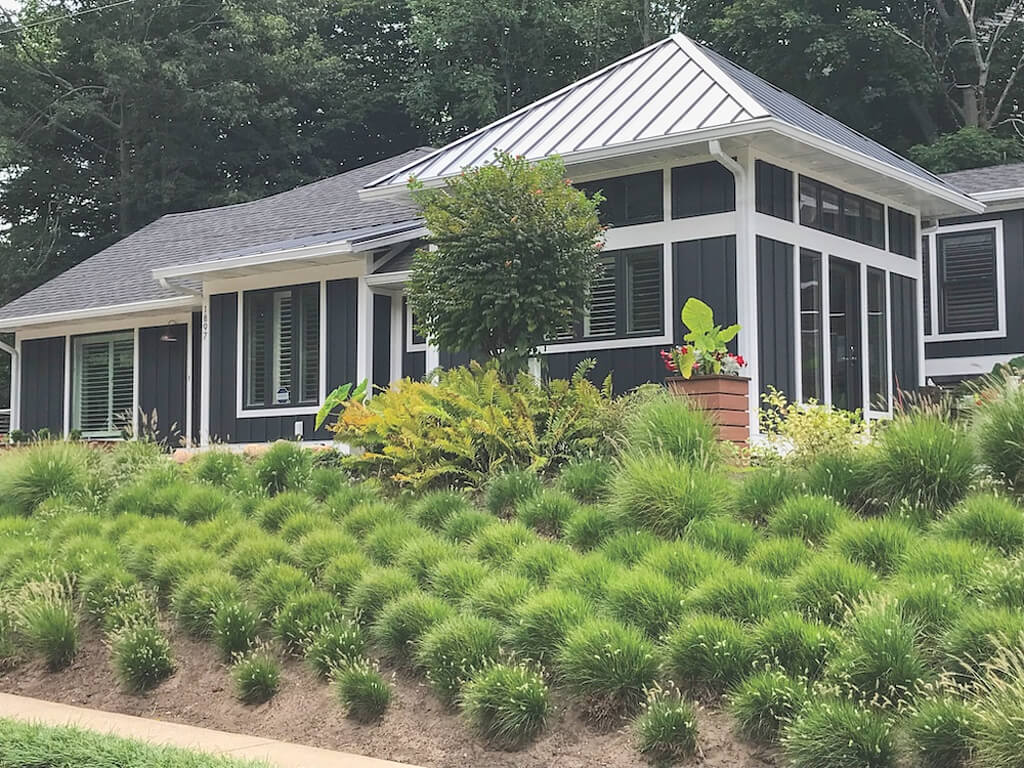 Source: archdaily.net
Source: whatisvinyl.com
Source: whatisvinyl.com
Source: gambrick.com
Source: whatisvinyl.com
Source: whatisvinyl.com
Source: archdaily.net
Source: jameshardie.com
Source: whatisvinyl.com
Source: gambrick.com
Source: whatisvinyl.com
Source: archdaily.net
Give a Stunning Makeover to Your Home!
Siding is one of the essential parts of any building, including both residential and commercial. Siding not only protects the structure from harsh weather conditions but also makes the appearance look good. So, it's important to take your time and carefully select the materials according to your requirements and budget.
If you want to protect your home and make it more beautiful, siding is the best option for you. So see it as a safety feature and an important investment into your property's value.
I hope this blog has helped you to select the best board and batten siding design for your home exteriors. If you find this blog helpful and informative, share it with your family and friends who also want to upgrade the look of their houses.
For more information about the various types of architecture & home construction techniques and styles or decoration ideas, explore Architecturesstyle.
For daily updates, don't forget to follow us on our Instagram page, Architecturesstyleideas.
Himadri Shakya
Himadri Shakya is an enthusiastic Content Writer and Editor. She loves to create creative, engaging, and SEO-friendly content. Through her extensive research skills and practice, she has been generating high-quality and informative articles, and blog posts for over 4 years.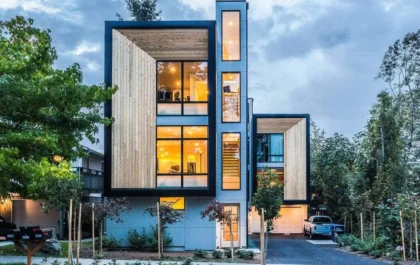 27+ Stylish & Modern Townhouse Designs for Urban Living.
The townhouse's first impression is normally too small, too compact, too narrower, and the list is endless. Well, let us…