Just the thought of renovating our bedroom is exciting and thrilling, right? However, transforming our personal room into the ultimate space of comfort and style also brings a number of challenges. From painting the walls to buying the perfect bedroom furniture, there are lots of things that we need to consider during bedroom renovations. This is why it's crucial to know common mistakes so that you can prevent them and make the entire renovation project smooth and hassle-free.

Today, in this post, I will share some of the most common bedroom renovation mistakes made by homeowners and how one can easily prevent them. So, keep reading to learn how to create the bedroom you've always wanted.

Let's begin.
1. Not Having a Clear Plan and Budget
There is nothing worse than starting your renovation project without a proper design plan and budget. This can make things much more complicated, and it becomes more and more costly as the process progresses.
So, before you begin anything, sit down and think about things like:
What do you want in your bedroom?
What should be the layout or floor plan?
What are the things you want to change or keep the same as they are?
What materials should be used?
How much time and money should be invested in this project?
Having a clear vision, design plan, and budget can help you avoid future problems, such as overspending and running into unexpected problems while renovation is going on.
2. Overlooking the Importance of Bedroom Furniture
Not all bedroom renovations mean knocking down the walls! Sometimes, it's only about switching your old furniture with new, modern bedroom furniture. This is why you should never underestimate the power of bedroom furniture while upgrading your sleeping space. Therefore, it is vital to invest in high-quality bedroom furniture that is both comfortable and stylish.
To avoid buying the wrong bedroom furniture, pay attention to comfort, functionality, and aesthetics. Today, there are several types of wardrobes and beds available in different styles on the market. From Sliding door wardrobes to 2-door/3-door wardrobes, you can select anything to make your space look well-organized and clutter-free.
3. Ignoring the Importance of Measurements
Imagine spending hours researching, finding, and placing the order for the perfect bed, only to know later that it won't fit in your room. It's a devastating feeling, isn't it?
It's hard to believe, but still, many homeowners make this mistake while renovating their bedrooms. So, what's the solution? The answer is simple: measure everything before getting anything! And here, we're definitely not talking about taking approximate or eye measurements. You have to take proper measurements of every corner of your room with a measuring tape. And don't forget to check the bedroom furniture size before buying it.
4. Choosing Style Over Function
Another big bedroom renovation mistakes is not considering your needs and lifestyle and prioritizing style and appearance.
Take this as a golden rule: Never sacrifice your comfort for aesthetics.
Invest in high-quality mattresses, bedding, and furniture that is both comfy and practical, which will also make your space look absolutely beautiful.
5. Not Paying Attention to Lighting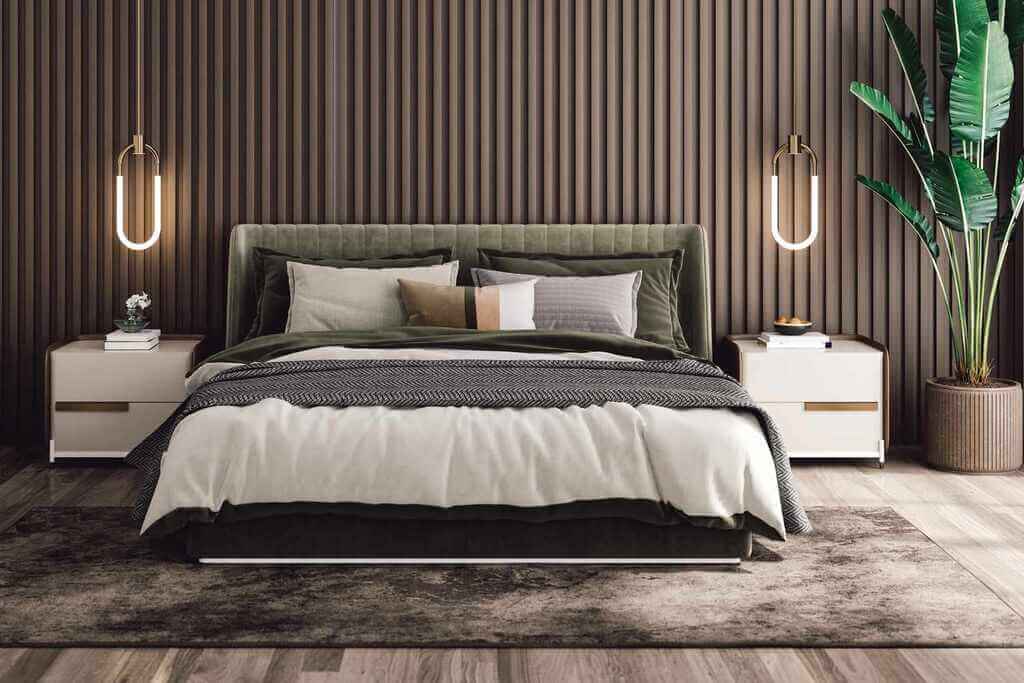 Your bedroom should never be too dark or too bright, and if it does, this means your space doesn't have proper lighting. So, to fix this, never neglect the lighting while remodeling your room. Keep experimenting with various types of light options, such as wall sconces, pendant lights, or statement lights. No matter how big or well-organized your bedroom is, inadequate or inappropriate lighting can ruin everything.
Try to keep at least one natural lighting source, such as windows, where sunlight can directly come in. Also, add adequate accent lighting, task lighting, or nightlights (dimmers) to get a good night's sleep without any disturbance.
6. Overlooking Storage Solutions
Whether it's a basement bedroom or a spacious bedroom with a walk-in closet, optimizing the storage is extremely crucial. We work, sleep, and do so many activities in this space, so it needs functional and effective storage solutions in your bedroom.
You can look for different types of wardrobes, open shelves, and other kinds of storage solutions to keep your space clean and clutter-free. Moreover, the smart and innovative bedroom furniture will maximize the space.
7. Not Consulting Professionals
The last common mistake that many homeowners make is skipping professional help. It's always best to hire a professional for your bedroom renovation project. There are several things that we can't determine due to a lack of experience and skills. Assembling your wardrobe and painting the walls could be a fun DIY bedroom project, but if you're planning to do any structural changes or major upgrades, it's a must for you to hire a contractor.
These renovation experts have years of experience, craftsmanship, and specialized skills that will make the entire process easy, convenient, and on budget. They can provide you with the most innovative solutions and design ideas according to your space. They will first take a tour of the place, analyze everything, and suggest the best plan to make your dream bedroom a reality.
Final Thoughts
The bedroom renovation project needs careful planning and attention to detail because a few mistakes can easily turn this process into a disaster. From taking measurements of your bed and choosing the type of wardrobes to selecting the right theme for the space and taking guidance from professionals, try to remember these things to avoid bedroom renovation mistakes and create a fantastic space of comfort and style.
Explore Further: