Are you a big fan of cottage style homes? Have you been dreaming of staying in a beautiful cottage style house?
When it comes to these cozy cottage dwellings, they are well known to evoke the charm of countryside living. If you are curious to visit and stay, then there are stunning cottages enchanting their beauty, each one above the others that offers splendid views of nature.
You can find these cottage houses along the countryside, near beaches, next to mountains and valleys, in the woods and forests, as well as on hill stations, with distinctive styles as per their architecture, locality, and region.
Why are Cottage Style Houses Trending in 2023?
Nowadays, individuals are preferring to stay in cottage style homes that are more comfortable and chic. With the ever-growing urbanization, many people are experiencing a vibe of modern grandeur and luxury. They are staying in the middle of the cities, built with concrete, brick, and other artificial materials in a closed ambiance. Thereby, cities are exposed to pollution levels detached from the natural environment.
Individuals want a tremendous change, at least during their vacation times, where they get connected to nature. They desire to visualize the natural beauty of mountains, valleys, rivers, hill stations, and others. Moreover, they want to spend their precious time enjoying themselves together with their near and dear ones amidst the surrounding beautiful mother Nature.
And cottage style homes suffice these requirements. Charismatic with their facades, cottages are available in different style ambiances, including storybook cottages, witch houses, and fairy tale cottages.
How to Design a Cozy Cottage Style Interior
Designing and choosing architectural and interior elements, giving importance to comfort, use of natural materials, the addition of neutral colors, etc., can help you plan a cozy cottage style Interior.
Here Are the 5 Core Characteristics and Ways to Build a Cozy Cottage Style Interior
1. Start with Neutral Colors
Dwellings with cottage style interiors often have light-colored walls, primarily white as the background. White-colored walls give an airy, lighter, and brighter feel. However, you can add dark-colored furniture for contrast.
2. Bring in Antique and Vintage Items
Antique and vintage items add interest to the cottage style interior decor. They play the role of telling a story and starting a conversation besides presenting sophisticated interiors.
3. Wooden/Reclaimed Furniture
Cottage style homes always have wooden/reclaimed furniture in their place. Dark natural wooden furniture made with walnut, teak, ebony, etc., gives a stronger contrast to the white base walls.
4. Mix of Patterns
Whether it is a sofa upholstery or a carpet or windows, patterns are a must in cottage style homes. Select a variety and mix of patterns in your living/bedroom to bring in cottage style decor.
5. Comfort Altogether
Cottage style homes have comfortable interiors rather than exhibiting grandeur. Plan your furniture, storage shelves, cabinetry, built-in spaces, etc., so that it gives more comfort while you are working.
22 Charming Cottage Style Homes Ideas
Let us explore 22 cottage style homes that will give you an idea of different alluring cottages, unique in their design and approach!
1. The Charm of Siding
Source: cottagesandbungalowsmag.com
One cannot withdraw their eyes from visualizing this beautiful cottage. It results from revamping a simple bungalow to charming and beautiful cottage homes in Ferndale, a city in Michigan, outrageous in its appeal.
Elements that contributed to the outcome are – Incorporating shake sides into existing brickwork, including a roofline with a slight curve on the portico, and other architectural details. Undoubtedly, the extension of the roof line as a curve complements similar to the fairy tale look.
2. Cottage Nestled On the Woodsy Lot
Source: cindabernard.myrealtyonegroup.com
The uniqueness of this cottage style homes is its location – nestled in the woodsy lot. Designed by city homes, the cottage house reflects the character of the woodland and gives us a relaxed feeling with its alluring design.
Presenting a calming oasis outside the town, it provides magnificent views of the surroundings. For this cottage house, white walls, large openings, and sloping roofs with dormer windows have a tremendous influence on the aesthetics of the facade. A spacious floor plan invites users with its warmth and cozy ambiance.
3. Cottage Inspired by English Style
Source: squarespace-cdn.com
Many of us might have seen cottages inspired by the English style, as we mostly find them countryside, far away from cities. Nestled in quieter parts of the town, together with greenery and fragrant rose gardens, this cottage style home provides a picturesque ambiance. Carved shrubs, rubble stone hedges, colorful plants, and stone pathways – all these elements magnify its charm.
The interiors are appealing, comprising exposed wood trusses and vaulted ceilings high to 20', creating brighter spaces abundant with light.
4. Cotswold Cottage Style House
Source: static01.nyt.com
These charming Cotswold cottage style homes are nestled in Victoria, on Vancouver Island. It rests calmly on a half-acre parcel of land behind a creeper stone wall, while the adobe has a variety of plants, creepers, and manicured lawns. In addition, the cottage's facade walls covered with stucco complement the cedar shingles roof interestingly.
Parquet and oak floors, an elegant staircase, granite countertops, white cabinets, and other historic details adorn the interiors. One can see mesmerizing views of the sea and mountains sheathed in the clouds from bedroom windows.
5. Exposed Stone – A Rustic Charm
Source: idei.club
Unique in its style, this is a small, cozy, and coherent cottage style home with exposed stone and a pitched roof. A stone walkway leads to the entrance door that unifies with the stone facade and gives a rustic feel along with the roof. Designed by Kelly and Co., different decor styles blend seamlessly.
The combination of stone, raw wood, and cowhide chairs presents itself as a cozy cottage interior design. High wood ceilings, furniture upholstered with white linen, and neutral tones of the cottage house invite a light and airy atmosphere. Likewise, exposed ductwork, natural materials, stone shelves, and wicker armchairs offer a rustic charm with industrial appeal.
6. A Quintessential Classic English Style
Source: a-littlebird.com
Decorated by Interior designer Elizabeth Hay, this cottage style house represents typical English Country style architecture. Built as a small thatched cottage house, two acres of private gardens surround it, comprising orchards and a flowing water stream.
Although it is designed with a mix of modern bespoke elements, the cob, stone, and thatch of the exterior remind us of the old traditional cottage house plans. They adorn the interiors with treasured antiques blended with contemporary art, handmade carpets, bespoke furniture, and lamps.
7. Tuscan Stone Cottage Style House
Source: googleusercontent.com
A charming stone cottage house was designed by Kirley architects, who were responsible for introducing Tuscany to California. They have successfully achieved the Tuscan heritage by researching ancient building methods of vernacular homes that touched the hearts of many.
The primary element of the cottage style house is that they brought unique materials from all over the globe. Hand-selected ancient clay tiles, antique timbers, and thick stone walls present a historic charm and a sense of history. Moreover, it provides alluring views of the surrounding rolling mountains.
8. Timeless European Style Cottage
Source: pinimg.com
Located on the cliffs of North Carolina, the cottage house provides spectacular views of the Blue Ridge mountains. You are invited by a European country facade that comprises stone, wooden shingles, and rustic shingles. A simple stone walkway leads you to generous outdoor patios and entrances.
Influenced by timeless European style, this cottage style house is a harmonious blend of ancient charm and modern splendor. Interiors are crafted to reflect the outdoors through the use of rustic ceiling beams, textured tiles, and metal fixtures.
9. Alabama Home – Just Stone and Stained Wood!
Source: bhg.com
Architect Jeff Dungan has brought an elegant charm to this cottage style house by using stone and stained wood- an elementary material palette. His vision and approach were to design welcoming exteriors to feel warm and sophisticated interiors.
The fascinating facade of the cottage house comprises roughhewn stone and dark wood, a roofline similar to the Western approach, and a stone fireplace that projects higher than the roofline that stands as a focal point. Interiors with captivating shapes, neutral tones, and textures maintain the fluidity of form.
10. Small Beach Cottage – Big on a Style
Source: hgtvhome.sndimg.com
Exhibiting the surrounding views of the sea and dunes, the cottage style homes stands out elegantly with its modern vibes. Architects have worked out at split levels, as the slope of the site was a constraint, which was a challenge for them. The colors used were an inspiration by the ocean blues.
Even though this cottage house has a smaller footprint, the designer has integrated several planning tricks to make the area look substantial. Dual-purpose fittings, smart storage solutions, and palette colors give a coastal feel – all these are added advantages to make the space appear bigger along with increased brightness.
11. French Normandy Cottage Style Home
Source: standout-cabin-designs.com
Can you believe that the charm of an architectural masterpiece of the 1920s or 30' does not even fade today? One such example is this cottage style house located on Lake Michigan in Illinois.
The features of the cottage house resemble the traditional farmhouse French elements, often referred to as French Normandy. It is clad in stone or stucco and combined with half-timber. The round stone tower crowned by a colonial roof stands as a focal point that gains the attention of many.
12. Australian Cottage Style House
Source: googleusercontent.com
The Australian cottage house captures traditional lines that are an inspiration by the Californian Bungalow style. Utilizing these intricate lines in box-type windows further enhances the facade besides its function.
The cottage style home, a unique residence, features steep rooflines and sweeping verandahs that are topped with ridge rolls and finished with curved gables.
13. Storybook Cottage
Source: apartmenttherapy.info
Have you dreamt of visualizing cottages that appear in storybooks with divergent features? This cottage style home located in the Whitman College neighborhood is a perfect example. The white texture walls harmoniously blend with the brick texture of the roof, while the fireplace rises high.
The rooflines tapering down from the center, exceptional in their design present the cottage house as a storybook dwelling. To emphasize the backyard and enjoy various activities, it comprises a relaxing waterfall, a playset for kids, and a copper bowl fountain.
14. Suburban Cottage Style House
Source: bhg.com
The expressive features and elements of Victorian Shingle style cottages are seen in this cottage style home. Shingle siding, bumped-out gables, and continuous sloped roofs give the house a completely new look. With new plantings and colorful shrubs with flowers, the curved brick path leads you to the entrance portico, raised by three to four steps.
The architect's son, Tim, implemented the planning of this cottage house with careful proportions and natural materials. Double-height bay windows bring in ample light and maintain brightness inside.
15. Triangular Cottages – Eco Resort
Source: amazingarchitecture.com
Located in Bhojde village in Gujarat, India is the Gir Vihar – a home to twenty cottages designed by d6thD Design Studio. One of the best examples of cottage style homes was built by considering climate-related concerns and sustainability along with vernacular architecture as the main principle.
Vernacular construction techniques such as load-bearing walls, pitched roofs, domes, arches, and rubble stone-packed foundations are used in these cottage houses. In addition to being cost-effective, using locally sourced materials like sandstone, bricks, and terracotta tiles also aims to give visitors a sense of pride and belonging.
16. Thai Style Cottage
Source: bizimages.withfloats.com
Built on a slightly raised platform, the cottage house is adorable and unique with its own character. It features a beautiful porch, built of wood that is suitable for hanging out with friends or enjoying the outside weather with a favorite cup of tea.
Slanting wood roofs, shiny balusters with fine carving, identical battens, and lacquer finish wood make the cottage style home look more natural.
17. Cottage Inspired by Ship Cabin
Source: ifdm.design
With its distinctive appearance inspired by a ship's cabin, this small cottage style homes lies near the greenery above Vranov Dam. It has everything in place that the present modern home needs and is like that of a cabin on a ship. A lot of surrounding greenery conceals the sunburnt larch planks beautiful cottage homes that are comfortable for a family to spend their vacation.
The cozy cottage interior design, interconnected with the outdoors, surrounded by spruce wood, offers breathtaking views of the water. Materials such as larch frames CLT panels, as well as insulating triple glazing, add warmth and provide insulation along with functionality.
18. Cottage in the Woods
Source: inventure.com.ua
Architects of Ward Young architecture studio have created a cozy cottage style home with a blend of incorporating traditional and modern ideas. They have cleverly emphasized both the naturality and pureness of this cottage house, located amidst the forest woods.
The texture, color, and materials of the beautiful cottage homes harmoniously blend with the exterior woods as if dissolving in them. In addition, large glass panes with wooden frames provide picturesque views of the exterior along with a close connection between indoors and outdoors.
19. Hobbit House – Medieval Cottage
Source: twimg.com
The house is part of a complex known as the Hobbit Houses, which is one of the best surviving instances of strange Renaissance architecture. This cottage style home known for its fairy tale and witch house concept has attracted many visitors to Dun Street in Los Angeles.
Dramatic in its appearance, the architecture is designed in an exotic style, where the facade features exaggerated elements such as sway-back roofs, deep slope thatching, and crooked walls. Moreover, unsymmetrical exteriors and ancient decorative elements add further to its story-tale house style.
20. European Cottage Style House
Source: dwell.com
Occupying in the esteemed neighborhoods of Sierra Oaks Vista, a European-style cottage house design renders charm along with lush landscapes evergreen garden lots, brick walkways, pools as well as patios. Limestone walls with sloped roof tiles perfectly blend with the landscapes integrated with brick architecture.
The cozy cottage house design comprises large glass windows that provide alluring views of the garden grounds. Antique fixtures, beamed ceilings, wooden openings, and landscape paintings further take you back to the former generation gaining older memories.
21. Classic Ranch Style Cottage
Source: homenization.com
Built during the 1970s, this ranch-style beautiful cottage homes have a unique appearance with its triangular-shaped facade that blends brick, glass, and wood. Small cylinder-shaped stone cubes act as a curb wall surrounding it replacing a compound wall which gives an open and airy feel.
Brick cladding, exposed wooden rafters, and ancient-style chandeliers give the interiors a rustic feel, while the furniture blends with the ancient style and modern luxury appeal. Large glass frames from floor to ceiling provide ample light along with appealing views of the exteriors.
22. Eco Tent Cottages
Source: mgsarchitecture.in
One of a new kind of innovation, these eco tent cottage style homes are designed to serve multiple purpose buildings. As beach houses, retreats, and resorts, they bring us in direct connection with nature. Also, these beautiful cottage homes plans can be modified to suit the environment and requirements.
These cottage house design are built with the utmost flexibility in application, are cost-effective, and are sustainable. Moreover, the use of natural materials integrated with eco-amenities, such as wooden deck flooring and solar power, adds to the environment-friendly design.
A Review of Cottage Style House
The cottage style homes, which are small-sized bungalows, exhibit functionality and charm other than grandeur and luxury. Most of them are enriched with the use of locally available materials such as stone and wood. Moreover, the integration of natural materials with surrounding nature harmoniously blends with each other, enhancing their appeal.
Also Read: Most Amazing Art Nouveau Architecture Design
FAQ – Cottage Style Homes
1. What Are the Features of Cottage Style Homes?
Most of the cozy cottage house design are featured dramatic steep sloped roofs, stone/brick facades, arched doorways, extended patios, as well as oversized chimneys.
2. Where are Cottage Style Homes Located?
You can find cozy cottage style homes along the countryside, the outskirts of cities, famous tourist places, remote villages, near beaches, next to mountains and valleys, in the woods and forests, as well as on hill stations.
3. How are Various Cottage Styles Distinguished?
Cottage style homes come in different styles depending on their architectural elegance, location, and availability of materials and function. For example, Coastal style cottage – refers to a design decor near a water body/beach, whereas English/European style cottages are from the age-old traditions of European countries.
4. Why are Cottage Houses so Popular Today?
Cottage style homes are trending today because of their timeless charm, elegance, and comfort, and provide a welcoming feel against the hustle and bustle of the city atmosphere. It continuously offers a refreshing treat to the users.
5. What Are the Distinctive Themes of Cottages?
Charismatic with their facades, beautiful cottage homes can be seen in different style ambiances, including storybook cottages, witch houses, and fairy tale cottages.
For more information about the latest architectural development, keep coming to Architecturesstyle.
Also, do follow us on our Instagram page, Architecturesstyleideas, to get daily updates.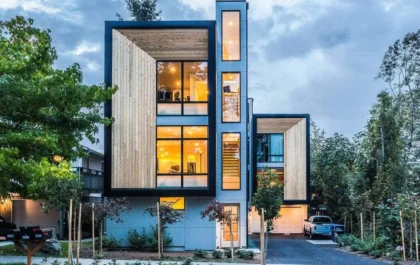 27+ Stylish & Modern Townhouse Designs for Urban Living.
The townhouse's first impression is normally too small, too compact, too narrower, and the list is endless. Well, let us…