If you're planning to sell your home, consider making upgrades before listing it on the market. Renovations such as kitchen and bathroom remodels usually yield a high return on investment and increase the appeal of your home to potential buyers. But here's a home upgrade you might have yet to consider exterior paint! Great idea!
Getting your home painted adds value and gives curb appeal a major lift. In this article, we'll explore why new paint adds so much value and run through some methods to get the most bang for your buck when you have the exterior of your home painted.
Fresh Exterior Paint Has The Biggest Impact On Curb Appeal
Source: bhg.com
In the most literal sense, your home's 'curb appeal' refers to potential buyers' reaction when they first see it from the street. As a potential buyer scrolls through dozens of listings on their phone, you want your property to grab their attention immediately. Of course, thanks to online listings, very few buyers see your home for the first time when they arrive to tour it. However, the concept of curb appeal remains significant in the digital realm.
It's important to remember that making a good first impression is crucial, as you won't have another opportunity to do so. An aging faded coat of exterior paint immediately sends buyers negative signals about your home. You want something more complex than painting influencing how potential buyers are touring your home feel about the property.
An Upgrade That Will Stick
When upgrading any part of their home, homeowners must consider whether or not the buyer will like the style, color, or materials they've chosen. Upgrading the kitchen by adding new countertops and cabinets is a wise decision. However, it is possible that some buyers may not be fond of white quartz paired with charcoal cabinets.
You want your home to fit in with the neighborhood's aesthetics, not stand out. The exterior painting doesn't have that problem. Select a color that matches the rest of the neighborhood or conforms to the association's rules if you're part of an HOA. It's best not to exercise your creative freedom right now, even if you're not involved in an HOA.
One Less Thing to Worry About
Source: bobvila.com
No home is perfect. When a homebuyer closes on a house, they already have a to-do list generated from the home inspection they paid for earlier. From repairing roof shingles to replacing the guest bathroom toilet, the buyer has much to consider. Removing the need for exterior painting from that list makes their transition so much easier. Making these improvements can increase the chances of receiving offers for your home, particularly from buyers seeking a property that is easy to maintain and ready to move in.
Boost Your Home's Value
According to data from real estate companies, exterior painting, on average, yields more than a $2,176 increase in value. This increase in value is significant in the market and comparable to other costly home upgrades.
Most homes need their exteriors painted every few years. The lifespan of a home's exterior depends on the material used. For instance, wood siding lasts 3-7 years, while stucco lasts up to 6 years. When you have a professional painting company work on your home, you're entering a window in which your home has a boosted value on the market. It is beneficial for several reasons. Suppose you're looking to sell your home.
In that case, you can list it at a higher price and attract more buyers leading to more potential offers. But, even if you need more clarification on selling your home, you can use your rising home value to build equity in the property. It opens up several options to homeowners, ranging from getting out from under-private mortgage interest to home equity loans.
Enjoy Coming Home Every Day
Source: greencalinc.com
There's nothing quite like returning home to a lovely house after a tiring day. New exterior paint is also something homeowners can enjoy. Even if you have no immediate plans to sell your home, a fresh coat of paint can improve your overall feelings towards your house.
Also Read: Basic Home Improvement Tools You Need
Get Started by Hiring the Professionals
Of course, you'll only see the value-added benefits of exterior home painting if the right people do the project correctly with the right paint. We recommend talking to local painting companies. There are several reasons you should hire professional painters, but two could directly impact your plans to sell your home: quality and timeline. A professional painting company will leave your house looking fantastic—not always a guarantee after a DIY project. Experienced painters can also complete your home on deadline, which is important if you plan to list by a certain date.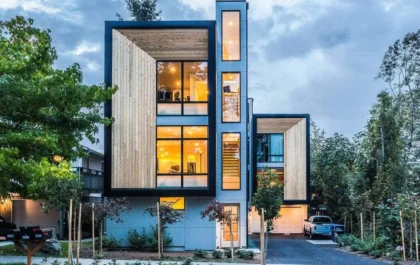 27+ Stylish & Modern Townhouse Designs for Urban Living.
The townhouse's first impression is normally too small, too compact, too narrower, and the list is endless. Well, let us…