Built to be positioned in a body of water, amphibious and floating homes can adjust to changing water levels. While amphibious homes are built to float when the water level rises, floating houses remain immersed in the water all the time. In densely populated locations where there is a great desire for homes near or in water, these types of homes are common.
Since they can adjust to changing water levels, amphibious or floating houses are highly useful for dealing with floods. Residents who live near or on the water can reduce the effects of heat and improve their quality of life.
What is a Floating House?
Source: squarespace-cdn.com
"Floating" in foundation engineering refers to a structure that has a load equal to or greater than soil displacement so that the soil has no additional load applied to it. These hovering structures are a significant revelation in Amphibious Architecture. The design of floating houses is replacing normal residences in areas that are prone to flood.
Since floating structures don't harm the ocean floor or other marine life, they are being ecologically friendly.
Mechanism Behind a Floating House:
Source: homedsgn.com
The constructi

on of floating homes is p

ossible without a foundation according to the buoyancy theory. They are also referred to as buoyant dwellings as a result.

The building's foundation should be constructed to allow for floating and to support any additional loads the home might impose, including dead and living loads.

Thes

e floating houses m

ight be constructed on a boat, a hollow pipe, thin pads, or other similar objects that help them float and bear the weight.
Perks of Floating Houses:
1. Affordable:
Moving floating homes from one area of a water body to another area of the same water body is relatively simple and affordable.
2. Efficient Construction:
Besides steel and wood, most of the components of the floating structures are assembled utilizing prefabricated technology. This accelerates the construction process. Construction of floating houses takes about half as long as normal construction methods.
3. Economical:
By eliminating certain components, such as foundations, it is possible to reduce the overall cost of building. Floating homes cost 20 to 30 percent less than conventional ones.
Get Inspired by These Top 18 Designs of Floating Houses:
1. Container Themed Floating House:
Source: cloudfront.net
Despite using containers to design quirky homes and office spaces on land, the idea has now shifted to designing them on the water surface. Architects and designers are adapting the containers as they can grow by stacking them up.
These container-style floating homes can make up a contemporary theme while housing all the basic needs a home would require.
2. Minimal Modernist Structure:
Source: cdn.cnn.com
The plan includes a straightforward, lightweight construction that, according to the design team, could be placed over a concrete "tray" to allow it to float in the case of a flood or on conventional pile foundations. This minimalist modern look is inspired by the famous Mexican architect Luis Barragan.
The pop of colors used in the door and the internal walls bring out the lively character of the structure.
3. Elliptical Form:
Source: na-dache.pro
Giancarlo Zema designed the environmentally friendly floating home WaterNest 100. It is an encompassing 100 m2 dwelling unit with a hull built completely of reclaimed laminated wood and measuring 12 m in diameter and 4 m high.
Balconies are conveniently positioned on the sides and offer captivating views of the water due to the huge windows.
4. Wooden Style:
Source: pinimg.com
This is a living example of how a floating home doesn't have to be quirky, unique, or supernatural. It has all the characteristics of a typical rustic cabin in the area, including how it feels and behaves, with the bonus that it is entirely unattached to the land.
5. Angular Roof Floating Homes:
Source: admagazine.ru
Located on a canal in Amsterdam, this pitch-black structure stands out among its neighbors because of its angular roof structure. This is a modern-themed floating home that pertains to efficient sustainable features.
The exterior of the building is covered in darkly stained wood which gives the structure a monolithic aspect.
6. Floating Pods:
Source: thecooldown.com
Several small floating houses are being constructed around the world where amphibious architecture is in demand. Paving the way to a promising future these compact floating structures are designed to create a floating village.
They follow a similar structure, and each deck is connected to 6 floating pods, 3 on either side. Depending on the scale and availability of space the number of pods can be increased or decreased.
7. Mansion Themed Floating House:
Source: fchege.com
Breaking the monotonous feel of a single-level house, this mansion-themed floating house includes a basic floor plan. The master bedroom is visually connected to the water body, supported by a fully glazed sliding door.
The oversized flat roof structure completes the look of the structure, which is similar to the floating deck below.
8. Prefabricated Floating House:
Source: homecrux.com
Prefabricated structures are an efficient way to cut down the cost of the construction of floating homes. They save a lot of resources and the results are modern and contemporary. The overall look of the structure can blend in easily with a busy neighborhood or can be a contrasting feature with a backdrop of greenery.
9. Voluminous:
Source: thewaywebuild.com
Without compromising on the size factor, these self-sufficient houses feel more like a house on a land surface. Opening up the module with wide openings, and a large courtyard in the center, this floating home has an indoor garden.
As the deck is divided into levels, the entryway and the balcony on the side are connected by the same platform.
10. All-about Curves:
Source: arianparax.com
Breaking limitations on the design of roof structures, this interesting pattern of curved roof structure gives a new character. It makes the wall flexible with an external cladding of shingles.
Inspired by a bird's wings, this form blends well with a water body.
11. Acute Vessel:
Source: squarespace-cdn.com
With no constraints of the sharp edges of the acute vessel, every corner has a purpose on its own. The design includes a double-height living space, opening toward the wide deck.
Every nook of the deck area has a dedicated relaxing space with suitable furniture.
12. Bamboo Floating Home:
Source: zhujingbamboo.com
Light and ventilation are core features of the design, which can be used in a variety of ways. To adapt to changing weather and tenant needs, various parts of the house can be opened and closed.
Acting as an eco-friendly covering for open spaces, these bamboo skins are sustainable and cost-effective.
13. Contemporary Style Floating House:
Source: amazonaws.com
With variations of opening sizes, this contemporary-style floating structure lets in natural light and brightens the whole living, dining, and kitchen space. Small windows accompanied by window seats are positioned in every corner of the house to allow the cool breeze to reach the house.
14. Cylindrical Shaped Floating Home:
Source: archilovers.com
The cylindrical form and the porous skin of the structure is the highlight of the design. Designers connected the upper floor with low-rise stairs that mostly resembles a ramp. Allowing enough space on the lower structure for a relaxing deck area and a boat shed, this floating home is a structural wonderment.
15. Staggered Style:
Source: pinimg.com
The staggering effect of the structure allows space for a mezzanine area. The whole level connects to the exterior through glass overhead doors.
The upper level features a private retreat, screened from neighboring homes with small windows, with expansive views toward the water.
16. Vacation Mansion:
Source: tumblr.com
This floating home has overhanging roofs, rectilinear volumes, and a muted color scheme. The floating structure is built to offer a solid link to the bay. The layout has two levels, the upper one of which steps back to provide a "feeling of shelter."
Large expanses of windows and patios are covered by flat, overhanging roofs. The roofs contribute to the house's low, horizontal appearance.
17. Minimalist Style Floating House:
Source: static.dezeen.com
A wraparound deck is incorporated into the design and is approachable from every room. The building's horizontal cedar paneling gives the structure, which is perched on the lake's surface, some elegance and warmth. From the dock, privacy is provided by a cedar slat screen.
18. The Invisible Cabin:
Source: dezeen.com
Hiding inside lush greenery, this block of the floating house is a serene place to live. Following a minimal and similar language of glazing and frame, this structure is a compact floating paradise.
Although the design looks simple, the environment friendly structure has lots of windows to make a more opulent and expansive house on the water surface.
Also Read: What Is an Adobe House? 10+ Examples of Adobe Style Houses
Experience the Sense of Calmness in Floating House:
Investing in trustworthy technology and adapting to the lifestyle can be a game changer. Floating homes are evolving these days and architects are coming up with unique design strategies to satisfy their client's requirements.
Deciding on a suitable budget and understanding the working and nature of floating homes, one can design and build them accordingly. As discussed above, with the help of information and ideas it will be a straightforward procedure.
FAQ's: Facts and Features of a Floating House
1. How Do Floating Homes Work?
Floating homes often come in one of two varieties:
Permanently floating homes

Homes that float when water level rises.
2. How Do Floating Homes Affect the Surroundings?
These floating structures blend in well with their environment. When they're seen from a street they look like a normal house on land.
3. What Is the Sewage Pattern of Floating Houses?
Each floating home has a separate tank that collects wastewater from the house. When the tank reaches a particular level of capacity, the float switch bobs, activating the pump that empties the tank and transports the wastewater to the dock's sewage collecting line.
4. How Does It Feel to Live Inside One?
Living inside a floating house doesn't feel much different. But when it is experienced from an open deck or a balcony, it feels like traveling in a boat.
5. What Building Materials Make Up the Floating Houses?
Sustainable building materials such as Timber, bamboo, precast concrete, and salvage materials are all great options.
More from The Architecturesstyle
For more information about the latest architectural development, keep coming to Architecturesstyle.
Also, do follow us on our Instagram page, Architecturesstyleideas, to get daily updates.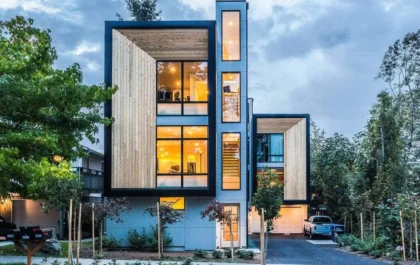 27+ Stylish & Modern Townhouse Designs for Urban Living.
The townhouse's first impression is normally too small, too compact, too narrower, and the list is endless. Well, let us…