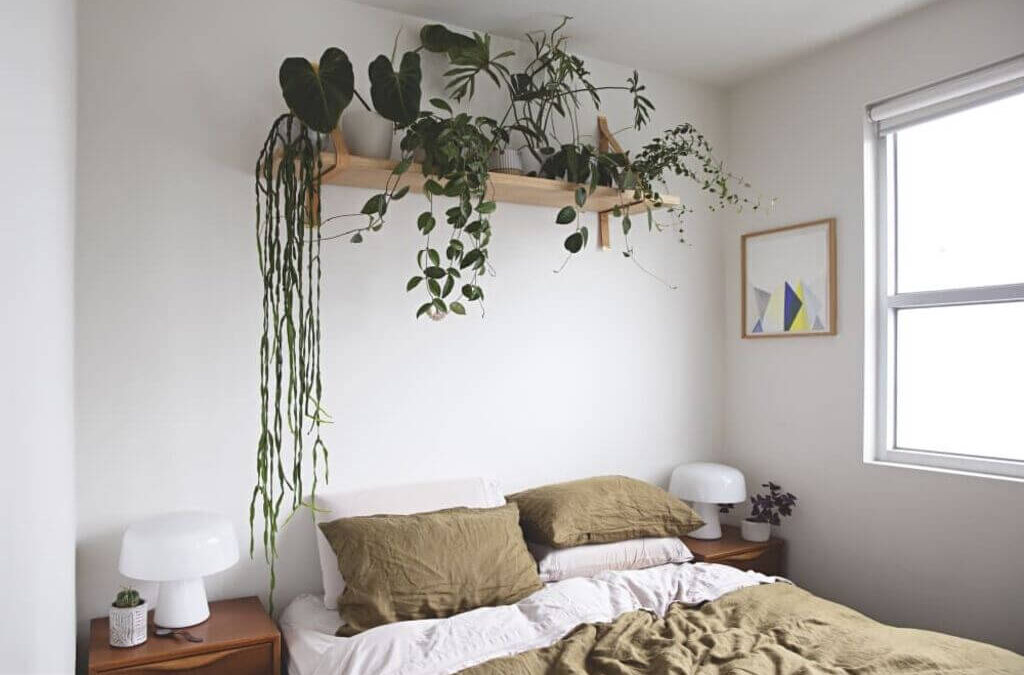 If you're planning to have a curated space in your home for your teenager, chances are you might be looking for some trendy interior design ideas that resonate with their Gen Z culture. In particular, the term "aesthetic" may be something that your teen would love to say when describing their own bedroom. 
For those curious to know what the word means today, "aesthetic" refers to a specific motif or anything that is essentially appealing to the eye. Some of the most popular examples include minimalism, vintage, cottagecore, indie, and baddie, which reflect in the form of art, fashion, or overall lifestyle.
However, when it comes to room interiors, any aesthetic space is generally deemed attractive, cozy, trendy, and personalized. 
With that said, let's dive into the most popular aesthetic decorations to give your teen's bedroom it's much-needed "glow up." If they haven't found their dedicated motif yet, Here are some design tips on how to create an aesthetic gen Z bedroom
Color with Solid Neutrals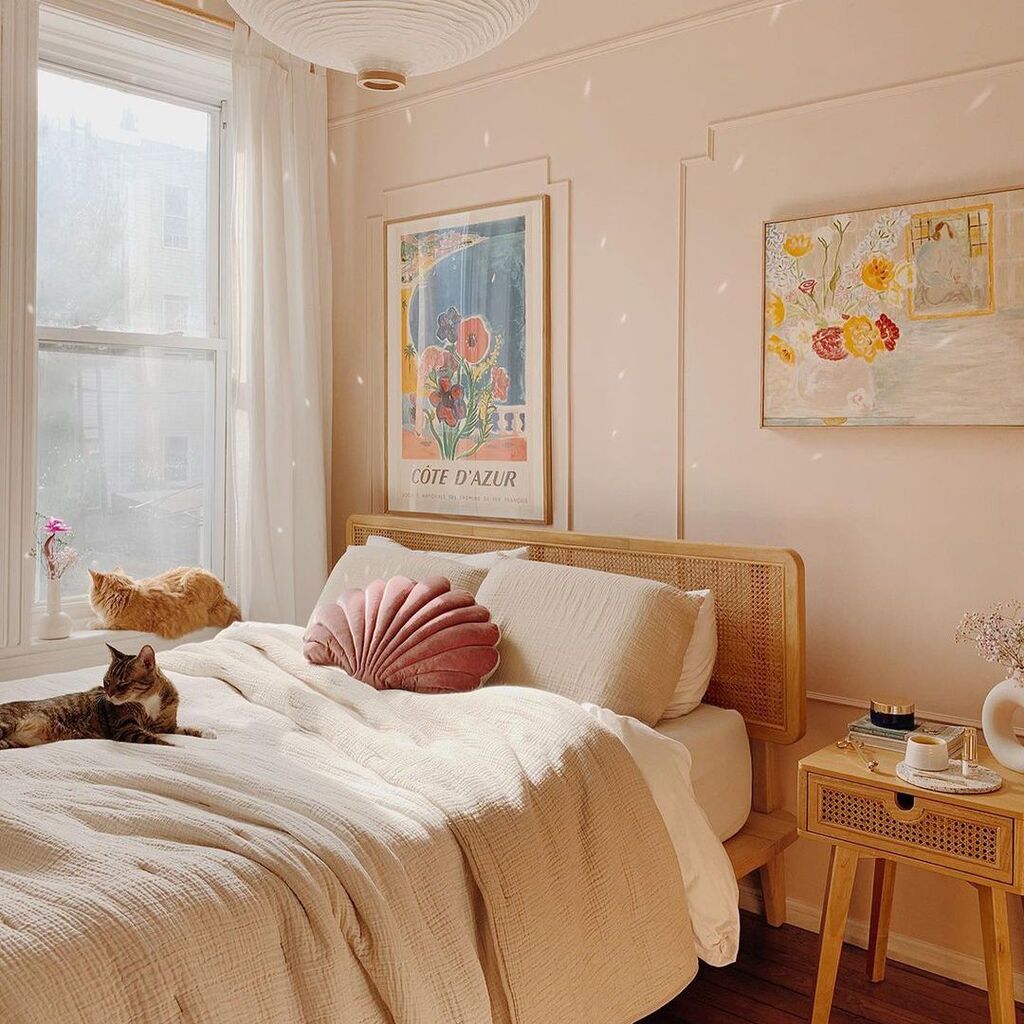 Source: mydomaine.com
One of the key design characteristics that Gen Zers have inherited from millennials is minimalism. Aside from being a gender-neutral aesthetic, this modern style is an infallible choice for teens who may want a clean canvas for further customization.
To be specific, an earthy neutral tone like white, gray, beige, cream, or brown is your best bet for wall finishes.  Here are some easy color combinations that "low-key" teens may prefer for their bedroom:
Brown and Beige

Peach and Ivory

Dusty Pink and Cream

White, Black, and Mocha

Champagne and White

Muted Pink and Taupe

Powder Blue and White

Various Shades of Gray
Apart from these solid colors, you can also explore different textures and materials to add dimension to the room and achieve a classic look. For example, it is best to opt for wood-looking tiles or vinyl planks for neutral wooden flooring. Ivory fur rugs, woven baskets, and marble figurines are also excellent aesthetic decorations that aren't short of neutral. You can explore the following materials for neutral finishes, furnishing, and/or decors:
Wood

Glass

Concrete

Straw

Rattan

Shells
Illuminate with Magical Fairy Lights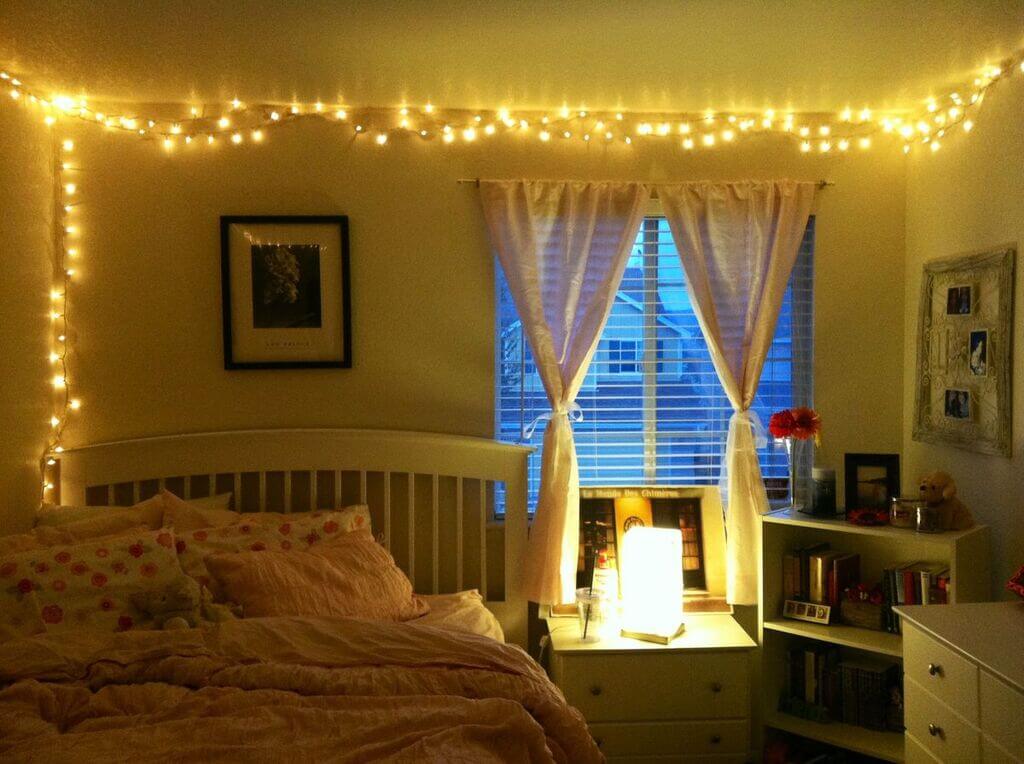 Source: pinimg.com
Teens are sure to feel like the main character in their cozy abode with some subtle illumination. In particular, strings of fairy or pixie lights are one of the trendiest indoor light sources among the youth. While this lighting was previously known as the classic flickering Christmas lights, it has become an all-season staple for aesthetic bedrooms for the warm and magical ambiance it creates.
Without big bursts of brightness, fairy lights provide an ample amount of illumination with their small yet dispersed light bulbs. This is suitable for bedrooms to create a snug and relaxing mood for a good night's sleep. It also gives a quaint rustic feel for its typical warm yellow shine, ideal for teens who desire a cottage-like aesthetic in their haven.
Aesthetic fairy lights are available in various lengths and their bulbs come in different shapes, sizes, colors, and brightness. Some popular variants also offer distinct flashing modes for those who want to make their space look more festive. With this lighting's versatility and customizability, there are lots of ways you can use fairy lights as an aesthetic decoration:
To make a display of clipped Polaroid photos on a string

To illuminate full-length and vanity mirrors

To accent plain walls, edges, and curtains

To fake a glowing fireplace

To spruce up a plant wall
Decorate Using Artificial Plant Strips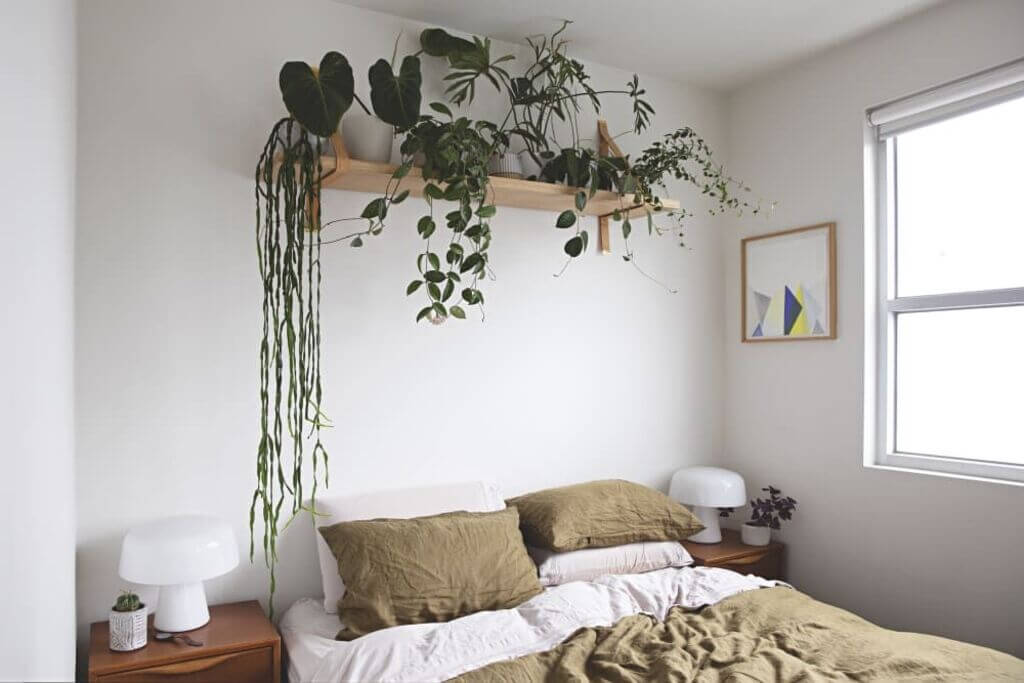 Source: pinimg.com
A foolproof way to draw your teen's bedroom closer to the outdoors is to use style using natural decorations. However, there's no need to be an ultimate green thumb as long as you have artificial plant strips within your reach.
These faux greens are an excellent way to occupy significant wall space and add a fresh green contrast to your neutral abode. Besides being extremely low maintenance and versatile, they give an organic vibrance to your room through stress-relieving greenery.

While fake vines are more commonly used to spruce up plain walls, they can also be used as hanging decorations to take up some vertical space from the ceiling. Plant strips can also include colorful florals like red roses for a romantic look or purple wisteria for a more festive atmosphere. Here are other artificial decorative plants that you can use along with plant strips:
Succulents

Dried flowers in a vase

Tall potted trees

Hanging fern

Assorted flower baskets
Make Use of a Nifty Pallet Bed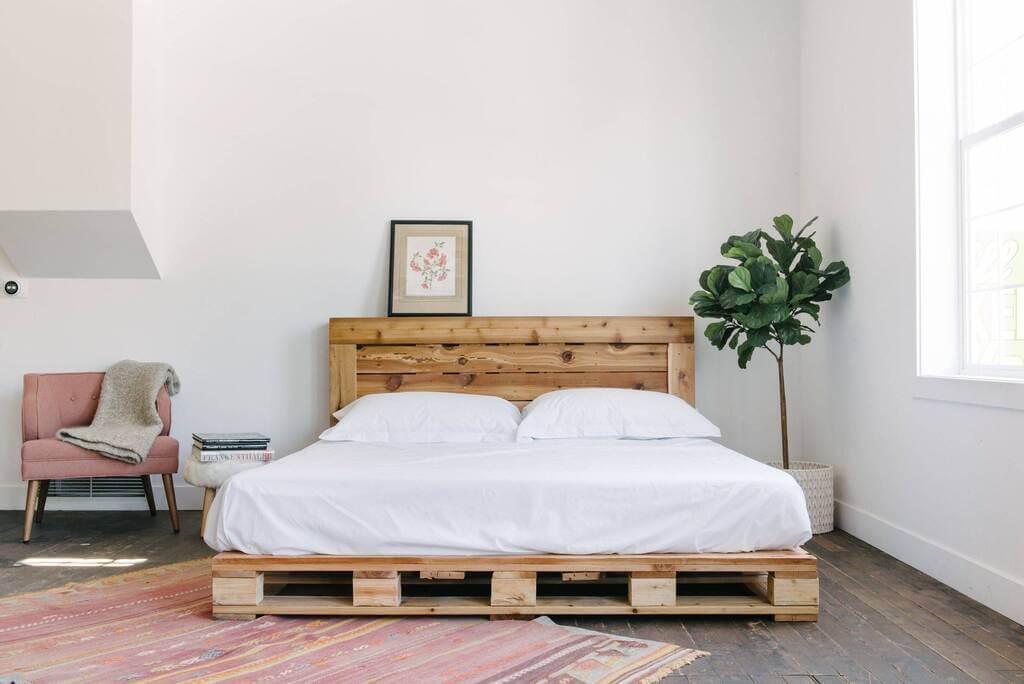 Source: decoist.com
Gen Zers are dubbed as the new "DIY Generation" for valid reasons. When revamping their bedrooms, they can get it comes to revamping their bedrooms, they can get extremely crafty that they may resort to DIY pallet beds for a good night's sleep.
Aside from promoting a low-waste and eco-friendly lifestyle by upcycling industrial wood pallets, crafting pallet beds are extremely easy and budget-friendly. On top of that, your teen gets sturdy and reliable furniture for their room that isn't short of stylish. 
Pallet bed frames can provide an industrial or rustic touch to a room while fitting into any laid-back setup. They are also perfectly customizable, letting you put more pallets side-by-side for larger sleeping space or stack them as much as you like for a higher bed. You also have a choice of putting a wooden headboard for decorative purposes or keeping the pallet bed bare as it is.
If you plan to proceed with the pallet bed route, it is best to match it with a bare wooden bedside table and other timber furniture to keep the space desirably uniform.
Personalize with a Wall Collage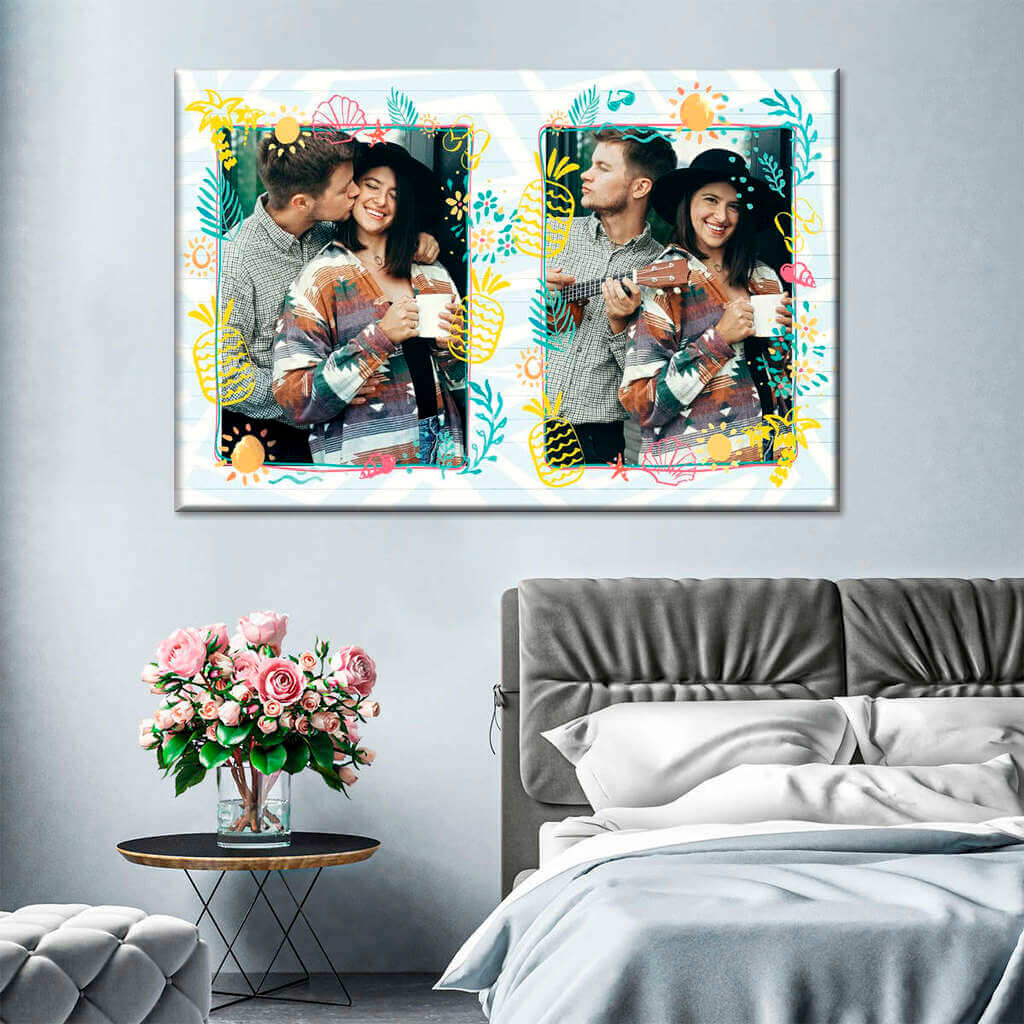 Source: shopify.com
The key to making your teenager's bedroom look much more unique and authentic is none other than to let them personalize it. Inspired by the indie aesthetic, creating wall collages is an artistic medium that Gen Zers can rely on to express their passion, interests, and hobbies, especially in pop culture. In particular, aesthetic wall collages often feature band posters, inspirational quotes, paintings, vintage photos, and even stock images. 
Depending on their preference, teenagers can choose random pictures as long as they form a collective monotone aesthetic or a unique striking medley. On top of being a creative form of expression, these collages are an excellent way to accent plain walls and give a room a certain personality. If there's any decor on this list that's trendy but still unique, it's definitely wall collages.
Also Read: Some Of The Best Ways To Have Modern House Design
Final Thoughts
When achieving an aesthetic Gen Z vibe for your teenager's personal space, it's important to take note of the current pop culture trends but also finds ways for customization by using aesthetic room decor. If your teen has yet to find the perfect theme that sums up their identity, or simply find joy in a generally attractive interior, then these bedroom tips will serve as a desirable aesthetic of its own.
Related posts
The Floating Pitch of FIFA World Cup 2026
The 2026 FIFA World Cup is set to be the largest and most ambitious tournament in the event's history, with…