Your front porch is a warm, inviting space, setting the tone for the rest of your area. A contemporary front porch blends beauty and utility to breathe new life into your house. These modern front porch ideas will inspire you to change your gateway into a statement of style and comfort, whether you're a minimalist enthusiast, a fan of bold designs, or someone who enjoys the merging of nature and architecture.
1. Opt for Simple Front Porch Ideas
Keep the front porch simple with clean lines, neutral colours, and streamlined furnishings for an appealing yet uncluttered aesthetic.
A simple, symmetrical design may make a modest front porch look bigger. Set up a set of plain seats on either side of the entryway, accented with matching cushions. To get a balanced aesthetic that pulls the eye without looking too cluttered, flank the front stairs with matching potted plants for a modern porch design.
2. Go for a Green Front Porch Design
To create a pleasant retreat, fill your porch with potted plants, hanging gardens, and vertical planters. Add decorative items like wall hangings, throw pillows, and rugs to inject your personality into the space. It's all about relaxation and simplicity, so make sure your porch design and furnishings reflect that.
3. Give a Chic Industrial Look
To create a space with an industrial design that is both edgy and appealing, use metal elements, exposed brick, and dark colours. Consider metal railings or elegant horizontal cable railings for industrial or modern aesthetics.
4. Try the 90's Look for a Modern Front Porch Design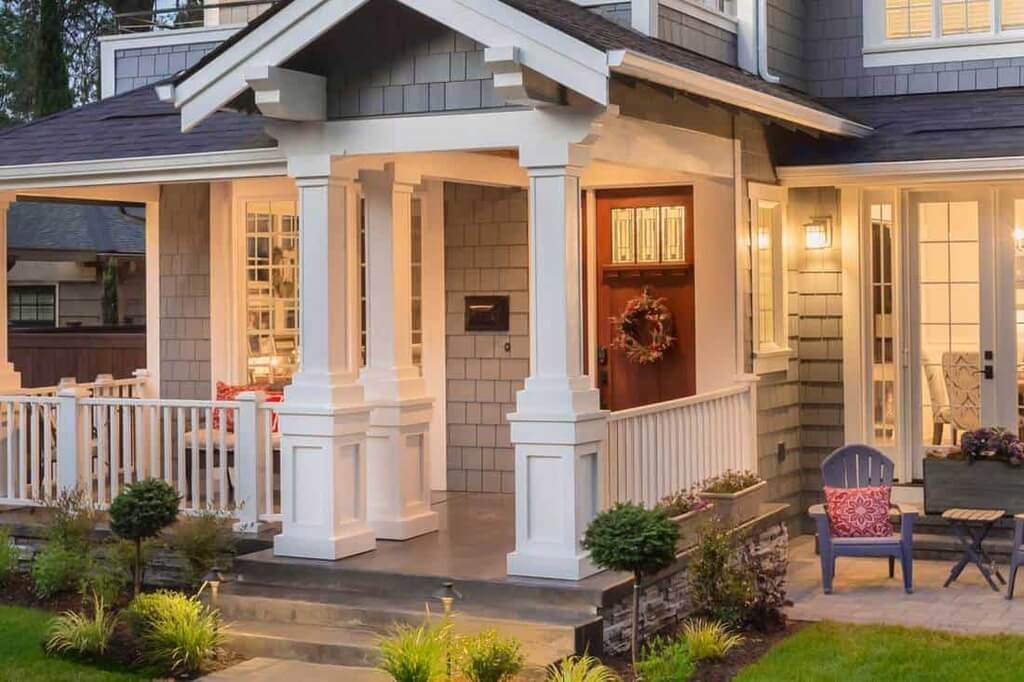 Play with shades of black, white, and grey for a modern monochromatic porch that exudes elegance.
Tips You Should Keep in Mind While Going All Mono-Tone:
Use different shades of color to add depth and shadow.
Choose a shade that reflects your personality.
Use various textures to add drama.
Try different sheens and finishes to set apart the elements
5. Add Rustic Warmth
To achieve a warm, rustic appeal, use natural wood, antique furniture, and warm lighting. When decorating your front porch, be sure to add lots of lights equally distributed around the front so that it seems pleasant and peaceful in the evening, creating a welcoming area for neighbours.
6. Introduce a Sleek Seating Nook
Create a comfy hangout space by creating a sitting area with delicate sofas, throw pillows, and a modern coffee table. Choose minimalist furnishings like skinny metal chairs and a sleek wooden bench. Use potted plants to provide a touch of greenery. For a stylish and pleasant ambience, use unobtrusive lighting fixtures and a clean monochromatic colour palette.
7. Radiate Positivity
Create a peaceful haven by including items such as a water feature, a meditation space, and a soothing colour scheme. A fountain as a centrepiece promotes relaxation due to its calming tones. Fill the room with lush plants, cosy seats, and relaxing lighting. Include a meditation area with cushions and a zen garden for quiet reflection amid nature's embrace.
8. Opt for a Mix of Materials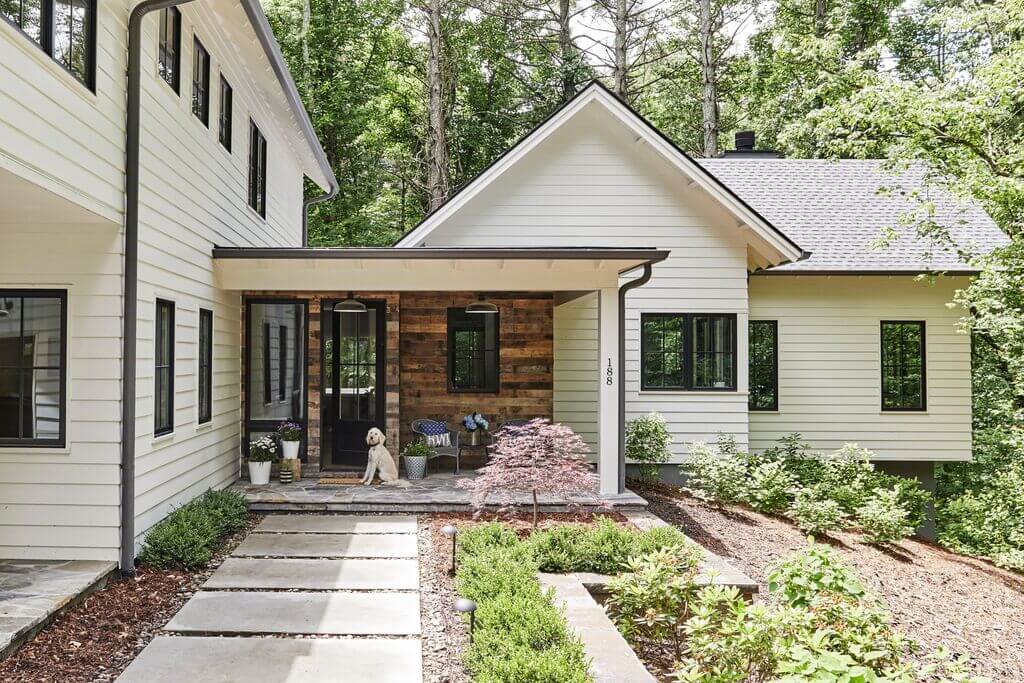 Incorporate metal, stone, and wood into your modern front porch design to give it texture and visual appeal. This is one of the trendiest modern front porch ideas. Achieve a modern aesthetic by blending these materials harmoniously, resulting in a stylish and inviting outdoor space that captures the essence of current design trends.
9. Set Up an Outdoor Workspace
Create an outdoor workstation with a chic desk, a comfortable chair, and eye-catching surrounds. Combine aesthetics with practicality to increase productivity while enjoying the outdoors.
10. Create that Bohemian Vibe
Design a front porch with a bohemian vibe by layering vibrant rugs, floor cushions, and textured textiles. Incorporate plants in mismatched containers, hanging macramé planters, and tapestries for a relaxed, artistic atmosphere. To complete the upbeat and free-spirited appeal, add cosy seats and lanterns.
11. Add a Comfy Swing
Fashion a cosy swing-front porch with a cushioned seat, adorned with soft throws and pillows as it is a great idea for front porch decor. Hang the swing from sturdy beams, allowing gentle swaying for relaxation. Surround the area with potted plants and warm lighting, inviting a tranquil haven for unwinding and enjoying outdoor comfort.
12. Cut Off Energy
Construct a patio featuring charging stations utilizing sustainable energy, and furnishings designed to be environmentally conscious. Enhance your surroundings with renewable power sources and eco-conscious solutions, combining contemporary comfort with a more sustainable way of life.
13. Add Statement Lighting
Elevate your porch with striking lighting fixtures that command attention day and night. Choose patterns that attract unusual forms or brilliant colours, improving the visual appeal of your outdoor space and assuring a spectacular presence even throughout the day.
14. Introduce a Pop of Colour
Incorporate colourful furniture, lively cushions, and ornamental elements for a playful twist. Add a vibrant flash of colour to your room to create a dynamic and energetic ambience that ignites delight and captivates the eye.
15. Add Greenery as Front Porch Decor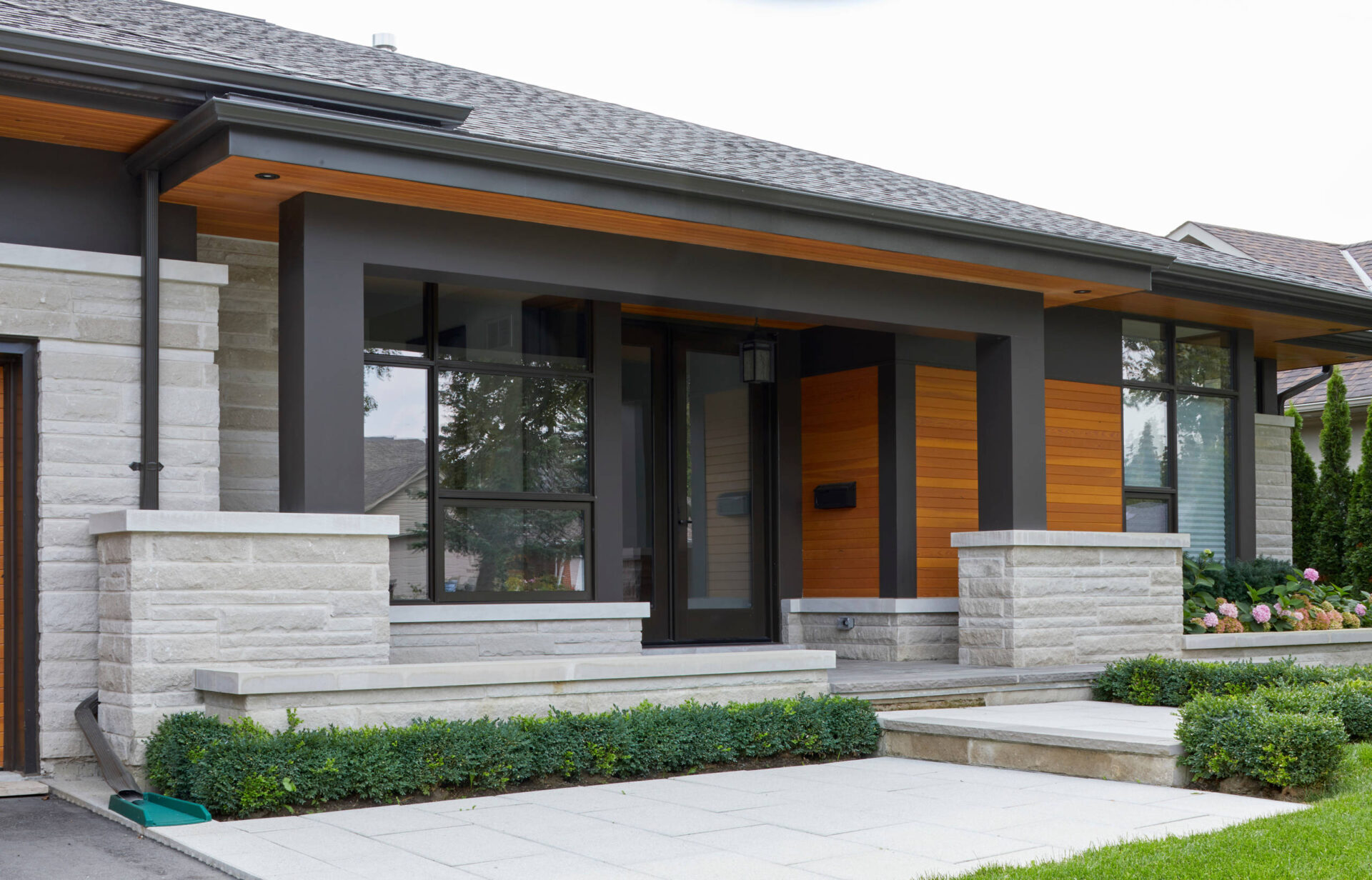 Transform a blank wall into a vibrant vertical garden using diverse plants and hanging pots. Combine different textures and colours to create a rich and aesthetically appealing display that will infuse nature into your room.
16. Asian Influence
Incorporate elements of Japanese or Chinese style into your space with bonsai plants, bamboo accents, and traditional lanterns. The bonsai adds a touch of natural artistry, bamboo brings a sense of tranquillity, and lanterns infuse an enchanting ambience. Create a harmonious blend of Eastern aesthetics for a serene and elegant atmosphere.
17. Choose Elegance
Achieve an understated yet sophisticated porch by selecting tasteful furniture, using gentle hues, and employing subtle embellishments.
18. Try Geometric Patterns
Geometric patterns and forms on furniture and tiles will provide a contemporary touch to your porch. For a contemporary vibe in your Modern Front Porch Ideas, opt for clean lines, bold shapes, and striking color contrasts. This design gives a refined touch to your outdoor environment while retaining a feeling of order and elegance by balancing visual appeal with simplicity.
19. Create a Nautical Theme
Create a beach atmosphere with soothing blue and white tones highlighted with nautical accessories. Use airy materials in curtains and pillows to simulate a sea breeze. Combine these elements to create a relaxing and soothing seaside-inspired setting.
20. Smart Tech
Combine smart lighting, high-quality speakers, and an outdoor entertainment system to modernize your porch. Have complete control over the ambience and music while enjoying the outdoors. This combination of technology and comfort results in an appealing, functional space that invites relaxation and social gatherings.
21. Let Your Creativity Shine
Curate your space with sculptures, unique decor, and art installations that mirror your individuality – a haven for any artist. Create a magical hideaway that reflects your personality by expressing your creativity through intriguing artwork.
22. Create Curiosity
Flowing curtains on your porch provide protection from the sun, an unobstructed atmosphere, and a touch of luxury. Their gentle movement in the air creates a peaceful atmosphere, making your outside space an inviting sanctuary for relaxation and pleasure.
23. Add an Outdoor Dining
Choose solid furniture that complements the style of your home to create an inviting outdoor dining area on your front porch. Include comfortable seats, a dining table, and shade alternatives such as umbrellas or pergolas.
Greenery may be added with potted plants, and outside rugs can be used to define the space.
For evening illumination, use string lights. An ideal outdoor eating ambience requires a balance of beauty and comfort.
24. Go Scandinavian
Focus on clean lines, neutral hues, and natural materials while designing a Scandinavian front porch. Include wood features such as decking and furniture, as well as basic yet comforting materials like cushions and blankets. For a touch of nature, use potted plants and simple decor. Maintain a clean and pleasant atmosphere by adhering to the simple and utilitarian spirit of Scandinavian design.
25. Futuristic Flair
Select sleek, curving contemporary furniture with metallic accents for a futuristic porch design. Incorporate futuristic elements like glass and chrome. Create a modern and forward-thinking outdoor environment with minimalist decor, modest lighting, and a monochromatic colour palette.
FAQs:
How can I make my porch look bigger? 
To develop a modern porch design, think about how the room will look and go for mirrors, minimalistic furniture, and vibrant colours.
Which easy-to-care-for plants can I place on my modern porch?
Succulents, cactus, and ornamental grasses are low-maintenance options.
How do I choose the right lighting for my modern porch? 
Select lighting that enhances the porch's architectural features while offering the right amount of ambience.
How can I keep the elements out of my contemporary porch? 
Use weather-resistant materials, invest in high-quality outdoor furniture, and consider adding an overhang for further protection.
What is the simplest way to add colour to a contemporary front porch? 
Use colourful pillows, throw blankets, and colourful pots to provide a splash of colour without overdoing it. This is one of the best small front porch ideas.
Final Words
Your front porch allows you to express yourself while also improving the exterior appearance of your property. These modern front porch ideas range from simple elegance to dramatic designs and may inspire you to alter your area. Whatever style you want, bear in mind that a well-designed porch not only welcomes guests but also adds a feeling of comfort and style to your daily life.
For more information: