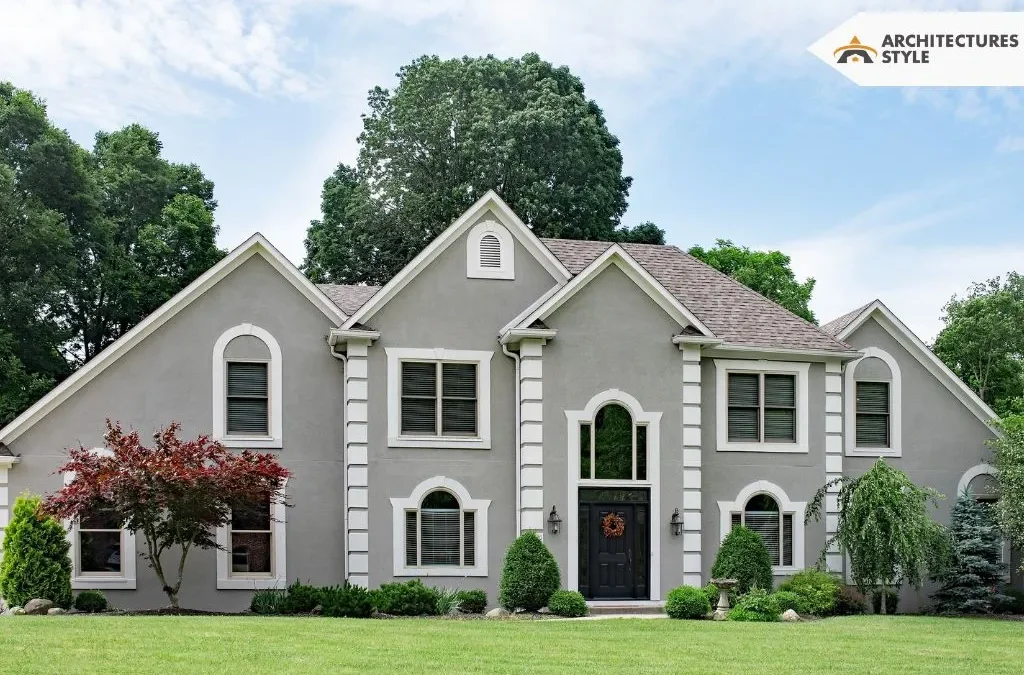 The use of stucco siding, a sort of hand-troweled masonry plaster made of cement, water, and sand, is a signature characteristic of Spanish and Mediterranean architecture. Depending on the application procedure, the exteriors of these stucco houses have a variety of textures ranging from pebbled to sweeping swirls to almost smooth and give durable weather protection.

If our technicians determine that stucco crack repair is necessary, then they will fill any stucco cracks with new stucco material, and sand, then finish the surface.

However, there are certain drawbacks to this form of brickwork, and it isn't suitable for every house. So, whether you're house searching and drawn to this design, thinking about re-siding your home in stucco, or just want to keep the stucco exterior you already have, keep reading.
All About Stucco and Its Growing Popularity
Because its elements are widely obtainable, the earliest stucco used lime instead of cement, and it's one of the oldest natural forms of siding, going back to ancient Greece. Spaniards are said to have introduced stucco to Mexico and the American southwest, where it was applied over the stick, stone, or timber framework to create rock-hard walls.
Stucco siding began a new era with the widespread manufacture of dry cement in the early 1900s. Stucco became more workable as a result of the use of cement, and longer drying times gave builders more flexibility. Despite this, the southwest remained ideal for stucco because of dry weather and high sand content, which kept the soil stable.
Stucco is one of the oldest building materials that has received both favorable and negative attention. Stucco homes with wonderfully smooth walls and mild colors may be seen throughout the area. Stucco houses have both advantages and downsides, but before we get into that, let's define what stucco is. Stucco is a type of wall treatment that resembles plaster in appearance. In reality, the phrase "plaster siding" or Stucco Siding is often used interchangeably with the term "stucco."
Although stucco is often applied to external walls, stucco treatments may also be found on internal walls. Dash coat, scratch coat, brown coat, and finish coat are the four layers of conventional stucco used for external walls.
The amount of each component varies depending on the coat type. Mineral oxide pigment is sometimes added into the final layer for coloured stucco houses. Synthetic stucco is also available, but some home repair experts believe that this substance has a proclivity for accelerating moisture problems.
Stucco Houses: Pros and Cons
Pros

The components for stucco finishes are readily available from local, environmentally friendly sources.

Stucco is resistant to fire, rot, mold, impact, and termite infestation, which is its main asset. Depending on local temperature conditions, the finish on stucco houses can endure up to 100 years.

As stucco treatments contain long-lasting pigments, you won't have to repaint your home as often.

Stucco siding insulates your home from outside noise. This is a significant benefit for people whose homes are located near a busy thoroughfare.

Stucco finishes may be done in a variety of textures to give your home a unique, seamless appearance.

Cons

Stucco application is a time-consuming and complicated process that needs the use of experienced concrete contractors Milton. One of the reasons why the labor cost of installing stucco finishes is more than other siding options is because of this.

The inflexibility of stucco is well-known. In regions where the soil moves, it has a proclivity for cracking. However, the polymer is used into the stucco mix to overcome this problem.

Water retention is common in stucco homes, which leads to water damage over time. This occurs most frequently when the application is not completed by a professional or when there is a lack of upkeep. If you want to sell your stucco home, get it inspected by a home inspector who is familiar with stucco.
Despite a few drawbacks, stucco remains a useful construction material, particularly in arid areas. They can, however, be utilized in wetter locations if the stucco is particularly designed to withstand mildew and moisture.
7 Stucco Houses Design Ideas
Stucco allows you to add texture and rich designs to the exterior of your home, making it seem beautiful. It allows you to express yourself via design in a variety of ways. Here are a few design concepts recommended for enhancing the appeal of your home:
1. Stucco Exterior with Wood
Combining wood and stucco produces exceptional beauty in natural settings if you want to achieve a rustic modern look. It adds a beautiful finishing touch to the vegetation around your home.

2. Clean Stucco House Design
Another way to get the most out of stucco is to use a single finish to keep it clean. It has a classy but attractive appearance. This type of stucco is ideal for boxed houses because it makes them stand out.
3. White Stucco Exterior
If you have a light-colored home, use white stucco to create an airy atmosphere. It blends in wonderfully with the lush foliage and tropical atmosphere, providing a refreshing sensation.
4. Japanese Style Stucco on House
These are more well-known and well-liked in homes with a lovely front courtyard. The wood siding blends in perfectly with the stucco. You may get a classic Asian aesthetic while also making your home more eco-friendly.
5. Cedar Wood with Stucco
Residential stucco with Cedarwood is a beautiful match. You may combine the two to create a modern yet distinct home that draws everyone's attention. It brings your home to life and gives it a rustic contemporary flair.
6. Traditional Stucco House
Metal roofs with stuccos are a great option if you want a more classic look. They complement the landscaping at the front of the house perfectly. Traditional stucco houses are appealing to the eye and have a tidy appearance.
7. Stucco Shingle Roof
Another popular option for traditional stucco is to combine it with a shingled roof, as suggested by stucco contractors. It gives the house a storybook-like vibe. Installing similar urns at the door that compliment the shingle roof and stucco can make your property look much more beautiful.
Stucco Application
Stucco, unlike contemporary sidings, requires a more skilled application. Stucco is usually applied in layers, making it time-consuming and labor-intensive – not for the typical do-it-yourselfer. The application method is determined by the structure of the home, the stucco system employed, and the desired finish.
Typically, the installation of stucco entails many steps:
Step 1: Apply a vapor barrier to the home's exterior.
Step 2: Prepare the surface by filling any gaps and brushing away any dirt.
Step 3: Attach a lath or a strong wire mesh to the house's façade.
Step 4: Depending on the desired system, apply the stucco layers.
Step 5: Allow time for the stucco to dry, the final coat might be smooth or textured.
8 Tips while designing Stucco Houses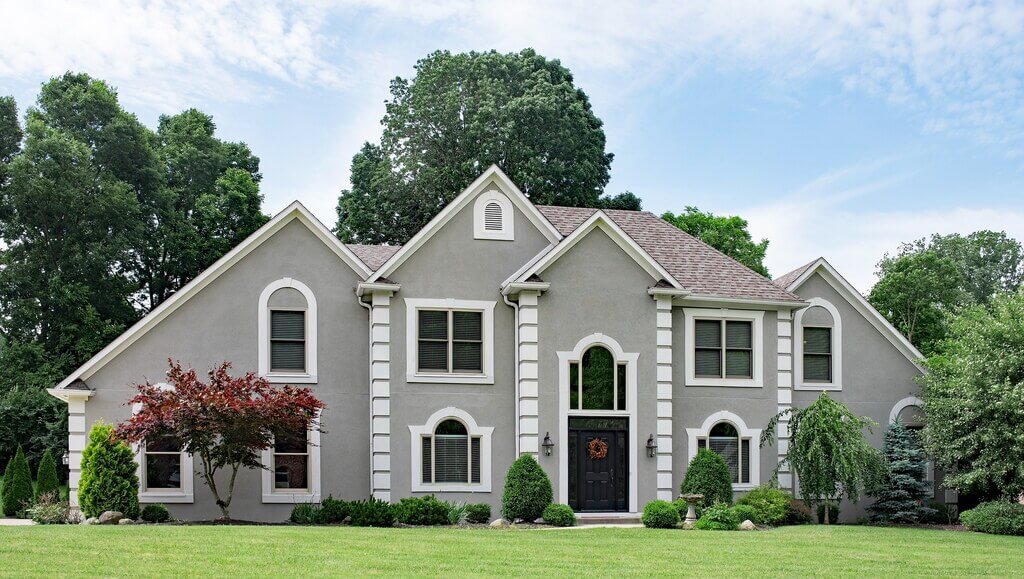 You can keep your stucco façade in good shape and prevent costly damage and repairs by following these tips:
Peeling paint might suggest that the stucco was not correctly prepped or fixed before you applied the paint if your stucco has been repainted several times. It might also indicate that moisture has started to seep into the wall behind the stucco, resulting in water damage. Until the root of the problem is found and treated, the paint will continue to peel.

Even though stucco is long-lasting, frequent inspections in both hot and cold seasons will help you discover any problems early. Because walls expand and contract in response to changes in temperature, a small surface crack visible on a hot, bright day may disclose an enormous fissure when the temperature drops.

Minor cracks are frequently caused by seasonal temperature variations, which cause the material to compress. A direct collision is the most common source of holes. Use a high-quality waterproof and paintable acrylic caulk to seal cracks and gaps. You may cover exemplary damages with elastomeric paint since it is thick enough. More extensive repairs should be left to a skilled stucco repair specialist.

Painters must employ proper painting procedures and adhere to the paint manufacturer's temperature and relative humidity requirements to avoid premature paint failure. To get the most satisfactory results while painting stucco, you'll need specific knowledge, abilities, and tools.

Select the appropriate products. Because stucco is more susceptible to water and moisture absorption than other wall treatments, using a high-quality waterproofing primer and paint is essential for extending the life of your stucco surface. Acrylic latex paints work best on stucco because they provide good coverage and colour retention.

Wash the outside at least twice a year to avoid dust and grime accumulation. Before cleaning, make sure that any cracks, chips, or holes in the stucco have been fixed to prevent water from seeping through.

A sprayer fitted to a garden hose may effortlessly remove dirt and debris. We don't advise using a power washer on your own since it can harm stucco surfaces if misused. Professionals are skilled and aware of using the correct settings to guarantee that power cleaning leaves it clean and undamaged.

Sprinkler systems, leaking gutters, and pooled water may discolour your walls over time, causing mildew, mould, and efflorescence (a white powdery "bloom"). Mould flourishes in wet regions with a lot of plant matter, so look carefully around and behind any plants, flowers, or trees growing near your house. It's critical to properly clean any parts of your stucco that show symptoms of mildew, mould, or efflorescence.
These pointers can help you maintain your stucco houses and keep them looking fantastic for many years. When your stucco requires repairs or a new paint job, it's critical to choose a specialist that is familiar with stucco surfaces.
FAQs About Stucco Homes
1. Is It Possible to Change the Color of a Stucco House?
When it comes to stucco, you will take extraordinary measures to select a color that meets your preferences precisely. The only issue is that your preferences may change over time. However, because stucco is designed to breathe, it is better to avoid painting. Paint may trap moisture within, compromising the product's effectiveness and longevity. Instead, laying fresh stucco over the existing finish is best to modify the color. In this manner, you'll keep the material's qualities while getting the new look you want.
2. Is It Possible to Apply Stucco on a Painted Surface?
It is preferable to have the previous paint removed before applying stucco. Stucco will struggle to cling to a painted surface, resulting in a less stable and long-lasting end product. Sandblasting is a technique for removing paint from a character that has been designated for this purpose.
3. Is It Okay If Your Stucco Cracks?
Yes, in a nutshell. Stucco cracking is very natural, indicating that the stucco has appropriately been set. The fruit will shrink as the water in the stucco evaporates after installation, and some minor cracks may occur. These cracks are not an issue and should be expected as long as they are insignificant.
4. Is It Difficult To Re-Stucco House?
Although adding a fresh coat of stucco is not a difficult task, it should be carried out by a skilled team of specialists. To remove the surface of your home's current stucco, you'll probably need to sandblast it. If required, repairs to the existing stucco can be completed before the new stucco is placed.
5. What Makes You Choose Stucco?
There are several reasons why stucco is an excellent choice for your home's façade. The first is, as previously said, the material's look. It is a beautiful product to utilize as siding for your home, and it comes in a variety of colors. Stucco is also reasonably priced, far from the most costly siding option available. Finally, as the years pass, stucco requires very little upkeep.
Finalizing the Right: Stucco Houses
Stucco looks excellent on the outside of almost any structure. You already knew that, right? However, you should be aware of a few more facts regarding stucco before deciding whether or not to use it in your home. From the above-listed information about the stucco siding, we hope you may get the right idea about your stucco house.
Discover More