Having a luxurious house in everyone's dream! In this blog, we are going to talk about one. U38 House, owned by Mr. Pongsak Korkiatsanti, is the best example of minimalism with functionality with mind-blowing construction. There is one thing that made us go – Woah. The house is built in a span of four months only. Let's look at the project closely.
Project Details:
Project Name: U38 House
Owner: Mr. Pongsak Korkiatsanti and Ms. Naruemon Tantikarun
Architect Firm: OfficeAT (Office of Architectural Transition)
Architecture Style: Modern Residential (Steel House)
Year: 2014
Location: Soi Udomsuk 38, Bangna, Bangkok, Thailand
Area: 400 sq. m.
The project is built for the family of three (husband, wife, and son). There are many things about the project that makes us admire the designer.
The U38 House is built next to the owner's parents' house. It is a two-story house with a swimming pool, working area, master bedroom, son's bedroom, family room, dining room, and an open terrace.
The ground floor has a combined living room and dining room facing the swimming pool. And the second floor is consists of a master and son's bedroom along with the family room.
As the owner and architecture himself wanted this project to be done within four months, he planned to utilize the steel structure on a 6 by a 5-meter grid to complete the work ASAP.
The materials used in the construction of the entire building were steel structure, painted plastered wall, brick wall, and wood lattice. All these materials made the house close to nature. To add more, the outer area of the house is decorated with plants and trees.
The house location is South East Asia, we all know the tropical climate of the area, considering these things only the screen of the house was decided. To protect it more the heat, the architect designed a long terrace on the side of the room and installed moveable recycled wood skin panels on the glass, which also create privacy for the family.
The interior of the house is kept more minimal and elegant, and the color palette is neutral with a grass top canopy on the car parking area. The wood panel flooring beside the swimming pool area adds a great charm to the place.
This whole project was completed in four months and is the best example of modern architecture, be it for its structure, materials used, durability, or project completion. From outside, the house looks small and simple, but when observed from inside, it is beautiful as well as functional.
The architecture proved that an area should not be a hindrance to designing. You can create marvelous designs for smaller areas as well.
Wrapping Up:
Take inspiration from U38 House and (get) designed your own dream house.
For More Detail: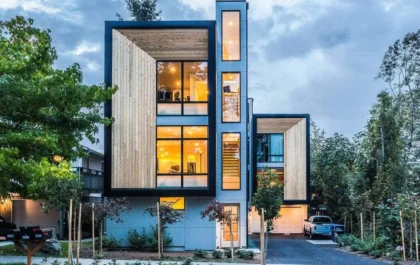 27+ Stylish & Modern Townhouse Designs for Urban Living.
The townhouse's first impression is normally too small, too compact, too narrower, and the list is endless. Well, let us…