Don't we all want to live our gourmet chef dream while working in a classy kitchen? How about making the dream come true with stylish and functional kitchen remodel ideas?

The kitchen is the heart of a home, delivering the most delicious cuisines. With the ultimate hub of flavors and spices, what dominates the most is your personal taste– whether it's cuisine or kitchen design. And to bring a delightful twist to your kitchen, let's explore the top kitchen remodel ideas with a modern twist.
Kitchen Makeover Ideas
Are you ready to give your kitchen an exciting transformation? Let's dive into the world of creativity with the top kitchen remodel ideas.
1. Prioritizing Greens
As the world grows more conscious of a green future, sustainability emerges as one of the top trends and necessities. Modern kitchen makeover ideas embrace green materials for lesser environmental impact. A few of the premium choices are recycled glass, porcelain, reclaimed wood, etc.
2. Bold Black Cabinets
Black is one of the prominent tones for modern designs. Ruling the kitchen makeover trends are black cabinets. These help craft a sleek look. Opt for shiny appliances to contrast against the black, and consider adding light-toned flooring to balance the look.
3. Kitchen Remodel Ideas with Vibrant Tones
Why stick to the same shades when you have plenty? Bid adieu to the conventional and let a pop of tones enter the kitchen. From furniture to backsplash, go over the top while picking colors. A mix of black and yellow helps exude retro sensibilities in a modern setting.
4. Introducing a Rounded Central Island
When it comes to kitchen remodel ideas, functionality is the key. Enhance the efficiency of working in your kitchen by introducing an island. It lets you cook, eat, and store on a single platform. Opt for rounded edges for added comfort and a soft visual look.
5. Kitchen Remodeling for a Personal Touch
Do you know what makes a space more inviting and comforting? Adding a personal touch! While we always keep our bedrooms and living rooms personalized, don't miss out on that magic for your kitchens. Consider adding open shelves to display your collection of favorite plants, kitchenware, or art.
6. Go Handle-free
The trending kitchen designs are all about keeping it sleek. Consider the idea of adding handle-free cabinet designs for a seamless finish. Unless needed for styling, opt for handle-free designs for a tidy effect.
7. Multiplied Islands
With growing demands, kitchens are expanding, too. Rather than restricting to a single island, go for double islands. It helps curate an expansive kitchen, hosting more functional demands and serving as an entertaining space.
8. A Play of Textures
Whether it's the food or design, texture matters! Don't shy away from mixing diverse textures in design for a rich look. Blend different textures like wood, stone, and metal to add visual interest and depth to the design.
9. Keep it Smart
As technology takes the lead everywhere, let it be your new cooking partner. Introduce smart appliances, voice-controlled lighting, and touchless faucets to enhance functionality and make your kitchen smart. It'll make working more manageable and more time-saving with new-age features.
10. A Mediterranean Influence
The Mediterranean design has made a comeback in trending kitchen remodel ideas. Textured walls, rustic wood, stone, and arches enrich the kitchen with character and hint at a mix of Spanish, Italian, Greek, and Moroccan design influences. The modern flair replaces dark cabinets with balanced light and dark tones.
11. Remodel Kitchen Ideas with Dining Islands
Don't we all love chit-chatting in the kitchen? It is one of the most social spaces of the home if designed thoughtfully. Add a dining island to make your gatherings and conversations even more exciting. While a dining table gives off formal vibes, a dining island makes it more welcoming, casual, and fun.
12. The Terrazzo Effect
Modern kitchen remodel ideas are all about experimenting with materials. Rather than picking typical granite or marble countertops, go for playful terrazzo. Welcome new patterns and materials to the mood board for a statement-making kitchen design.
13. Kitchen Remodel Ideas with Marble Walls
For a stylish kitchen makeover, go for a marble backsplash. It helps elevate the luxury appeal and makes the design timeless. Marble also offers functional benefits as it acts as a natural insulator. Clad your walls for comfortable kitchen temperature and added durability.
14. A Moody Moodboard
Are you still interested in going for an earthy touch in design? Go for a bold mood board. Pair the wooden accents with a deep brown or black tone for a cozy appeal. It helps you stay earthy with a modern twist that makes the kitchen even more welcoming.
15. Reign of Wood
Trends may come and go, but wooden accents remain evergreen for kitchen remodel ideas. As the latest trends consider sustainable options, go for an all-wood kitchen design from floor to cabinets. It exudes warmth and flaunts a luxury visual appeal.
16. Tempting Red
As the latest kitchen remodel ideas ditch earthy tones, they're open to adopting vibrancy. Keep it exciting by injecting red for a decorative kitchen design. Make sure to balance the dominance of red with white or a lighter tone to avoid a complete firehouse look.
10 Small Kitchen Remodel Ideas
Do you have big plans but a small kitchen? Don't worry! Here are the top small kitchen remodel ideas that will help you utilize every inch while keeping the layout spacious and comfortable.
1. Use Walls for Storage
When running short on horizontal space, go vertical! Maximize storage by adding floating shelves and wall-mounted cabinets. It helps keep the floor space clear, making the kitchen look more spacious.
2. An Open Layout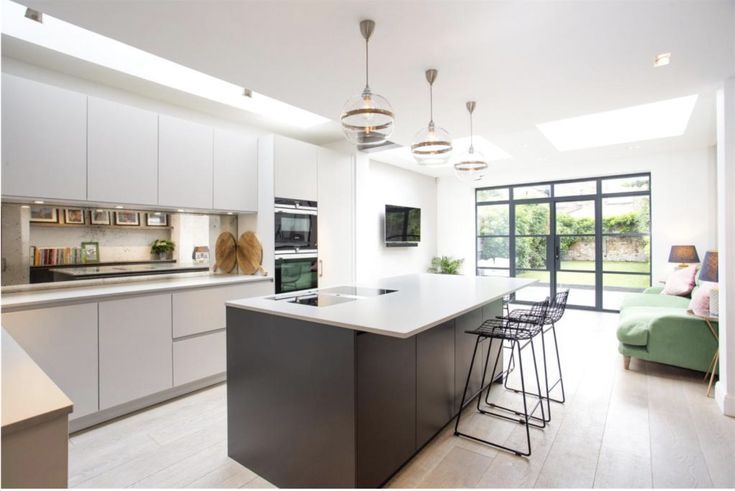 For smaller kitchens, don't define the boundaries. Instead, plan it in an open layout for added space. You can add a sleek dining table for multiple purposes. Use it for preparation, serving, and dining purposes. It also helps in subtly defining the zones.
3. Kitchen Remodel Ideas with Flexible Furniture
Remodel your kitchen with flexible furniture to maximize every inch. Design a linear platform and add sleek stools to offer an extra counter for preparing and dining.
4. Light and Bright
Strategic lighting helps make even the most compact spaces airier. Go for a mix of natural and artificial lighting to make the kitchen more comfortable, modern, and functional.
5. Mirror on the Wall
Mirrors can create the illusion of a small space being spacious. Add it as a backsplash to open up the visual essence and amplify the lighting.
6. Light Up the Cabinets Bottom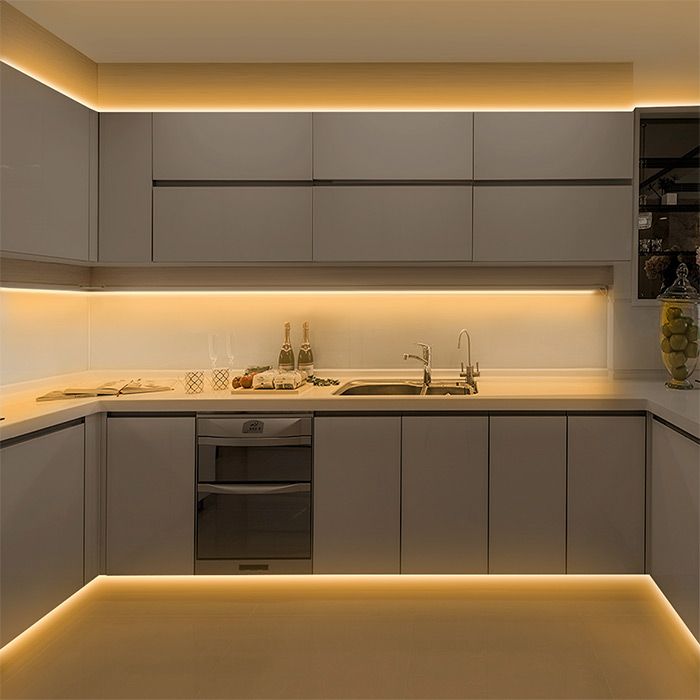 Set a mood and make your compact kitchen more functional by installing under-cabinet lighting. It gives a floating effect and imparts sophistication to the design.
7. Wall Cabinet on One Side
For a linear and small kitchen layout, don't overwhelm the space by adding wall cabinets on both walls. Rather, keep it restricted to one side for a stylish and spacious look.
8. Small Kitchen Remodel Ideas with Colors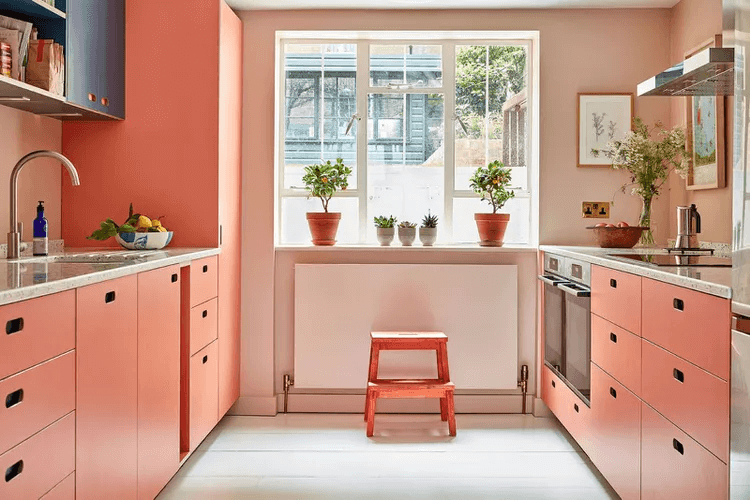 Colors for a Small Kitchen? Yes! To give your kitchen a unique and playful identity, don't shy away from adding colors. Rather, let the play of bright tones make the kitchen more pleasing and fun to work in.
9. Space-saver Furniture
Maximize the utility of small spaces with versatile furniture. Invest in retractable counters, foldable tables, and sleek stools to keep the space functional without consuming too many square feet.
10. Floating Shelves for Clean Lines
The best trick to make a small kitchen feel airy is installing floating shelves. While cabinets make spaces feel cramped, this approach helps you organize the kitchen neatly while utilizing minimal space. Go for a symmetrical layout and white palette for brighter interiors.
Pro Tips for Successful Kitchen Remodeling
While remodeling the kitchen, you don't want to compromise on any aspect. Here are the pro tips to ensure you're on the right track throughout the process.
Even a minor inconvenience in the kitchen ruins your cooking experience. This is why you must continually invest in premium materials that promise durability.
Before considering a kitchen remodel kitchen design ideas, prepare a budget. Prioritize the needs and plan further to stay within the budget.
A basic thumb rule while planning kitchen layout is to arrange the refrigerator, stove, and sink in a work triangle. It helps keep the space organized and eases out function.
Your kitchen is your personal space where you and your delicious recipes rule. Make it pleasing for yourself by personalizing the space with your favorite art, colors, or plants.
The best approach for kitchen remodeling is consulting experts. They can help save time, offer a creative vision, and help you pick durable materials.
Towards Tasteful Design
More than meals, your kitchen serves as a reflection of your taste and style. Go for kitchen remodel ideas that sync well with your functional needs and aesthetic preferences. Update to a tasteful design that makes your cooking experience more efficient and exciting.
FAQs
How often should I consider remodeling my kitchen?
The need to remodel the kitchen depends upon the wear and tear. You can plan it for every 10-15 years to never miss out on trends and keep the kitchen functional. 
What is the most crucial factor in a kitchen remodel?
While picking kitchen remodel ideas, ensure the aesthetics don't compromise functionality. The materials must be eye-pleasing as well as durable. 
How can I remodel my kitchen on a tight budget?
One of the best kitchen remodel kitchen design ideas for a tight budget is to take up a DIY project. Consider upcycling materials and focus only on what's essential to avoid exceeding the budget. 
Is it worth investing in high-tech kitchen appliances?
High-tech kitchen appliances ease out the functionality and help you stay updated with the latest technology. 
Can I combine multiple design trends in my kitchen remodel?
You can pick multiple kitchen remodel ideas for a single project. The key is to establish a cohesive visual appeal and a balanced design.
Explore Further