Are you in dire need of ideas to set up a dreamy kitchen for your new home? Or do you want to revamp your old and boring kitchen design and transform it into a culinary haven? If yes, you've found yourself the perfect recipe for an amazing kitchen makeover.

A farmhouse kitchen emanates timelessness and elegance in the perfect proportions. It's all about putting together a welcoming and rustic atmosphere clubbed with a hint of vintage aesthetics. The best part? It resonates well with diverse interior design palettes and, thus, never goes out of style.

So, are you convinced with all the goodness a farmhouse kitchen has in store for you? If that's the case, we've got you covered with some amazing ideas to bring your dream kitchen to life. Here are 25+ farmhouse kitchen ideas for a rustic kitchen revamp.
1. Flaunt Your Crockery with Open Shelving
Got yourself a fantastic crockery collection? Show it off with some open shelves and let your guests bombard you with compliments. Besides, open shelves make your kitchen feel more spacious and airy.
2. The Classic Apron-Front Sinks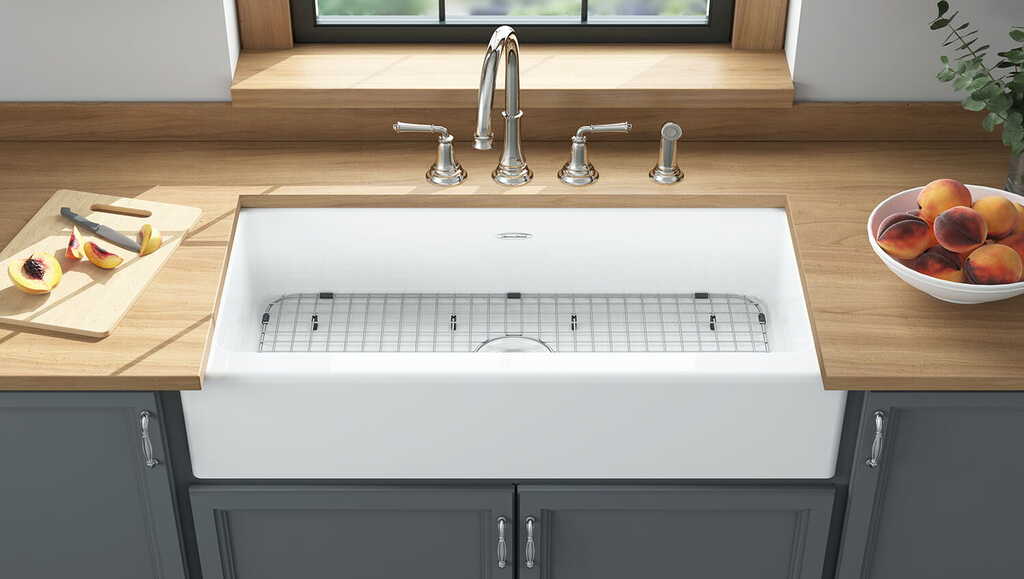 What's a typical farmhouse kitchen without a classic apron-front sink? Get your hands on one and place it well in your kitchen to add that added rustic appeal. Such sinks gel well with both traditional and modern kitchen designs, saving you some bucks on regular kitchen makeovers.
3. Use the Elegance of Natural Materials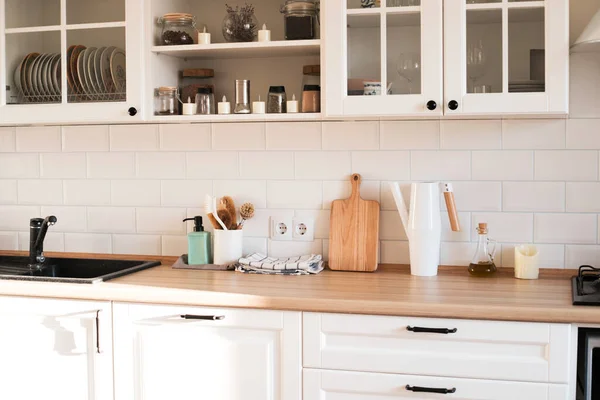 Natural materials are synonymous with an elegant appeal. Inculcate textures and materials such as wood, stone, bamboo, and others to make your kitchen look like a natural haven amidst your modern living spaces.
4. Never a Dull Vibe with Neutral Colors
Don't want to go overboard with experimentation? Let your color palette do the talking. Explore neutrals such as whites, grays, and earthy tones to infuse the "farmhouse" vibe in your kitchen without a lot of hassle.
5. Exude that Old-World Charm with Rustic Finishes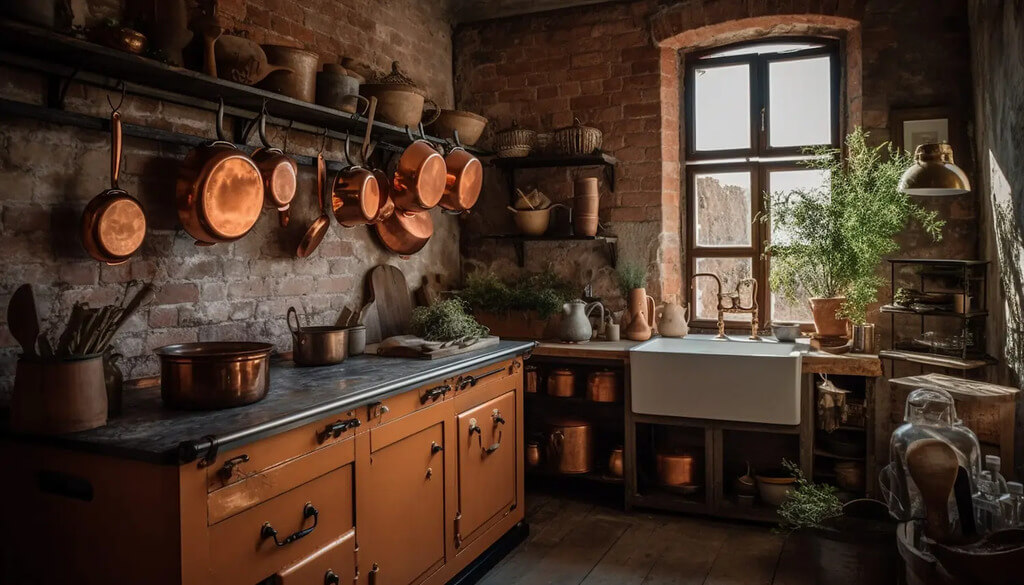 Farmhouse kitchens scream vintage and rustic finishes are here to bring that to life. Make use of those discarded distressed wooden elements, rusted handles, and metallic decor pieces for that old-world charm.
6. Experiment with Vintage-Inspired Appliances
How about a temporary element that makes your kitchen exude the farmhouse aesthetic? Put up some retro-looking appliances that cater to your modern functionalities. You can also utilize something as little as a vintage fridge magnet.
7. Make a Bold Statement with Light Fixtures
Bring the fireflies from the outdoors to the premises of your cozy little kitchen. No, not literally. Want to know how? Simply inculcate some magical pendant lights, lanterns, and chandeliers to make a "bright" statement.
8. The Rustic Wall Revival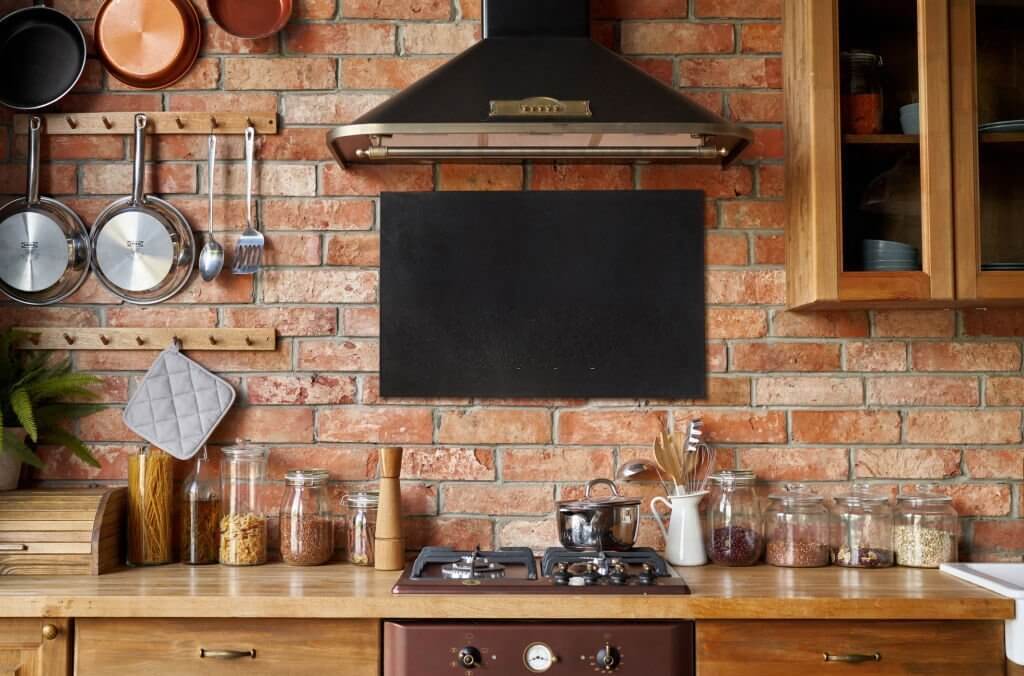 Believe in the concept of "creative yet composed"? Keep your experimentation limited to a single wall and let it emanate a rustic vibe. Look into thrift shops and antique stores to find yourself some vintage accessories that can help you create an amazing "rustic wall."
9. Add Character with Vintage Cabinets
Do your cabinets need a little makeover? If that's a yes, a little DIY can do all the wonders. You can go for anything from basic fresh paint to an element of glaze or dent for that extra vintage charm. However, if you don't want to get into the hassle of DIYs, pick yourself a pre-distressed piece.
10. The Oh-so-grand Dining Table
What's a happy kitchen without some loving family gatherings? The essential that caters to this? A vast and hearty dining table. To infuse a little fun, you can add chairs in contrasting textures or colors.
11. Play a little with the Faucet Details
It's all in the details. Upgrade your kitchen and transform it into a farmhouse paradise by replacing your old faucet fixtures with those of brass or copper. Additionally, you can also incorporate brass or copper handles to make the detailing more prominent.
12. Copper Cookware? Always a Yes
If you're not a fan of direct interventions, this one is a great way to go about it. Get yourself some copper cookware and display it on your open shelves. After all, what's a kitchen makeover without some extra bling?
13. The Wooden and Metallic Fusion
Wood and metal make for an amazingly contrasting pair of textures. Why not make it a part of your new farmhouse kitchen? The simplest way to do this is to inculcate some wooden chairs or bar stools with metallic legs. This makes for the perfect mix of rustic and modern.
14. Vintage with Some Sleek Lines
Not a big fan of some vintage overdose? Tone it down by experimenting with a few modern elements. Put in a few sleek lines in the form of wallpapers, cabinets, or countertops to get the captivating decor journey started.
15. How about a Unique Backsplash?
Subway tiles, herringbone patterns, or vintage floral designs, there is a lot to experiment with when it comes to unique backsplash ideas for a modern farmhouse kitchen ideas. The added advantage? It protects your wall while acting as the canvas for adding a little rustic fun.
16. Get Creative with Some Art
What's an interior space without some imaginative artwork? This applies to your modern farmhouse kitchens as well. Simply amp up your kitchen space with different paintings or artwork featuring gardens, animals, or pastoral sceneries.
17. An Indoor Kitchen Garden
Bring the natural outdoors inside by incorporating a small yet functional kitchen garden. If you're running on a space crunch, feel free to utilize your windowsill or a little corner to make the fresh herbs emanate that farmhouse feel.
18. Infuse Some Textile Treat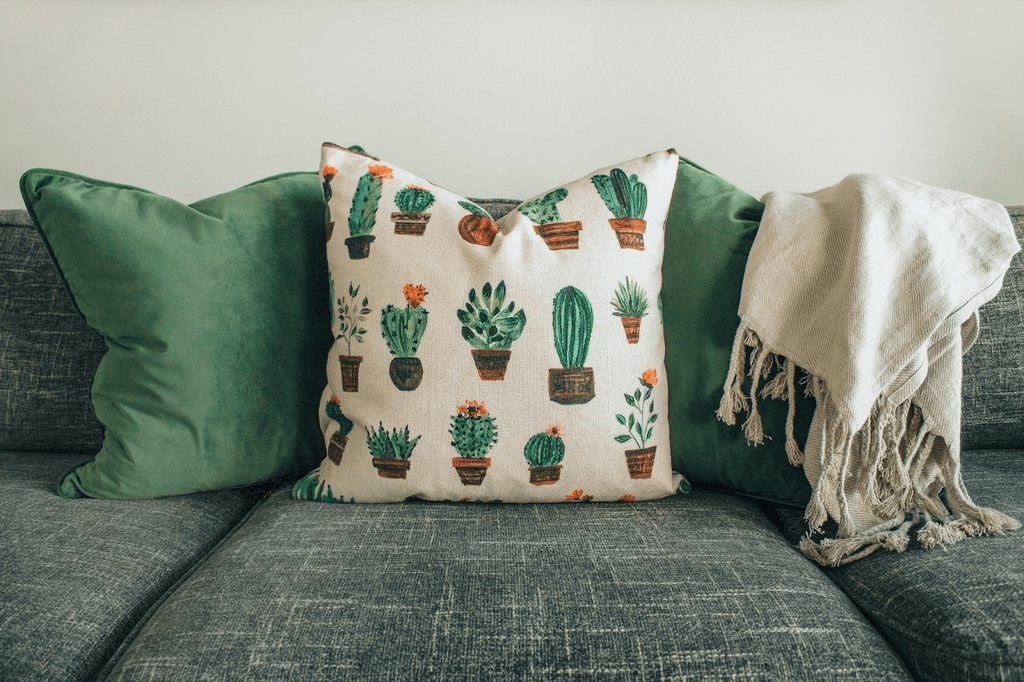 Play around with various fun textile prints such as gingham, plaid, and ticking stripes that scream rustic. Infuse them in your kitchen decor in the form of cushions, curtains, and tablecloths.
19. Sunlit Spaces? Never Enough!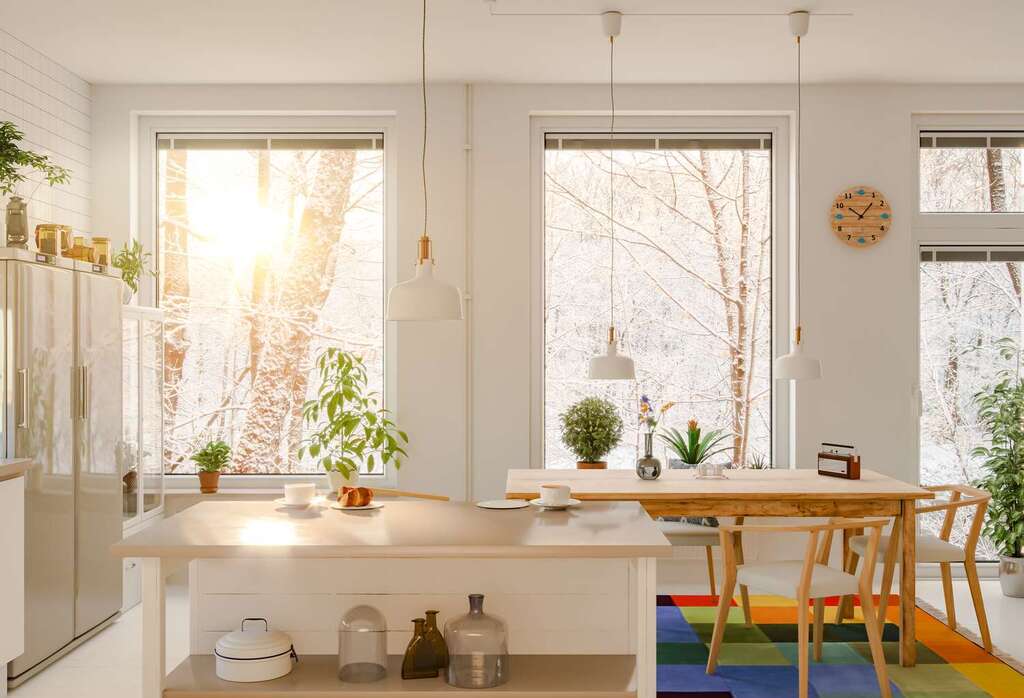 Don't underestimate the power of sunlight in bringing out the best in your kitchen space. Use more windows and team them up with light window treatments to let sunshine flood your kitchen.
20. Putting "Fun" in Functionality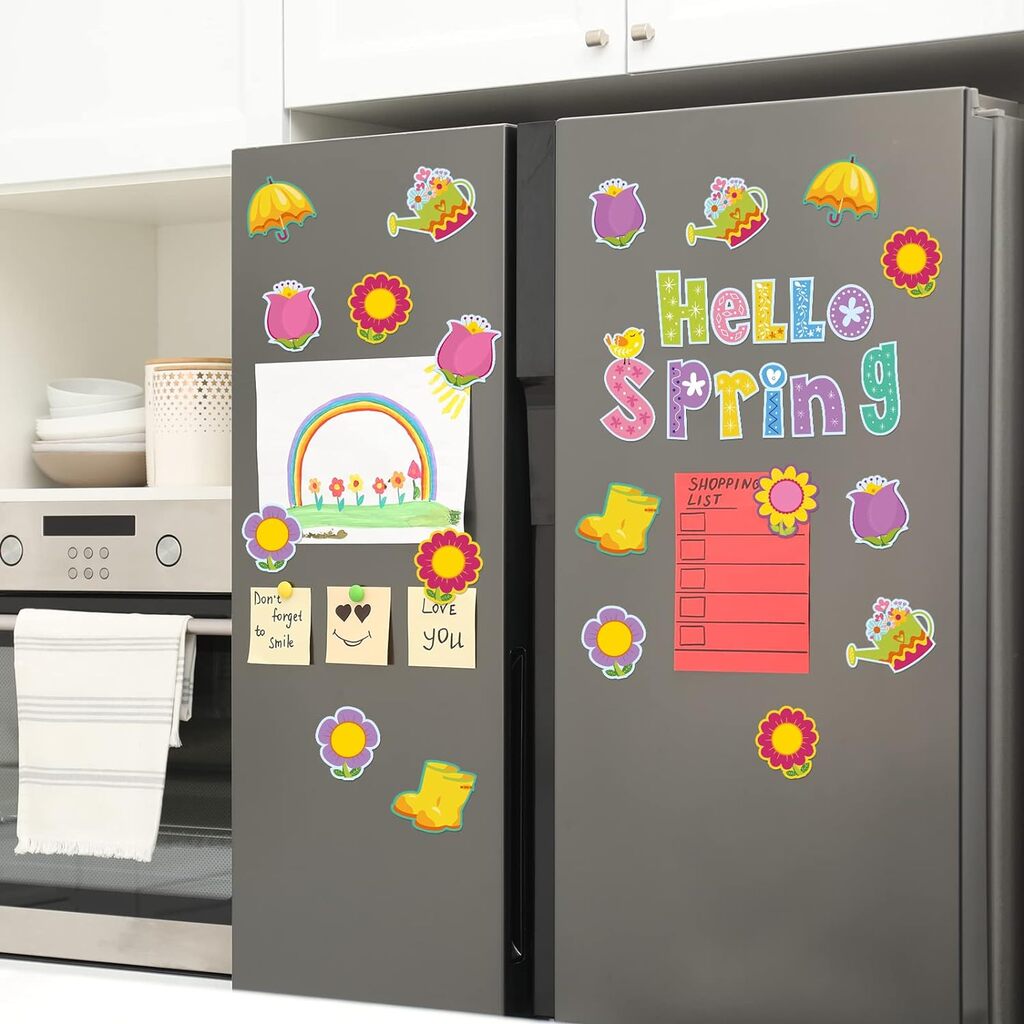 Why settle for mere aesthetics when you can have some practical fun, too? Pick playful yet functional elements to put together holistic farmhouse kitchen ideas. Put your cabinet doors to use for grocery lists, and create a little storage space under your kitchen island to get started. 
21. The Retro Flooring
Want something retro yet durable? Opt for a black and white checkered flooring to add that farmhouse feel to your otherwise boring kitchen space. Another fun option is a colorful geometric pattern tile that brings in the nostalgic charm of the 90s.
22. A Pantry Paradise to the Rescue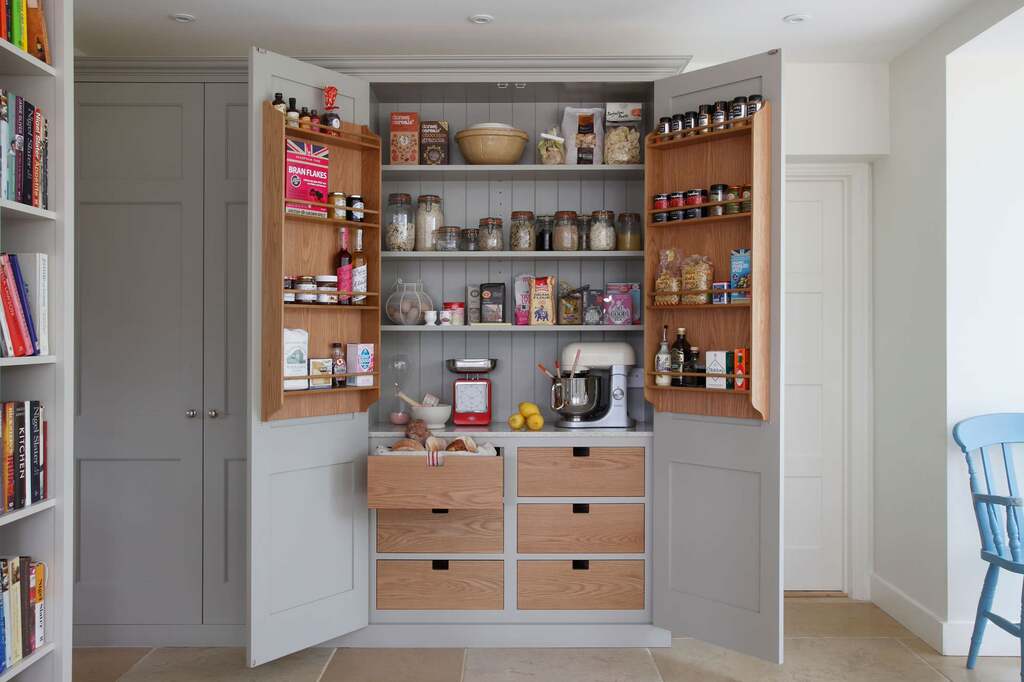 Looking forward to transforming your small kitchen space into a farmhouse sanctuary? Put together a little pantry paradise using custom shelving, pull-out drawers, and clear storage containers for that extra functionality.
23. Cool and Creative Countertops
Countertops are an essential kitchen element, and you definitely wouldn't want to miss out on those. Think beyond the usual material options and go for something creative. You can pick materials like concrete, soapstone, or recycled glass.
24. Vintage Minimalism? Give it a Try!
Who says a farmhouse can't be elegant and minimalistic? Establish a perfect balance between vintage and modern with minimal elements. Pick from options like sleek lines, neutral colors, and metallic decor pieces. The outcome? A charming and serene kitchen that exudes the "less is more" feel.
25. The Mixed Material Magic
Farmhouse kitchen and mixed material palette. This combination is always a win. Think wood, metal, and stone for a rustic visual appeal. Pair it with marble countertops, bamboo decor items, and eclectic fabrics to let subtle variety define your new farmhouse kitchen ideas.
26. A Little Hint of Tech
A practical kitchen layout has to be infused with smart technology for holistic functionality. Want to know how to go about it? Well, it's way easier than it seems. Install smart lighting, a touchscreen refrigerator, or a voice-controlled assistant to make your farmhouse kitchen function seamlessly.
Farmhouse Dreams Brought to Life with Your Perfect Kitchen
In the design universe where trends are ever-evolving, the timeless appeal of a farmhouse kitchen ideas stands out among a sea of other designs. Such ideas beautifully bring together both the best of the vintage and modern world, serving something different for every design enthusiast.
You know what's amazing? These designs can be created without a multitude of hassles coming your way. Besides, a farmhouse kitchen isn't about following a rigid sense of rules. Thus, it allows you to experiment with elements that complement your choices.
So, what's keeping you at bay? Find your perfect blend of classic and modern to set up your own little farmhouse paradise. If you have any intriguing inspirations or ideas, we would love to hear from you in the comments.
FAQs
What makes a kitchen truly "farmhouse style"?
A well-balanced combination of rustic elements, natural materials, and timeless designs puts together a farmhouse-style kitchen.
How can I modernize my farmhouse kitchen without losing its rustic charm?
You can simply do this by incorporating modern appliances and adopting sleeker designs while retaining rustic elements such as flooring, wallpapers, and decor elements. 
Is the farmhouse kitchen trend fading?
While design trends evolve and change over time periods, the farmhouse style kitchen has proven its longevity and adaptability in the arena of popular kitchen designs. 
Can farmhouse kitchens work in small urban spaces?
Absolutely, with the right design and space-saving ideas, you can easily curate a functional farmhouse kitchen even while running on a space crunch.
Explore Further