Sustainability in the construction sector may not be a priority, but business and public perceptions are steadily changing. Both benefits include using renewable and recyclable materials, lowering energy and production overheads, and decreasing on-site waste.
There's less material going into landfills, overall long-term costs are reduced, and we're all doing our part for a greener and cleaner environment.
A key factor here is innovation. New materials and products may need time to adjust to current practices until they revolutionize a whole sector by opening up new possibilities. Storm Board Plastic is a new take on recycled plastics and a product that has replaced established materials such as plywood and particle board in more ways than one.
What Is a Storm Board Plastic?
This is the innovative material that is the solution to the hundreds of thousands of tonnes of waste wood sent into landfills every year. It is a completely recycled plastic, formed into durable sheets and now finding dozens of different uses.
The material is a direct replacement for plywood, wood particles, and MDF used in construction site hoardings but has also been adapted for furniture production, outdoor walls and barriers, temporary housing, and more.
Boards are exceptionally strong and rigid, won't rot, and are completely waterproof. Additionally, they're easy to work with, can be painted, and, most importantly, can be recycled at their end-of-use date.
How Is It Made?
Standard Storm Board Plastic is made from 100% mixed plastic waste. This encompasses items and products that are deemed "unrecyclable", ranging from bottle caps, toys, cosmetics bottles, food packaging, coat hangers, and any plastic item that's bound for the landfill.
The plastic waste is cleaned of wood and paper remnants, granulated into manageable chunks, or pulverized into a powder, poured into patented molds, and cooked at a temperature of 200 degrees Celsius. When cooled, the end result is a stiff board, with an aerated core, leading to low weight and easy shaping.
The process is also eco-friendly, leaving no harmful by-products. No resins or toxic adhesives are used. Boards have a smoother exterior and come in a black or green, speckled appearance. While initial upfront costs are higher, the savings add up after continual use and recycling, as compared to plywood, which also incurs a disposal cost.
Where It's Used
Storm Board Plastic is a recyclable yet durable alternative to plywood, chipboard, and particle board. They're readily used in the construction industry as a replacement for plywood site hoardings and concrete formwork, in the fabrication of both indoor and outdoor furniture, when fitting out retail stores, and in temporary housing (as an answer to the devastating 2010 Haiti Earthquake), in public toilets and showers, and in general repairs where plywood is the main ingredient.
These are just some of the more practical uses, but boards are also seen in artwork, advertising, animal shelters, and more.
Types of Storm Board
High Impact Storm Board (HI)
High Impact board is more commonly abbreviated to HI, and SF or Shopfitting board. The first is designed to outperform wood in heavy-duty construction and is inherently waterproof and more durable, even when soaking up water. Applied coatings can also prove worthy of harsh UV radiation.
Shop Fitting Storm Board (SF)
SF boards have the same waterproofing but expand less under temperature changes, so they are ideal for shopfitting purposes. They may have lower impact resistance, but they make up for it by being printable and customizable for different indoor settings.
Fire Retardant Storm Board (FR)
FR Storm Board is made with a fire retardant core and skin, making it ideal for use in applications where fire safety is a concern. It is often used for construction site hoardings, washroom cubicles, and other structures where there is a risk of fire.
UV Resistant Storm Board (UV)
UV Resistant Storm Board is made with a UV-resistant core and skin, making it ideal for use outdoors. It is often used for garden furniture, decking, and other structures that will be exposed to sunlight.
When choosing a storm board, it is important to consider the specific application and the desired level of durability. For example, if you need a board exposed to heavy use or extreme weather conditions, you will want to choose a high-impact board.
Pros of Storm Boards
Compared to chipboard and plywood, storm boards have a few things going for them:
Recyclable –
This is the main selling point of the material, Made from recycled plastics, boards can be reused dozens of times, without any impact on the environment. And this also means cost savings when opting for storm boards instead of unrecyclable plywood or lower garde chip wood.
Durability and Longevity –
with a high density and very high stiffness at room temperatures, storm boards are additionally more durable than plywood. Add to the inherent water resistance, and you have a product that outperforms plywood and other scrap wood products in both indoor and outdoor applications. And the fact that it is recyclable means that the boards are a never-ending and renewable material source. But before being processed and repurposed, boards can go on for 10 years or more and still be in the same pristine condition as the day they were produced.
Adaptability –
with different coatings and densities, the boards can be used across a range of applications. They can also be painted and printed or left as is. Use a solvent-based primer and gloss paint for a gloss finish, or a water-based primer undercoat and masonry paint for a matt finish.
Easy to Work with –
Boards can easily be shaped and cut to size with basic tools. This means hand saws, jigsaws, routers, and bench saws. They can also be drilled with simple HSS bits as well as countersunk for a more pleasing visual effect. In the process, boards retain the form, so no splintering or warping either.
They have no issues when working with a CNC router. Boards can be nailed, screwed, glued (with commercial and industrial-grade adhesives), and even welded onto any surface. The smooth surface is easy to clean and simple to maintain.
Cons of Storm Boards
High Cost-
Storm boards can be more expensive than other materials, such as plywood.
Limited Color Options-
Storm boards are typically available in a limited number of colors, so you may be unable to find the exact color you want.
Not as Strong as Wood-
Storm boards are not as strong as wood, so they may not withstand heavy use or extreme weather conditions.
Not as Versatile as Wood-
Storm boards cannot be used for all the same applications as wood, such as furniture making or construction.
Requires Professional Installation-
Professionals typically install storm boards, which can add to the cost.
Sizes and Weight of Storm Boards
You'll find storm boards that are oversized or slightly larger than standard building materials. Overall dimensions are 2440 by 1220mm with a standard plywood thickness of 19mm. Machines and molds can also be adjusted for other thicknesses. As mentioned, it can be easily cut to any desired shape or size. Although dense and rigid, a typical board is lightweight, coming in at 32 kilos, so relatively easy to handle and transport.
Where Are Storm Boards Sold?
Although a new product, storm boards are available from dozens of retailers UK-wide. HI, storm boards are easier to find in most stores selling general construction and building supplies, whereas SF boards are sold in furniture and business outfitting stores. Both types are readily available in specialized businesses dealing with all things recycled plastic.
Conclusion:
Storm board plastic is a versatile and durable material that can be used to protect your home from storm damage. It is lightweight, water-resistant, and impact-resistant, making it a good choice for various applications. Storm board plastic is also a sustainable choice, made from recycled materials. It is easy to install and maintain and can last many years with proper care.
In case you missed it!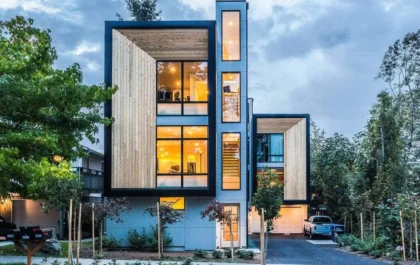 27+ Stylish & Modern Townhouse Designs for Urban Living.
The townhouse's first impression is normally too small, too compact, too narrower, and the list is endless. Well, let us…